2012 Toyota Camry Q&A
Our automotive experts answer your questions about the redesigned 2012 Toyota Camry.
Latest Question
Camry Q&A
Car Video
Now is the Camry still one of the most stolen automobiles around?
Feb 12, 2012
From Megill
AutoTrader: Unfortunately, popularity with buyers often also means popularity with thieves. The Camry has been a bestseller for years, making it an appealing target for theft. But according to the National Insurance Crime Bureau, the Camry was only the third most stolen vehicle in 2010. And most of the stolen Camrys were older, likely because anti-theft technology has improved significantly. So you probably shouldn't let the slim chance that your Camry might get stolen deter you from buying one.
Read more
Car Video
Should I get the LE 4-cylinder or opt for the SE 4-cylinder for $500 more?
Feb 11, 2012
From Bensbenz65
AutoTrader: It really depends on what you want from a car. If you want a smoother ride, stick with the LE. But if you don't mind a firmer ride, the SE is certainly worth the extra $500. For the money, you'll get features like a stiffer, sportier suspension, an attractive body kit, fog lights and 17-inch alloy wheels. The SE also gets some nice interior upgrades like sport seats plus a leather-wrapped steering wheel and shifter.
Read more
Car Video
I travel a lot, does it have comfortable seats in the front AND back?
Feb 10, 2012
From DaniC
AutoTrader: For the most part, the Camry does have comfortable seats. The rear seats are especially roomy with almost 40 inches of legroom. Even if both the front and rear occupants are tall, you can still get comfortable in back. However, the front seat bottoms are somewhat short, which could be an issue for taller drivers on longer trips. The most comfortable seats are the sport seats in the SE. They offer more support, and are comfortable even on long drives.
Read more
Car Video
Is the new Camry front or rear wheel drive? I've read that rear wheel drive is better.
Feb 10, 2012
From RonUT316
AutoTrader: The Camry is front-wheel drive. Many performance and luxury cars have rear wheel-drive because it generally provides better handling. But there are some advantages to front-wheel drive. Putting the drive components closer together makes them cheaper to produce and buy. And they tend to be more efficient, which means they're cheaper to run, too. And having more weight over the front wheels means they tend to have better traction on slippery roads.
Read more
Car Video
What's the real cost savings with the Hybrid?
Feb 9, 2012
From Kelly on Facebook
AutoTrader: The Camry Hybrid has an EPA rating of 41 miles per gallon in combined city and highway driving, compared to 28 mpg for a Camry with the non-hybrid 4-cylinder engine. That means most drivers would save roughly $600 a year on gas with the Hybrid. But a Hybrid Camry costs about $4,000 more, so it's going to take more than six years to offset the Hybrid's higher price with the money you save at the pump.
Read more
Car Video
Are there any incentives for the Camry Hybrid?
Feb 9, 2012
From igolf2
AutoTrader: There are currently no national incentives for the 2012 Toyota Camry Hybrid. Incentives are typically offered when an automaker needs help moving a slower-selling model. The Camry Hybrid is new and expected to be popular. But there are some regional incentives available. Most are financing offers, such as 1.9 percent financing for up to 60 months available in the Midwest and 0 percent financing for up to 36 months for Southeastern buyers with excellent credit.
Read more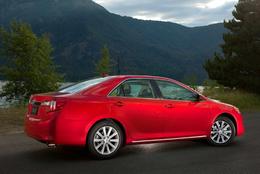 Car Video
Does this car have a towing capacity?
Feb 9, 2012
From bruce
AutoTrader: The last generation of Camry models had a 1,000-pound towing capacity, but Toyota does not recommend using the 2012 Camry for towing. If you really want a vehicle that can tow a small trailer, camper or boat and still get good fuel economy, you might want to check out the 2012 Toyota Highlander Hybrid. It can tow up to 3,500 pounds, and get up to 28 miles per gallon in combined driving. Of course fuel economy is likely to be reduced during towing.
Read more
Car Video
Do they make it in a 5-speed?
Feb 8, 2012
From NJ Black Panther
AutoTrader: The short answer is no. Toyota Camrys with either the 4-cylinder or V6 engines come only with a 6-speed automatic transmission. The Camry Hybrid has a continuously variable transmission (CVT) to get the most efficiency out of the gas engine and electric motor. The 5-speed manual transmission that was offered in previous years is no longer available. For those who still like to choose their own gears, some models are offered with paddle shifters mounted to the steering wheel.
Read more
Car Video
Does it still have soft springs?
Feb 8, 2012
From Shorvath72
AutoTrader: The answer is yes and no. Some models like the Camry Hybrid and Camry LE are geared more towards comfort, so they intentionally have a softer ride. Still, the 2012 Camry feels tighter and more firmly planted to the road no matter which model you choose. Those willing to compromise on ride to get a sportier feel should opt for an SE model. But if you prefer more comfort, opt for the Hybrid XLE. It's probably the most comfort-oriented of all Camrys.
Read more
Car Video
Why are cars like the Toyota Camry and Honda Accord considered boring?
Feb 7, 2012
From UE on Yahoo! Answers
AutoTrader: It's hard to say for sure why some people consider cars like the Camry boring. It could be because there's just so many on the roads. To a lot of people, common equals boring. But some of the new styling cues should go a long way toward changing the car's image. During our time with the 2012 Camry, we heard many positive comments, especially regarding the sporty Camry SE.
Read more
Car Video
Why are the screen options grayed out while I'm moving?
Feb 7, 2012
From 2012camry on Toyota-Entune.com
AutoTrader: There's nothing wrong with the system when certain features are inaccessible while the car is in motion. Toyota made a deliberate decision to restrict access to some options while the car is moving in the name of safety. Although it can sometimes be frustrating, Toyota's goal is cut down on driver distraction.
Read more
Car Video
How's the fuel economy in the new Camry?
Feb 7, 2012
From multiple people on Facebook and YouTube
AutoTrader: The 4-cylinder engine in the Camry L and LE is rated at 25 mpg in the city and 35 on the highway. Opt for the V6 engine in the SE or XLE, and fuel economy drops to 21 mpg city and 30 highway. But if you really want to conserve fuel, get the LE Hybrid. It achieves a remarkable 43 mpg in city driving and 39 on the highway, and should get around 41 mpg in combined driving.
Read more
Car Video
What's the 0-60 time?
Feb 6, 2012
From Roarke on Facebook
AutoTrader: Anyone interested in 0-60 times will probably want the most powerful, sportiest Camry there is, and that's the SE with the V6 engine, like our silver test car. It can accelerate from zero to 60 mph in around 6 seconds, which is about as quick as last year's BMW 528i or Audi A4.
Read more
Car Video
I need to know, how much does it cost?
Feb 6, 2012
From Eloy on Facebook
AutoTrader: In most cases, a 2012 Camry will cost you less than last year's model even though it's better in almost every way. The least expensive Camry L starts at about $22,000. For an extra $545 you can get the LE with extra features like radio controls on the steering wheel, a color touch screen and Bluetooth. The sporty SE starts at $23,000, and the more luxurious Camry XLE is about $25,000. The Hybrid is the most expensive version with a starting price of $26,000.
Read more
Car Video
Can I listen to Pandora in the Camry if I don't opt for Entune?
Feb 6, 2012
From J4armrock on Yahoo! Answers
AutoTrader: Technically, yes. You'll have to access Pandora through your smartphone and then connect it to the car's auxillary jack. However, it may not be legal in some states to use your phone while driving. The advantage of Entune is that it allows you to control Pandora without taking your hands off the wheel or your eyes off the road.
Read more
Car Video
How much horsepower does it have?
Feb 5, 2012
From Kari on Facebook
AutoTrader: That depends on which version you choose. The base 2.5-liter 4-cylinder engine makes 178 hp, which feels more than adequate even on the highway. Opt for the 3.5-liter V6, and you get 268 hp. With that engine, the Camry feels really quick, especially for a family sedan. With 200 hp, even the hybrid feels fast, especially for a midsized car that gets better than 40 mpg.
Read more
Car Video
Does the 4-cylinder engine have a timing belt or chain?
Feb 4, 2012
From Seattle Chew on Yahoo! Answers
AutoTrader: In the 2012 Toyota Camry, both engines use a timing chain and not a belt. This is important because a rubber timing belt typically needs to be replaced more often, generally resulting in an expensive bill from your mechanic.
Read more
Car Video
Why didn't they change the car's styling even more?
Feb 3, 2012
From multiple people on Facebook and YouTube
AutoTrader: While the 2012 Camry has been redesigned, it does look a little like previous car. That's not a mistake; Toyota knows that dramatically changing such a popular, high volume car might turn off some existing customers. But if you look closely, you can see that there are some significant changes.
Read more