Chevrolet Sonic
Read Sonic news and reviews, compare small cars and find one for sale near you.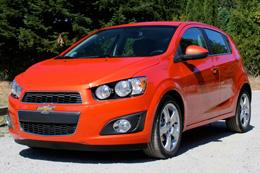 Car Review
2012 Chevrolet Sonic - New Car Review
Sep 26, 2011
The small car is experiencing a revival. Cars like the new Ford Fiesta and Hyundai Accent show that small, cheap and efficient doesn't have to mean low quality and boring.
There may be no greater example of this than the staggering difference between the outgoing Chevy Aveo and the completely new for 2012 Chevrolet Sonic.
Read more
News & Reviews
Get expert reviews and the latest news on the Chevy Sonic.
Cars for Sale
Find a Chevy Sonic for sale near you.
There are
9
New
Chevrolet Sonic
listings near
30342
Find more Sonic models
Car Video
Real World Reviews: 2012 Chevrolet Sonic
Nov 20, 2011
The Chevy Sonic is aimed at the young and hip, so we decided to find out what they think. To track them down, we took the Sonic to Food Truck Wednesday in Atlanta. Watch the video to see what real people think about the Chevrolet Sonic. See more
Compare Cars
Compare the Chevrolet Sonic to other small cars.