Seller Connections
Email This Seller
Model Information
1991 Mercedes-Benz 350SD
Dealership information
The Auto Livery
4168 Hamilton-Cleves Road
Ross, OH 45014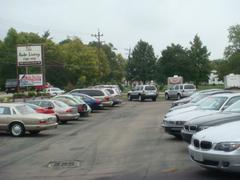 Why buy from us?
At the Auto Livery, we believe that buying your next car or motorcycle should be fun and exciting, not stressful and aggravating. And we think you'll agree. So we take a different approach to automobile and motorcycle sales. We hate suits and high-pressured sales tactics just as much as you do. Feel free to come in to the showroom and look around, have a seat on the couch by the fire, or play with our golden retriever Chloe. Just relax, and get in touch with a salesperson when you are ready.
Services & Specialties
Service Centers
Delivery Options
Awards & Accolades
Better Business Bureau Member
Family owned and operated since 1978
101 Point Certified Pre-Owned inspection
Over 100 Pre-Owned vehicles in stock!
Fraud Awareness Tips Learn how to spot a scam.
Data on this page may have come in part, or entirely, from one or more of the following Please refer to AutoTrader.com's Visitor Agreement for further information on vehicle data.
This image is a stock photo and is not an exact representation of any vehicle offered for sale. Advertised vehicles of this model may have styling, trim levels, colors and optional equipment that differ from the stock photo.
Cars for Sale: 1991 Mercedes-Benz 350SD in Ross, OH 45014: Sedan Details - 305771810 - AutoTrader.com