Seller Connections
Email This Seller
Model Information
2008 Acura TSX
Dealership information
VA Auto Sales
1434 Virginia Avenue
Harrisonburg, VA 22802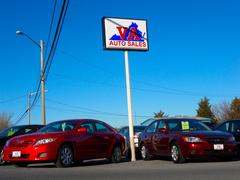 Why buy from us?
VA Auto Sales strives to bring you two things VALUE and QUALITY. With over 15 years of experience in the business, we know exactly what our customers desire - quality vehicles and exceptional service! Our used vehicles are serviced, professionally detailed, and are CarFax certified! Drive in today to see our great inventory, friendly staff, and a low pressure environment!!
Fraud Awareness Tips Learn how to spot a scam.
Data on this page may have come in part, or entirely, from one or more of the following Please refer to AutoTrader.com's Visitor Agreement for further information on vehicle data.
This image is a stock photo and is not an exact representation of any vehicle offered for sale. Advertised vehicles of this model may have styling, trim levels, colors and optional equipment that differ from the stock photo.
Cars for Sale: 2008 Acura TSX in Harrisonburg, VA 22802: Sedan Details - 344591236 - AutoTrader.com