RESEARCH DETROIT AUTO SHOW BY YEAR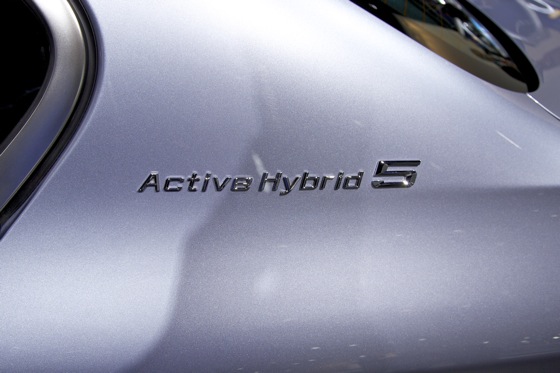 BMW's ActiveHybrid 5 will go on sale in March with a starting price of around $60,000.
The sedan includes an electric motor combined with the 535i's TwinPower turbocharged six-cylinder.
BMW says the ActiveHybrid 5 also features a boost mode, allowing drivers to dial in power when necessary.


Although it already made a low-profile debut at the Tokyo Auto Show last fall, BMW's ActiveHybrid 5 was recently revealed for the first time in North America at this year's Detroit Auto Show. Featuring a gas and electric powerplant and several exclusive styling touches, the hybrid version of the automaker's popular 5 Series sedan is expected to go on sale nationwide in March.
Under the hood, the ActiveHybrid 5 features the 3.0-liter TwinPower turbocharged six-cylinder engine also found in gas-only 535i sedan. Also included is a supplemental 55-horsepower electric motor, which combines with the gas engine for an impressive 335 horsepower and 330 pound-feet of torque. According to BMW, that makes the ActiveHybrid 5 capable of hitting 60 miles per hour from a standing stop in just 5.7 seconds.
But despite its striking performance, the ActiveHybrid 5 still remains true to its fuel efficient purpose. Although official figures haven't been announced, we expect the sedan to be capable of around 35 miles per gallon in mixed city and highway driving and an excellent 40 miles per gallon on the highway. That's a major improvement over the standard 535i, which is rated at 21 miles per gallon in city driving and 31 mpg on the highway.
In addition to subtle exterior tweaks like "ActiveHybrid" badging and exclusive wheels designed to reduce drag, the ActiveHybrid 5 also includes several new features thanks to its unique powerplant. Among them are a boost feature which provides extra acceleration on demand and an all-electric mode, which allows the sedan to be driven on electric power alone at speeds of up to 37 miles per hour.
Although BMW has not announced pricing for the ActiveHybrid 5, we expect the sedan to carry only a slight premium over the traditional 535i, which starts around $53,000. That makes the ActiveHybrid 5 considerably less expensive than the V8-powered ActiveHybrid 7, which starts around $100,000, but costlier than the ActiveHybrid 3, which made its world debut at the Detroit Auto Show and will likely start at around $50,000.
What it means to you: We don't expect the ActiveHybrid 5 to sell in large numbers, but its debut is further proof that hybrids will only become more common in the coming years.