RESEARCH SEMA AUTO SHOW BY YEAR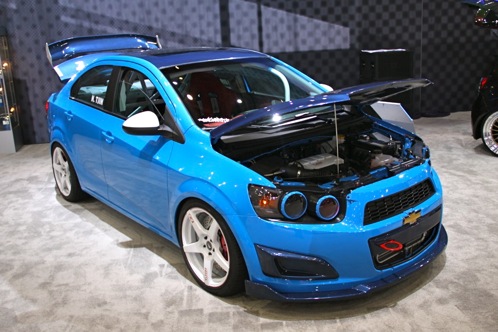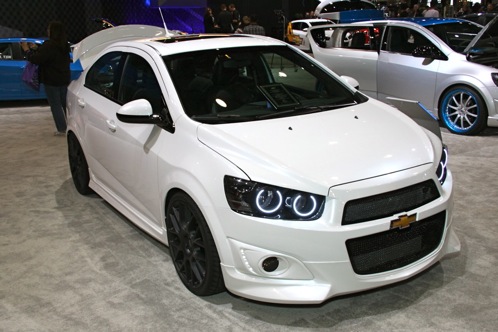 Small cars have invaded Las Vegas. Specifically, the 2012 Chevrolet Sonic has made a splash at the 2011 SEMA show, with several concepts that demonstrate the many possibilities for owners of this subcompact. Chevrolet's own Z-Spec line of accessories makes up many of the tweaks, from wheels, aerodynamic body kits, sport pedals and upholstery options, to performance suspensions, exhaust and braking systems. The Sonic, which has only just gone on sale, is currently the only car in its class to offer a factory-fitted turbocharger, making it a perfect candidate for customization.
However, customization need not mean look-at-me graphics, lowered suspensions and big rear wings. One of the more impressive SEMA Sonics, perhaps because of its subtlety, is the Dusk concept. It's finished in moody Berlin Blue paintwork, runs on 18-inch wheels finished in dark silver and even the headlight glass is tinted blue. The cabin is trimmed with "Mojave" leather, has a satin-chromed gearshift knob and a flat-bottomed steering wheel trimmed in suede. What the eye doesn't see are upgrades to the brakes and suspension.
"High performance for your ears" is how Chris Perry, VP of global marketing and strategy for Chevrolet described the Sonic Boom concept. Basically, it's a massive Kicker 4,000-watt audio system on wheels, with a few Z-Spec additions thrown in. Open the tailgate and it looks like the car could be propelled by sound waves alone, thanks to 12 speakers, two of them 15-inch sub-woofers.
On a more practical note, the Sonic All Activity Vehicle sports a Thule roof rack for a mountain bike and a wakeboard, while the upholstery comprises fabric used to make Fox Racing board shorts. This car is the brainchild of Ricky Carmichael, X Games gold medalist, champion motorcycle racer and NASCAR winner. This love of adrenaline has translated into sporty Z-Spec features, lowered suspension, high-flow exhaust and upgraded brakes.
See more coverage of the 2011 SEMA Auto Show.
| | |
| --- | --- |
| | COLIN RYAN has driven hundreds of cars thousands of miles while writing for BBC Top Gear magazine, Popular Mechanics, the Los Angeles Times, European Car, Import Tuner and many other publications, websites, TV shows, etc. |