RESEARCH NAIAS AUTO SHOW BY YEAR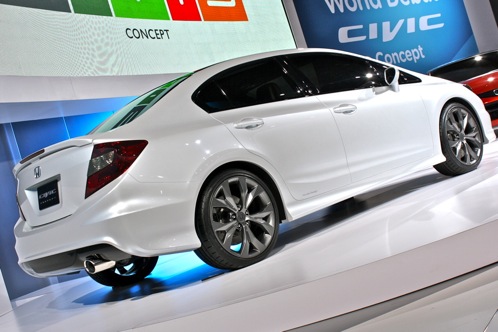 Source: AutoTrader.com
January 10, 2011
American Honda Motor Co.'s John Mendel, executive vice president, took the wraps off a concept version of one of the Honda brand's crown jewels, the Civic, here today at the North American International Auto Show.
The concept coupe version of the small car has a sleek, aerodynamic profile and is the basis for the ninth-generation Civic. Honda said the new 2012 production Civic will go on sale this spring.
The Civic is a crucial model for Honda, since it's the brand's second-best seller behind the Accord.
Honda took some heat last year that it was losing its mojo, even as it maintained healthy new-vehicle sales. The critics slighted the carmaker for so-so designs and the lack of focus for the Acura brand.
Honda's Japanese brass admitted in fall 2009 that the redesign of the new Civic had been changed mid-way through the process, saying rather than making it larger, the next version would be closer in size to the current model, which arrived in 2005. Mendel then said last spring that tougher regulations and changing market conditions delayed the development of the new Civic.
Honda historically has brought out all-new versions of the Civic every five years, meaning this generation would have arrived last fall.
The Civic has grown over the years since its debut in 1973. Consider that the eighth-generation Civic is about the same size as its bigger sibling the Accord was 15 years ago.
Still, the Civic has remained one of America's most popular small cars. In 2010, the Civic was the nation's fourth best-selling car and sixth top seller among all light vehicles, cars or trucks, according to Automotive News. Honda sold 260,218 Civics last year in the U.S.
JEAN HALLIDAYis a seasoned journalist with the nation's longest consecutive run covering auto advertising. Her years in the trenches include stints at Automotive News, Adweek and Advertising Age. The native New Yorker now lives outside the Motor City. You can read Jean's blog at AutoAdOpolis.wordpress.com.