RESEARCH NEW YORK AUTO SHOW BY YEAR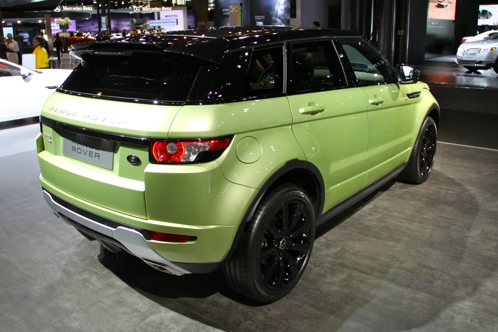 April 20, 2011
To mark the unveiling of Range Rover Evoque at the Paris Auto Show, the company took an innovative approach. They worked with a group of noted Parisian artists to create four temporary street installations.
Unveiled last September at the beginning of Paris Fashion Week, the street art was placed at iconic locations around the city including the Pompidou Centre and the Palais de Tokyo. The focus – luxury, great design, sustainability and edgy technology – was everything that the new Evoque is meant to represent.
To be sure, the all-new 2012 Range Rover Evoque, showcased at the 2011 New York International Auto Show, is the smallest, lightest and most fuel efficient Range Rover ever produced. The word here is sustainable and Land Rover is going after the consumer who is concerned with the environment but also wants the panache associated with driving a Range Rover.
"The unique style of the Range Rover Evoque will attract a new generation of Range Rover customers who have never considered an SUV before, such as premium coupe buyers who would like to make a bold new statement," said Gerry McGovern, Land Rover Design Director.
The two versions – a coupe and a five-door – are identical in overall length and width; however, the five-door has a 1.18-inch higher roofline. The US models will be equipped with all-wheel-drive and a 240-horsepower, turbocharged, four-cylinder engine with a top speed of 135 mph. According to Land Rover, the Evoque can power up from 0-60 mph in 7.6 seconds – as fast as the company's V8-powered models.
To push international awareness of the Evoque, a campaign called 'Pulse of the City' will celebrate life in major cities through interactive events and social media. Aimed at a worldwide audience, contributions will be featured from 40 'City Shapers' – prominent influencers in design, fashion, film and music.
As another element of the initiative, wireframe sculptures of the Range Rover Evoque will be planted at notable locations around the world. One of these sculptures will be on display in Vanderbilt Hall at New York's Grand Central Station from April 18-21, 2011.
The Range Rover Evoque will be manufactured at Land Rover's Halewood plant in the United Kingdom. It will go on sale in over 160 markets worldwide with North American deliveries currently scheduled to begin in the fall of 2011. Estimated pricing is about $45,000.
HOLLY REICH writes about cars, travel, lifestyle and more. Her work has been featured in publications that include: Elite Traveler, The New York Daily News, The Washington Post and The Boston Herald. She contributes monthly to Motor Matters syndicate and her blog, "Riffs on Rides," appears on uptownlife.net.