RESEARCH DETROIT AUTO SHOW BY YEAR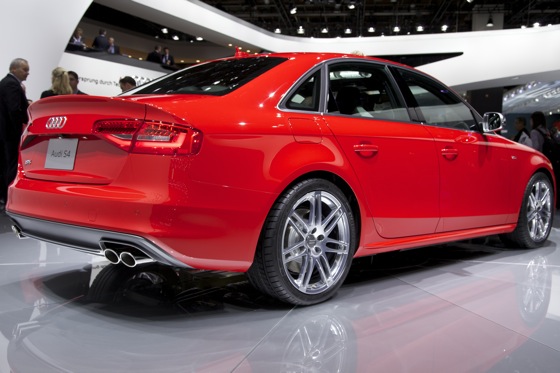 Audi debuts an updated A4 and S4 for the 2013 model at this year's Detroit Auto Show
Audi reintroduces the Allroad Quattro to the US market for the first time in seven years
For 2013, the A4 becomes the first in its class to offer WiFi as standard



Audi shows off its mid-model update for the 2013 A4 and the sport variant S4. Audi also announces, for the first time in seven years, the reintroduction of the Allroad Quattro to the US market.

The 2013 A4 has an imposing new exterior design with accentuated body lines, and an arched hood. The A4 has redesigned bumpers with angular air inlets, revised grille, and rectangular front fog lights. The Allroad Quattro is easily recognizable with its flared wheel arches and round fog lights. The headlights have also been redesigned and have been placed in a different part of the lower bumper grille.

In its eighth generation, the A4 will now come with electromechanical power steering in all models of the series. One major benefit to electric power steering is that it requires no energy for straight-ahead motion, there by reducing energy consumption and emissions.

Audi is the first worldwide automaker to feature factory-installed wireless Internet called "Audi connect." Previously available on the larger Audi models, Audi connect will now be available on all A4 models, making Audi the only brand worldwide to feature this level of integrated connectivity in the mid-size segment.

What it means to you: Audi focuses its striking designs to improve both aesthetics and efficiency.