RESEARCH LA AUTO SHOW BY YEAR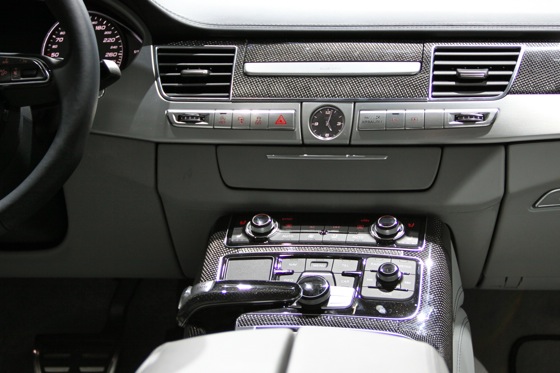 Third-generation S8, Audi's high-performance flagship
All-new, more efficient and more powerful engine
Exclusive "S" equipment and appointments



Audi unveiled the newest addition to its flagship sedan lineup at the LA Auto Show. The third-generation S8 joins the A8, A8 L and A8 L W12 to give executive class drivers a wide range of options. Performance is the focus of the S8; it certainly has the hardware to deliver, including a new, more powerful engine. But the S8 also offers the refinement of A8 models, spiced up with subtle, sport-inspired styling elements.
The all-new V8 at the heart of the machine is more powerful yet more efficient than the V10 found in the last S8. The 4-liter twin-turbo produces 520 horsepower and 479 lb-ft of torque, but burns 23% less fuel than the V10, thanks in part to cylinder deactivation. Power is delivered through an 8-speed Tiptronic transmission and Audi's Quattro system to all four wheels. The S8 delivers driver and passengers in luxury, from zero to 62 mph in just 4.2 seconds and on to an electronically-limited 155-mph top speed.
Extensive use of stiff, weight-saving aluminum in the space frame and body helps both quickness and efficiency while also contributing to the S8's handling prowess. The sport-tuned adaptive air suspension helps agility, too, as does the torque vectoring rear differential. Brakes are motorsport-grade, with big, perforated rotors clamped by six piston calipers up front. S8-specific 21-inch wheels accommodate traction.
Styling differences between the S8 and lesser A8 are subtle but evoke performance capabilities. Most noticeable are the grille and bumpers, rear diffuser, rocker sill moldings and four-outlet exhaust. Inside, the S8 gets "Carbon Atlas" trim and Valcona leather with a diamond cross-stitch pattern.
Audi appears committed to making their vehicles more efficient, including its biggest, most powerful and most luxurious. With the S8's engine making a prodigious 130 horsepower per liter, Audi's engine downsizing strategy, which relies on turbocharging and cylinder deactivation, may prove to deliver efficiency without sacrificing top-tier performance.
What it means to you: The ultimate Audi sedan will be available late next year. The 372-horsepower A8 and 500-horsepower A8 L W12 are available now for those who can't wait.
See more LA Auto Show news.