RESEARCH NEW YORK AUTO SHOW BY YEAR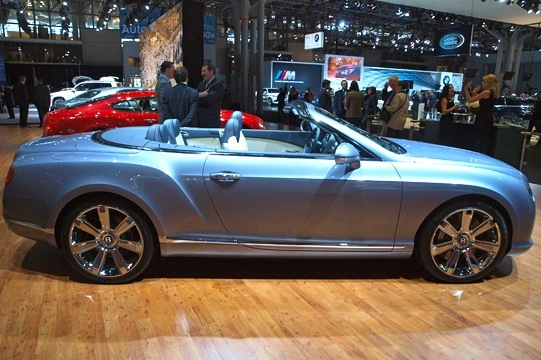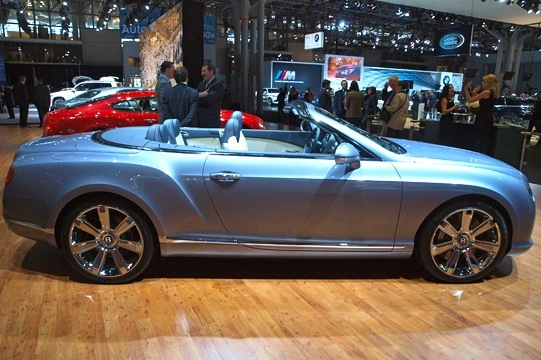 2013 Continental GT Coupe and Convertible debut in New York Auto Show
2013 models available with a new V8
Both available in the US by late 2012


Nearly every automaker is making more economical, eco-friendly models. Bentley is no different. For 2013, Bentley will offer its infamous Continental GT Coupe and Convertible models with a new 4-liter V8 that produces 40 percent fewer carbon emissions and achieves 40 percent higher fuel economy numbers than the alternate W12 engine option.
Just because the new, smaller engine option is more fuel-efficient doesn't mean it doesn't pack plenty of power. Bentley has fitted twin turbochargers to the 4-liter V8, producing 500 horsepower and 487 pound feet of torque. This high-power V8 will push the Continental GT Coupe from 0-60 in 4.6 seconds and onto a top speed of 186 MPH. The Continental GT Convertible is slightly slower 0-60, making the full-throttle run in 4.7 seconds. Surprisingly, though slower 0-60, the convertible will hit a top speed of 187 MPH.
Cleverly, Bentley has implemented variable displacement technology to the new V8 engine option. This allows the vehicle to deactivate four of its cylinders when cruising or during light throttle application, improving fuel economy.
Mated to the new V8 is a new transmission. It's a close-ratio eight-speed automatic transmission that sends power to all four wheels through Bentley's rear-biased 40/60-split all-wheel drive system.
Starting at a base MSRP of $174,000 for the Continental GT Coupe and $191,250 for the Convertible, the V8 engine option represents a significant price reduction over their W12-powered siblings. W12 models of the Continental GT Coupe and Convertible begin at $193,250 and $212,800, respectively.
Bentley has said the 2013 models will enter the US market in late 2012.
What it means to you: No automaker is immune to the new eco-friendly mindset. Bentley demonstrates, however, eco-friendly doesn't have to be boring-or slow.