RESEARCH NEW YORK AUTO SHOW BY YEAR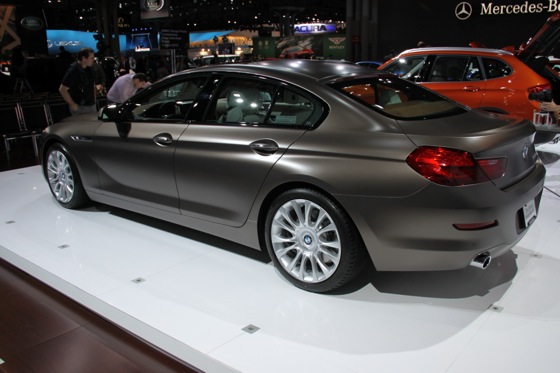 Sleek, four-door coupe wearing the 6-series badge
Turbocharged inline-six engine in 640i Gran Coupe
V8-powered 650i Gran Coupe later to come


The Gran Coupe, BMW's first 6 Series with more than two doors and first entry into the four-door coupe market, made its official North American debut last month at the Amelia Island Concours d'Elegance, a gathering of mostly classic cars. But the Gran Coupe is likely finding its biggest American audience here at the New York Auto Show. BMW just announced pricing for the 640i Gran Coupe. It will be the first of the new range to hit showrooms when it arrives in June.
The Gran Coupe is longer, lower and wider than the 5 Series sedan. The low-slung proportions and 18-inch wheels give the car a decidedly sporty look. Despite the extra length over the 5 Series, Gran Coupe seating is described as "4+1," meaning that the rear seat can legally - if not very comfortably - accommodate three passengers.
Under the hood is a now-familiar turbocharged inline six-cylinder engine. The 3-liter motor uses direct injection and variable valve timing to produce an impressive 315 horsepower and 330 lb-ft of torque. BMW says the 640i Gran Coupe will go from 0-62 mph in 5.4 seconds. With a standard eight-speed automatic transmission, the Gran Coupe achieved over 30 mpg in European fuel economy testing. EPA fuel economy ratings are not yet available.
A five-mode controller for driving dynamics adjusts a range of settings including suspension damping, throttle response, shift points and power steering assist. Modes range from the thrifty "ECO PRO" mode to the performance-oriented "SPORT+," in which stability control thresholds are increased.
Expect plenty of premium quality finishes and available equipment. Standard leather and four available interior trim materials match the cabin's upscale form. Adaptive LED headlights, a head-up display, BMW's ConnectedDrive mobile service, crash avoidance technologies like lane departure warning and blind spot detection, and a Bang & Olufsen audio system are among the many luxury offerings.
Pricing for the 640i Gran Coupe starts at $76,895. The $87,395, V8-powered 650i Gran Coupe will follow the six-cylinder car later this summer, as will an all-wheel drive V8 version with a very long name, the 2013 BMW 650i Gran Coupe xDrive 50i. It's priced at $90,395. All prices include a destination charge.
What it means to you: The Gran Coupe is a sleek alternative to more staid luxury sedans. Get it soon with a 315-horsepower straight-six, or wait for the more powerful V8 later this year.