RESEARCH CHICAGO AUTO SHOW BY YEAR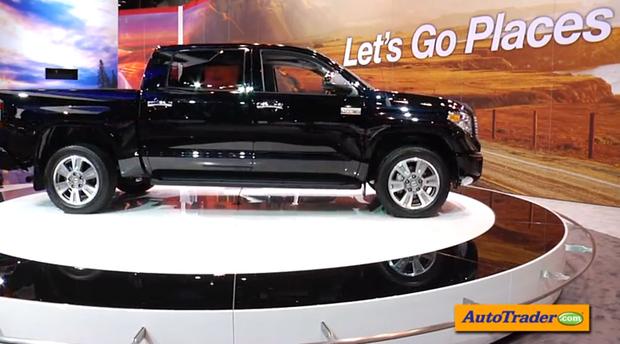 Chicago has always been about trucks. We've seen the new Chevy Silverado and GMC Sierra before, but this time we wanted to focus on the Sierra since it tends to get overlooked. The GMC Sierra isn't just a re-badged Chevy. Instead, the GMC has different interior materials and more generous standard features, like built in lights for the pickup bed. Also, the GMC's interior looks like it belongs in a luxury sedan, not a full-size pickup.
This year the 2014 Toyota Tundra was also unveiled in Chicago. The Tundra has lots of safety features like blind spot monitoring, cross traffic alert for when you're backing out of a parking space and driver and front passenger knee airbags. If you want you truck with an upscale look, check out the Platinum and 1794 versions -- both offer leather seats, lots of chrome trim, navigation and plenty of soft touch materials inside. The Tundra is designed, engineered and built in the US.
Finally, Ram showed off a new full-size commercial van named Promaster. It comes with high and low roof heights, 3 different wheel bases and 4 body configurations. The Promaster is based on a FIAT cargo van that's popular in Europe. One thing about the Promaster van is that it's front-wheel drive where most big vans are rear-wheel drive. Chrysler says this will reduce the cost of ownership and make the van more fuel efficient. Two engines are available, a 3.6 liter gasoline powered V6 and a 3.0 liter diesel engine.
What do you think, is a front-wheel drive, full-size cargo van going to be durable enough to handle rough big city streets? What about the new Tundra, does it look different enough?