RESEARCH DETROIT AUTO SHOW BY YEAR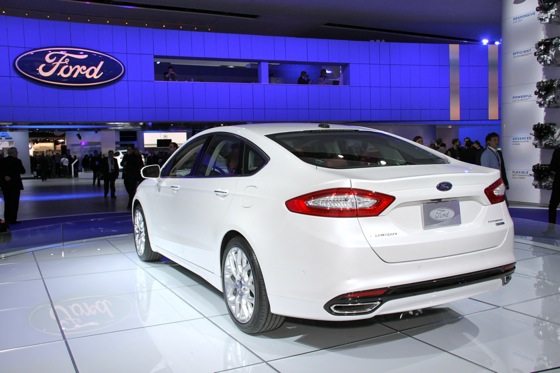 Ford's new 2013 Fusion goes on sale later this year and represents the automaker's best effort at taking down Japanese rivals like the Toyota Camry and Honda Accord.
The sedan will offer five powerplants, including a traditional Hybrid, a plug-in Hybrid and three different gasoline engines.
New technology includes Ford's Blind Spot Information System and Active Park Assist, which can automatically parallel park the sedan.


Ford started off this year's Detroit Auto Show on a high note with the unveiling of its fully redesigned 2013 Fusion sedan. With completely new styling inside and out and a host of technologically advanced new features designed to lure young buyers, the new Fusion represents Ford's best effort yet at toppling established competitors like the Honda Accord and Toyota Camry.
On the outside, the Fusion features handsome new styling that incorporates many Ford design cues and highlights its increased size. In front, the sedan includes a trapezoidal grille reminiscent of many recent Aston Martin models, while taillights remind onlookers of the brand's smaller Fiesta and Focus. But the sedan's most unique feature is its sloping roofline, which gives it a sporty appearance similar to many "four-door coupes" like the Volkswagen CC and Mercedes CLS.
Ford also updated the Fusion's interior, redesigning the sedan's seats and adding more upscale materials to nearly every surface including the center console, dashboard and steering wheel. Other changes include the addition of Ford's new center stack, which incorporates a flat touch surface instead of buttons, and an available center-mounted touch screen that includes the automaker's MyFordTouch infotainment system.
According to Ford, the 2013 Fusion will be offered with a gasoline engine, a hybrid powerplant or plug-in hybrid motor that features a range-extending gasoline engine. Gasoline-powered base models use a 170-horsepower 2.5-liter four-cylinder, while a more efficient 1.6-liter turbocharged EcoBoost engine packs 179 hp and fuel economy ratings as high as 37 mpg in highway driving. For high-performance drivers, Ford will offer the Fusion with a 237-hp 2.0-liter EcoBoost four-cylinder, while hypermilers will appreciate two alternative fuel models: a Fusion Hybrid, capable of 47 mpg, and the plug-in Fusion Energi, which may achieve up to 100 mpg equivalent and can run solely on electric power before a range-extending gasoline engine kicks in.
The 2013 Fusion also offers several technologically advanced new features that will help sway younger, tech-savvy buyers away from the competition. Such new items include adaptive cruise control, Ford's Lane Keeping System which helps drivers maintain their lane, the automaker's Blind Spot Information System which informs drivers if other vehicles are in a blind spot, and even Active Park Assist, which uses sensors and cameras to parallel park the Fusion. Of course, the sedan also offers the latest version of Ford's MyFordTouch infotainment system, which allows drivers to sync their smartphones to access Internet radio, weather reports and even hear their text messages read aloud.
Although Ford has not announced pricing or a release date for the 2013 Fusion, we expect the sedan to arrive in dealership showrooms this summer with a base price of around $20,000. Hybrid models will likely edge closer to $30,000, while the plug-in Fusion Energi could top $40,000.
What it means to you: Ford hopes the new Fusion represents America's best effort yet at unseating the best-selling Camry and Accord.