RESEARCH CHICAGO AUTO SHOW BY YEAR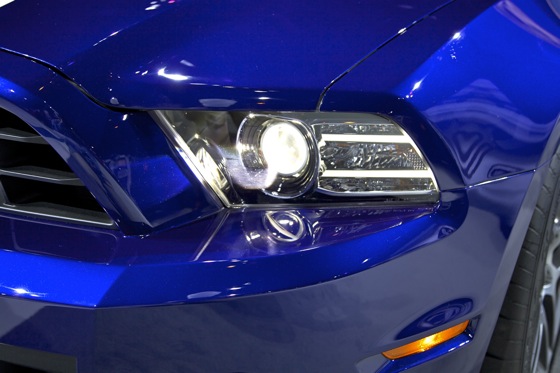 Ford unveils the 2013 Ford Shelby GT500 Convertible at this year's Chicago Auto Show
Ford marks the 20th anniversary of its Special Vehicle Team (SVT)
Producing 650 horsepower from a supercharged 5.8-liter V8


Marking the 20th anniversary of the SVT (Special Vehicle Team), Ford proudly unveils the convertible version of its 2013 Shelby GT500. Over its 20-year lifetime, the SVT has produced more than 210,000 vehicles. The 2013 Ford Shelby GT500 Convertible is the latest in its history of its road-warping vehicles.
Powered by a 650-horsepower 5.8-liter supercharged V8, the 2013 Ford Shelby GT500 Convertible is just as capable as the coupe model. Ford says the GT500 Convertible is as competent as a daily driver as it is on the track.
The new convertible shaved nearly 3.5 seconds off its lap time at Sebring International Raceway, compared to the 2011 and 2012 models, which is an impressive improvement.
Keeping the power to the road in the 2013 Ford Shelby GT500 Convertible is the SVT-designed Bilstein electronic adjustable dampers available on the Performance Package.
In honor of SVT's anniversary, a commemorative, lighted sill plate will be included in the 2013 Shelby GT500 and GT500 convertible.
First debuted at the 1992 Chicago Auto Show, the 1993 SVT Mustang Cobra offered a 235-horsepower 5.0-liter V8 engine, which dramatically demonstrates just how far Ford and its SVT has come in the last 20 years.
The 2013 Ford Shelby GT500 Convertible is expected to go on sale by spring 2013.
What it means to you: Ford once again one-ups Chevrolet's Camaro ZL1 Convertible, only further fueling the American muscle car war.