RESEARCH CHICAGO AUTO SHOW BY YEAR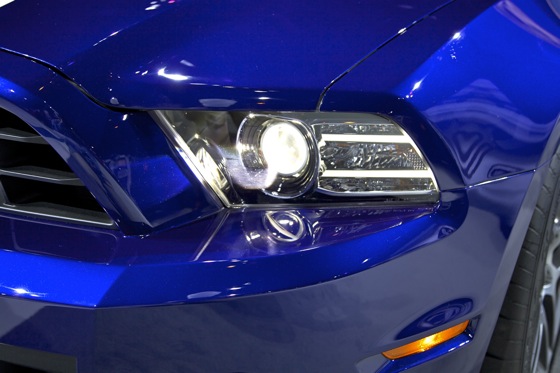 Output of 5.8-liter supercharged V8 now 650 horsepower
Upgraded brakes and available electronic adjustable suspension
Lighted sill plates commemorating SVT's 20th anniversary
Ford's Special Vehicle Team has come a long way in the twenty years since its inception. The performance group showed the SVT Mustang Cobra here at the Chicago Auto Show in 1992; that pony car made 235 horsepower with a 5-liter V8. Their latest creation celebrates this twentieth anniversary with a far more powerful V8 and some performance-enhancing upgrades that make the 1993 SVT Cobra seem quaint by comparison.
To be fair, automobiles of all types have seen a drastic increase in output and performance in these twenty years. Still, the 2013 Ford Shelby GT500 Convertible is spectacularly powerful by any measure. Its 5.8-liter supercharged V8 now makes a stunning 650 horsepower and 600 lb-ft of torque, a 100-horsepower advantage over the 2012 model and greater output than any other production V8 engine available.
Increasing rear-wheel horsepower was achieved by revising both external and internal engine components and employing stronger and lighter drivetrain parts. A new supercharger and improved camshaft profiles are among the changes. A new carbon fiber driveshaft and a better clutch, transmission and axle deliver the power to the pavement.
The SVT crew recognizes that huge power alone does not make a performance automobile capable of quick laps of a twisty track. Making the most of the V8 demands excellent handling and braking characteristics, too. To that end, the 2013 GT500 gets new Brembo brakes with six-piston calipers up front and bigger rotors at all four corners.
The Performance Package makes available SVT-designed Bilstein electronic adjustable dampers. With the flip of switch, the adjustable suspension toggles between a more forgiving street setting for normal use and a stiffer Sport setting that minimizes pitch and roll, ideal for track laps. For peak performance, a Track Package adds an oil cooler, transmission cooler and differential cooler.
Open the door of the 2013 Shelby GT500 Convertible and a lighted sill plate commemorates the 20th Anniversary of SVT. What better way to commemorate two decades of high-performance accomplishments than with a truly special machine like the GT500 Convertible?
What it means to you: Celebrating 20 years of Ford's SVT, the 2013 Shelby GT500 Convertible has spectacular power and, with the Performance Package, a track-tuned chassis that adds agility to the equation.