RESEARCH LA AUTO SHOW BY YEAR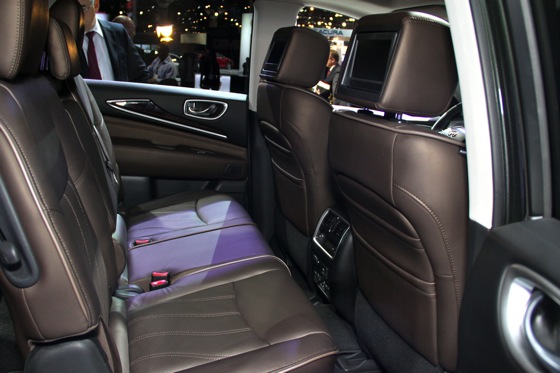 Seating for seven, with innovative second row that allows entry even with a child seat
Features Backup Collision Intervention, which prevents accidents when backing up
Available in Spring 2012 nationwide starting at $40,450


The luxury crossover game has become very busy lately, but that hasn't stopped Infiniti from throwing its hat into the ring. But with so many players in the field, what does Infiniti think it can offer that others can't? Features. Ones that Infiniti says customers want, but that other manufacturers rarely deliver on. Namely, its focus is on interior flexibility and roominess, safety, and advanced hospitality features. And Infiniti showed just how all those come together in its new JX at the LA Auto Show.
One aspect of the JX's interior flexibility are its "multi-mode seats." Infiniti says they fold in such a way that a passenger can get into the third row, without having to remove a child's seat from the second row. Infiniti also promises that those stuck in the third row won't suffer as much as third-row occupants in other crossovers, with ample legroom way in the back, while still maintaining cavernous cargo room behind it.
Fulfilling the safety portion of the promise is Infiniti's new Backup Collision Intervention system. It works like the radar-assisted cruise control systems available in many high-end vehicles. When the JX is put into reverse, sensors activate in the rear bumper, monitoring for any incoming cross traffic. This feature is extremely helpful in parking lots, where another car driving down the row might be obscured by other cars. If the JX determines that an accident is about to happen, it automatically applies the brakes to prevent it.
Finally, features like rear-seat entertainment, and Bose premium audio as options provide the hospitality. The JX can also come with Infiniti Connection, Infiniti's OnStar-like service, which offers remote door lock/unlock, and Infiniti Personal Assistant, the company's concierge service.
Under the hood is a 3.5-liter V6 engine, which is paired to a CVT transmission for better fuel efficiency. The CVT offers selectable drive modes, with Standard, Sport, Snow or Eco modes to optimize the car for those conditions. Those in colder climates will also appreciate the JX's optional all-wheel drive system.
We will see the car in the spring of 2012, with a starting price of $40,450.
What it means to you: Infiniti jumps into the crowded crossover market with the JX, but promises to offer unprecedented room for the asking price, as well as class-leading features.
See more LA Auto Show news.