RESEARCH NEW YORK AUTO SHOW BY YEAR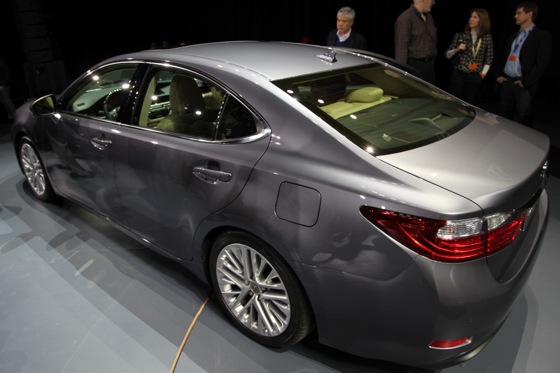 Lexus unveils the ES 350 and ES 300h hybrid at this year's New York Auto Show
The ES 300h hybrid is expected to achieve 40 mpg combined fuel economy
Brand new ES line expected to go on sale in late 2012


The 2013 ES lineup is all new and features a first-ever hybrid option fitted with Lexus Hybrid Drive technology: the ES 300h. Aside from its new, fuel-efficient model, the 2013 ES lineup has a progressive new design and improved handling.
The new ES 300h hybrid features a 2.5-liter inline four-cylinder Atkinson cycle engine that, combined with Lexus hybridization, is expected to achieve 40 mpg combined fuel economy rating. The ES hybrid offers four driving modes: Normal, Sport, Eco and EV. EV mode allows short distance drives, at reduced speed, using only the power from the hybrid battery pack. Normal mode provides a blend of performance and efficiency that's suited to everyday driving, while Eco mode favors fuel economy. Sport mode increases powertrain responsiveness.
The ES 350 is powered by a 3.5-liter V6 mated to a six-speed Electronically Controlled Transmission with Intelligence (ECT-i). This ECT-i provides enhanced performance, fuel efficiency and smooth shifts. Low friction materials further improve efficiency.
Exterior styling is lower and more progressive than before and flows seamlessly into its signature Lexus front fascia with its distinctive spindle grille. The bumper of the ES 350 proudly features dual exhaust pipes. While the ES 300h features a distinctive rear design with hidden exhaust and an integrated spoiler.
The open, modern interior of the 2013 ES line has been designed to improve visibility and craftsmanship. Rear seat leg and knee room have also been greatly improved. Knee room is increased by 2.8 inches and legroom is increased by 4.1 inches. The new interior design also provides additional foot room below the front seats.
Suspension and steering changes combined with a stiffened body deliver more exact handling. The front suspension has coil springs that enhance straight-line stability. Revised rear suspension geometry and improved shock absorber damping characteristics enhance the ES ride comfort. Lexus reduced the steering gear ratio for 2013, delivering a more responsive feel. Additionally, Lexus increased body rigidity thanks to a lightweight, high tensile strength steel construction, added bracing and additional spot welds. Despite the 2013 ES being larger, roomier and additionally luxurious, Lexus reduced the weight of the new ES by nearly 90 pounds.