RESEARCH NEW YORK AUTO SHOW BY YEAR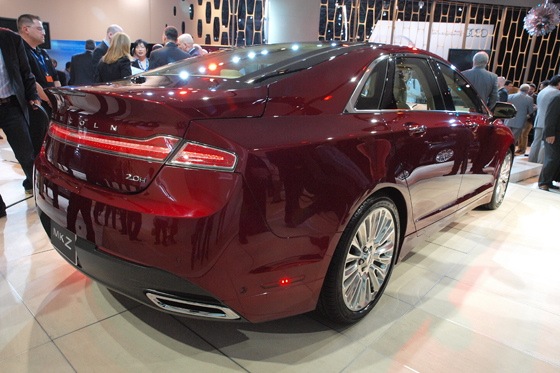 The second-generation MKZ has arrived
Brings class and glass in equal measure
And yes, there's still a hybrid version


The all-new 2013 Lincoln MKZ has made its world debut at the 2012 New York Auto Show. This is the midsize premium sedan's second generation and looks incredibly similar to the MKZ concept shown at the Detroit Auto Show last January.
Styling comes from the brand's own design studio (a recent addition), showing a new grille that has the recognizable Lincoln "wings" but drawn in a more understated, cleaner way. Another major piece of eye candy is the panoramic glass sunroof. It's massive - 15.2 square feet, while Lincoln contends that structural strength is the same with this option as it is with a steel roof.
Propulsion choices are a turbocharged 2.0-liter four-cylinder, a 3.7-liter V6 or a hybrid drivetrain. The turbo four makes 240 horsepower and 270 lb-ft of torque. Lincoln claims a 20-percent improvement on highway fuel consumption over the outgoing counterpart, predicting 22 mpg in the city and 33 mpg on the highway.
The company also states that thirst is reduced by five percent in the V6 - 18 mpg city, 26 mpg highway - while making 300 hp and 277 lb-ft. There are no fuel figures for the gas/electric setup, but total output is a healthy 188 hp. The 2012 MKZ Hybrid achieves 41 mpg city and 36 mpg highway, so expect the same or better from the 2013 version.
In non-hybrid models, there's no shift lever for the six-speed transmission. Instead, there's a five-button interface: park, reverse, neutral, drive and sport. These cars also have the option of all-wheel drive. The hybrid is front-drive only and uses a continuously variable transmission (CVT).
Bristling among the leather, wood and metal surfaces of the interior is technology like a 10.1-inch LCD instrument cluster and an eight-inch touchscreen for MyLincoln Touch - the voice-activated entertainment and navigation system developed with Microsoft that also controls some vehicle functions. This should be more user-friendly than earlier versions. There's also something called Active Noise Control, which makes the optional 700-watt surround-sound audio system even easier to hear.
As well as sight and sound, the MKZ offers the feel of a computer-controlled adaptive suspension with sport, normal and comfort modes.
On the safety front, eight airbags are joined by inflatable seat belts for passengers in the rear. There are also blind spot alerts, lane keeping assistance, adaptive cruise control and collision warning systems available.
The 2013 Lincoln MKZ is due in showrooms later this year. No prices have been mentioned yet, but a starting price of around $41,000 is our estimate.
What it means to you: Lincoln sees the MKZ as a crucial step in its much-needed resurgence.