RESEARCH SEMA AUTO SHOW BY YEAR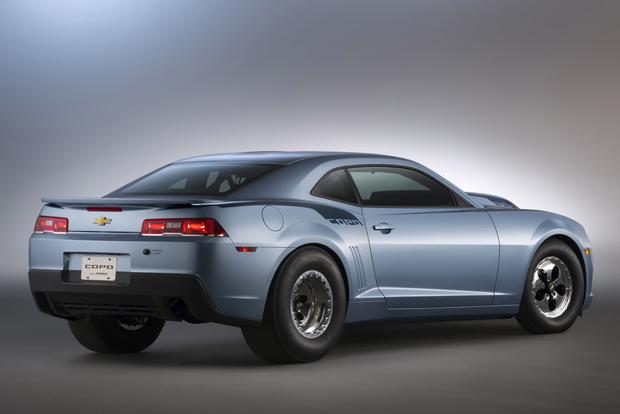 What Is It?
The 2014 Chevrolet COPO Camaro is one of several high-performance models Chevrolet released at the SEMA show. Limited to 69 units and priced around $90,000, the COPO Camaro offers four engines: two naturally aspirated V8s and two supercharged V8s. They all make well over 300 horsepower, and they're each designed to give the car a leg up in NHRA Stock Eliminator drag racing. As a result, they're sold without common safety equipment. They don't even include a VIN number, meaning they can't be driven on the street.
So how does the automaker select who gets to own a COPO Camaro? It's not as easy as shipping them to dealers and letting shoppers choose one off the showroom floor. Instead, Chevrolet searches through the more than 3,000 people who have expressed interest in the car and picks 69 at random. Automaker employees then call all 69 people and work with them to help finalize their orders. To finish the process, Chevrolet sends a certificate to each customer, who must go to a local dealer to finalize the order.
How Much?
The COPO Camaro is expected to start at just under $90,000.
When Can You Get It?
Given that production is limited to 69 units, you probably can't. But we expect the 2014 Chevrolet COPO Camaro to officially go on sale in the spring.
Add It to Your Shopping List Because...
If the idea of owning a drag-tuned Camaro that you can't drive on the street isn't cool enough, try this: With just 69 vehicles made, the COPO Camaro is sure to become a collector's item. Sure, Chevrolet built 69 COPO Camaro units last year, too -- and the year before. But the total number of COPO Camaro models out there is still far below the total number of Chevrolet enthusiasts who would love to park one in the garage.
Other Cars to Consider
Chevrolet Camaro Z/28 -- Drag racing not your thing? Try the Camaro Z/28, which is a track-focused, 505-hp monster that's all-new for the 2014 model year.
Shelby GT500-- While Ford doesn't offer a drag-focused version of its Shelby Mustang, the latest GT500 is certainly a worthy competitor to the COPO Camaro. It's monstrously fast (662 hp, 200 miles per hour top speed), very quick (0-to-60 mph in 3.5 seconds) and, like the COPO Camaro, it's among today's ultimate muscle cars.
Used Chevrolet Corvette ZR1 -- It's likely that the ultimate Corvette can keep up with the COPO Camaro on the drag strip. And it has one distinct advantage: You can drive it on the street.