RESEARCH SEMA AUTO SHOW BY YEAR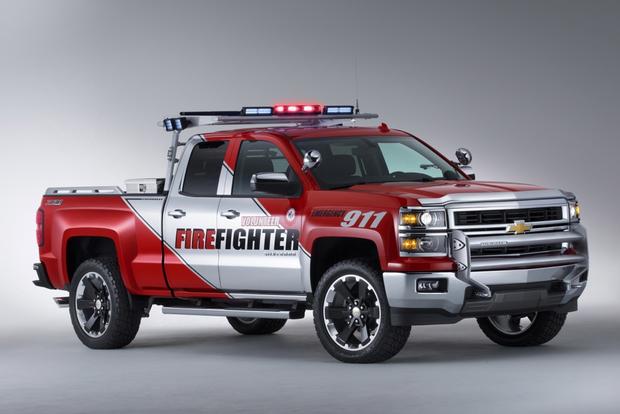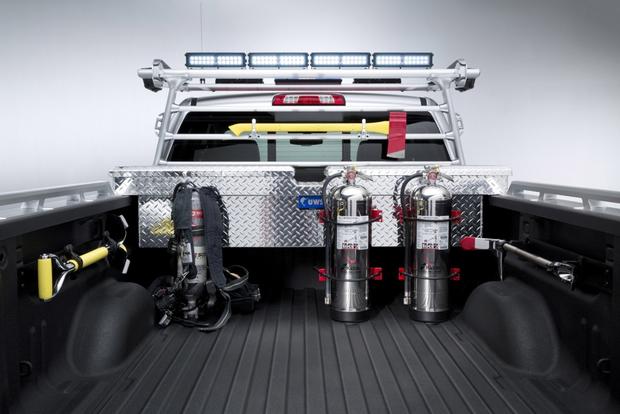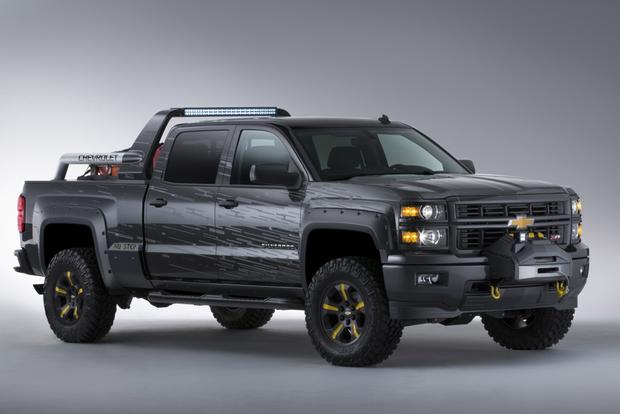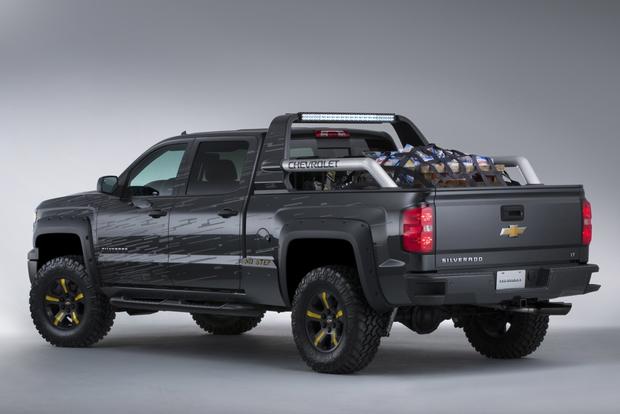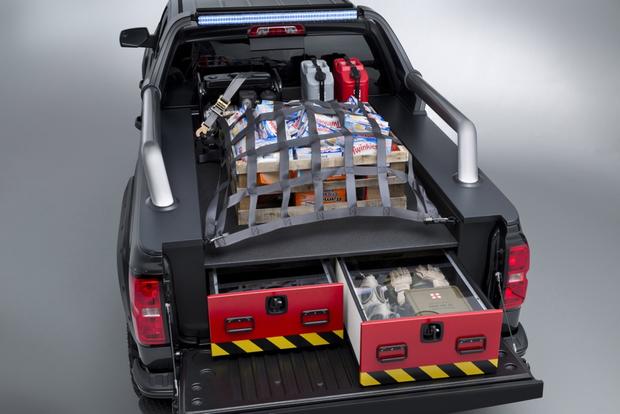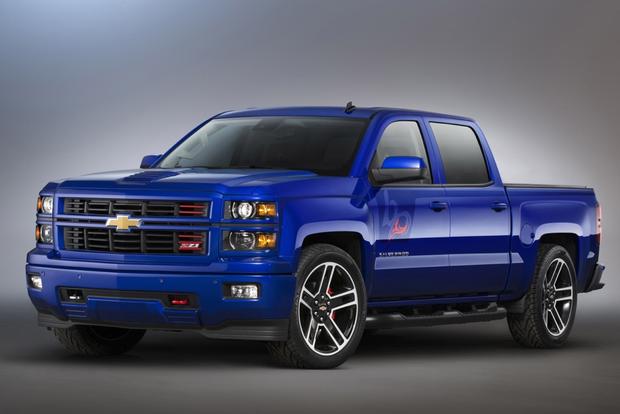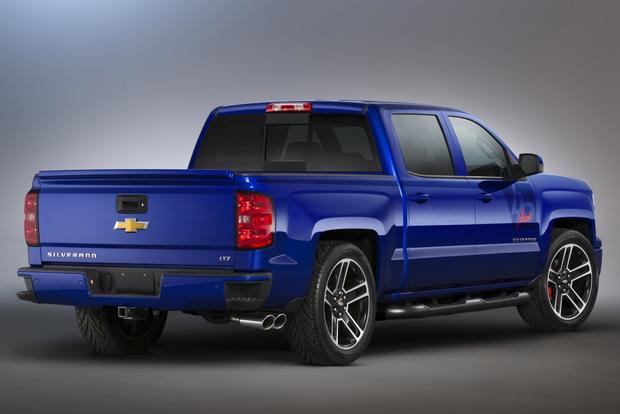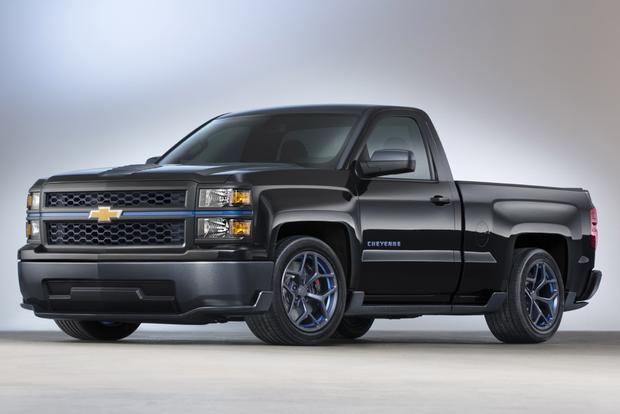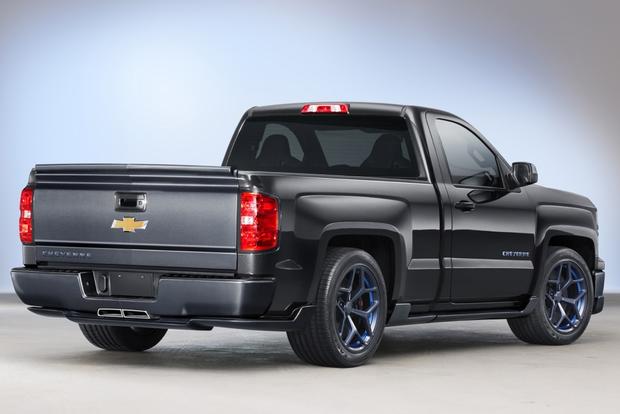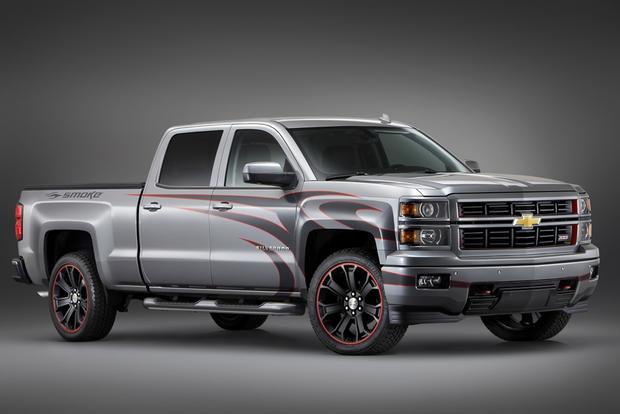 What Are They?
Chevy brought five concepts based on its totally redesigned 2014 Chevrolet Silverado full-size pickup to the 2013 SEMA show. The five concepts are the Silverado Cheyenne, Brad Paisley Signature Silverado, Tony Stewart Silverado, Silverado Volunteer Firefighter and Silverado Black Ops.
The Silverado Cheyenne concept is built for street performance. It packs a 420-horsepower 6.2-liter V8 under the hood and is fitted with Brembo carbon ceramic brakes sourced from the upcoming Camaro Z/28 and a Borla performance exhaust. It also uses lightweight carbon fiber for its bumpers, tailgate and inner cargo box.
The Brad Paisley Signature Silverado was designed with the help of the country music star. Inside, the special model sports leather and suede seats, premium audio with a Kicker subwoofer and rear entertainment. For its exterior, the Brad Paisley Signature model includes a lowered suspension and 22-inch matte black wheels.
The Tony Stewart Silverado concept was also designed with a celebrity, but this star shines on oval speedways, not stages. For this Silverado, the NASCAR Sprint Cup champion specified a dark paint scheme with tinted headlights and taillights to match. The Tony Stewart Silverado sits on 22-in wheels and a tonneau cover that are available through Chevrolet Accessories.
The Silverado Volunteer Firefighter concept is turnkey for first responders, with an off-road suspension, gear boxes and emergency lighting. Like a big firefighting rig, it is, of course, finished in red and silver paint and includes plenty of polished aluminum exterior features.
The Silverado Black Ops concept is perhaps the ultimate bug-out vehicle for survivalists and preppers. Based on the 4x4 Crew Cab, it includes lower body armor, a lockable Truck Vault mounted in the bed and light bars to illuminate areas behind and in front of the vehicle. The Black Ops concept wears off-road tires on custom-painted versions of the stock Z71 18-in wheels.
Will Chevrolet Ever Sell Them?
You're unlikely to ever find these sitting on a dealer's lot, but accessories available from Chevrolet allow customers to outfit their Silverados with some of the equipment included on these concepts.
Why They're Important
The vehicles inspire Silverado owners who want to personalize their vehicles. Pickup trucks are highly customizable; few pickup drivers operate a "bone stock" machine. More often, owners customize their trucks with the equipment suited to their work or recreation of choice. Chevy's SEMA concepts reveal the versatility of the 2014 Chevrolet Silverado.