RESEARCH LA AUTO SHOW BY YEAR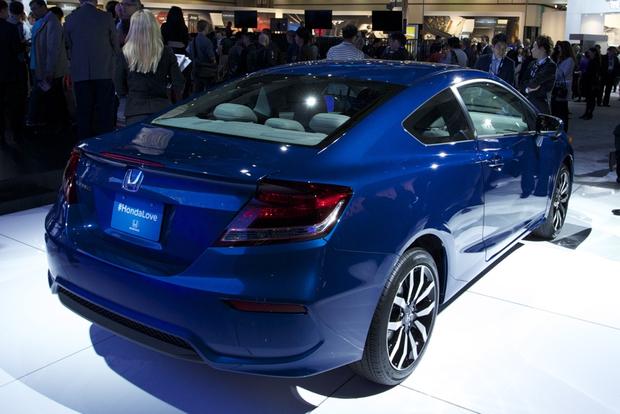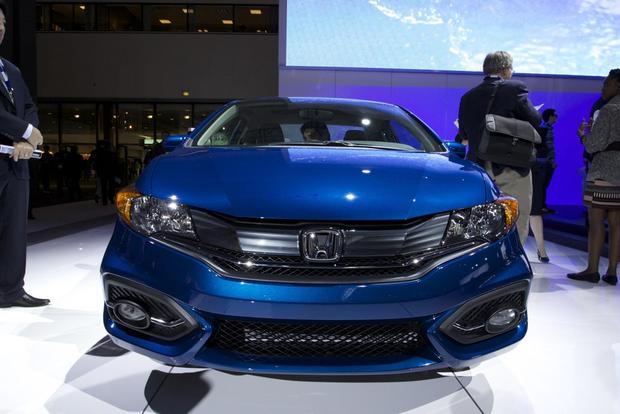 What Is It?
The compact Honda Civic is among the most popular cars on the road. At this year's LA Auto Show, we learned about the brand's updates to the 2014 Honda Civic Coupe and sedan, which come on the heels of several major updates for the 2013 model year.
The biggest news for the 2014 Honda Civic is the transmission. All Civic models will use a CVT automatic, which is expected to offer better gas mileage and a smoother driving experience than last year's 5-speed automatic. That's good news for compact-car shoppers, since last year's automatic was showing its age compared to rivals with more advanced transmissions.
With the new transmission comes a gas mileage boost. Most Civic models will see fuel economy jump to 30 miles per gallon city and 33 mpg in combined city and highway driving -- an increase of 2 mpg and 1 mpg, respectively. The efficiency-focused Civic HF's fuel economy increases to 42 mpg hwy, with an increase of 1 mpg.
Other updates primarily relate to features and equipment. The Civic EX, for instance, now adds Honda's LaneWatch system, a camera-based feature that helps drivers change lanes. The EX also adds automatic headlights and a smart key with push-button starting.
The 2014 Civic also sees changes to its powertrain. Horsepower is up to 143 from 140, and torque increases by 1 lb-ft to 128 lb-ft. A manual transmission is now offered only in the base-level Civic LX and the sporty Civic Si, while the Civic Coupe adds new paddle shifters for its CVT automatic.
How Much?
$18,500-$27,000
When Can You Get It?
December 2013
Add It to Your Shopping List Because...
While the Honda Civic wasn't well received when the latest model debuted for 2012, updates for 2013 worked wonders to change that reception. The latest revisions for 2014 go even further, adding new features, improved gas mileage and, perhaps most importantly, a new transmission. We haven't driven the 2014 Civic yet, but we expect the latest updates to the compact car will make it the best version yet.
Other Cars to Consider
Ford Focus -- You can't get a Focus Coupe, but Ford's popular compact is a good alternative for drivers interested in the Civic sedan. It boasts a roomy interior, handsome styling and lots of new technology.
Hyundai Elantra -- Hyundai's compact Elantra offers bold styling and three body styles -- a sedan, a 5-door hatchback and a sleek 2-door that rivals the 2014 Honda Civic Coupe. It also boasts fuel-efficient engines and a long list of luxurious extras.
Toyota Corolla -- The Corolla isn't the most exciting car on the road, but there's a lot to be said for its unwavering durability and reliability. Like the Focus, the Corolla doesn't offer a coupe body style.
Used Honda Accord -- If you're not sure whether your life will fit in a compact Civic, consider the Accord. It's just as reliable as the Civic, but it offers more equipment and a larger interior. Of course, that means it's more expensive, so you'll have to consider a used model.