RESEARCH DETROIT AUTO SHOW BY YEAR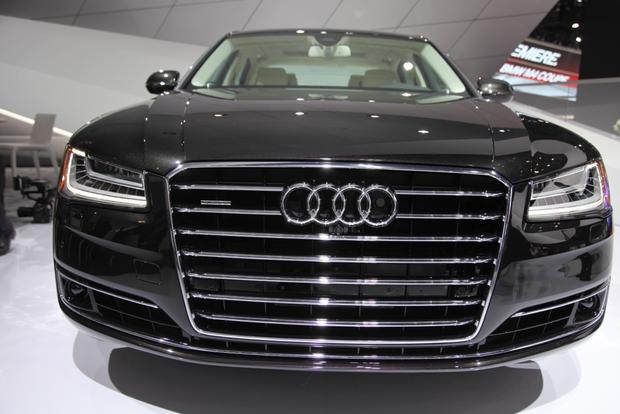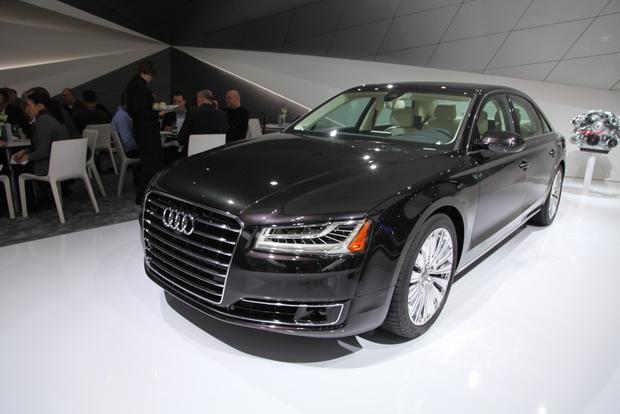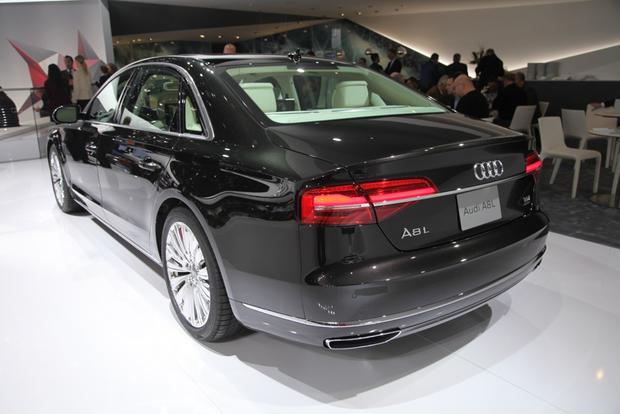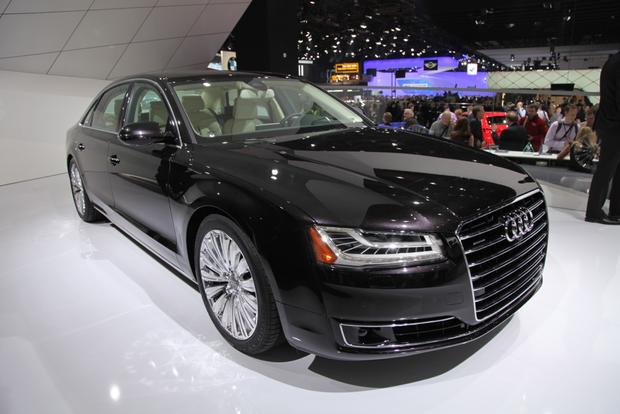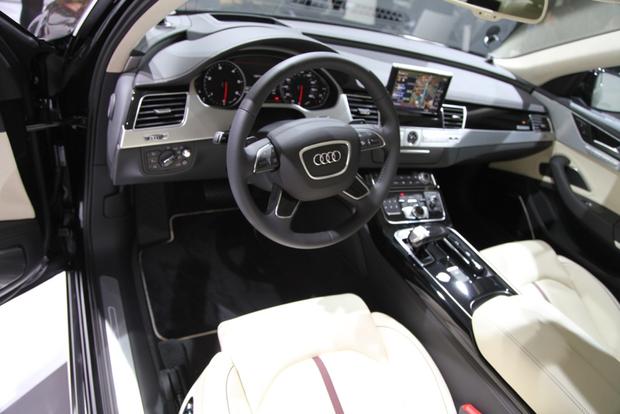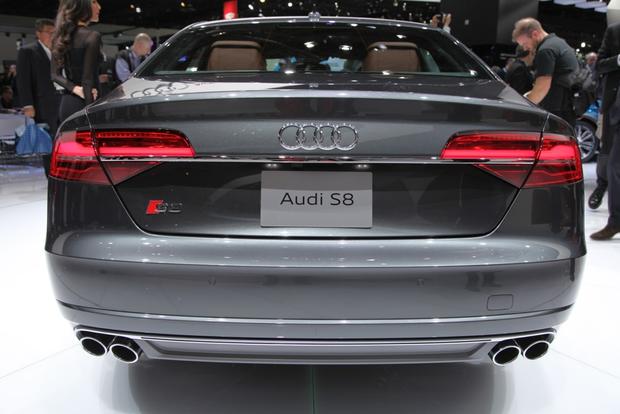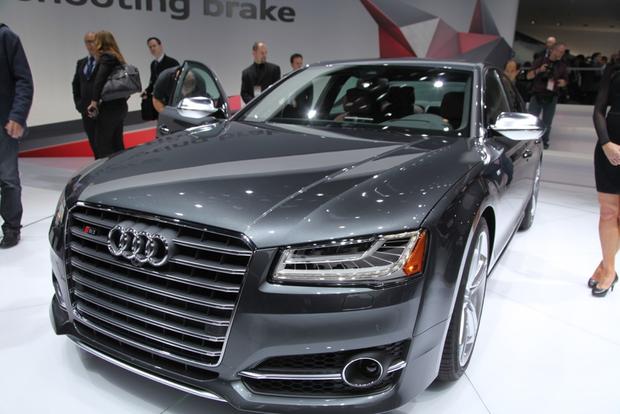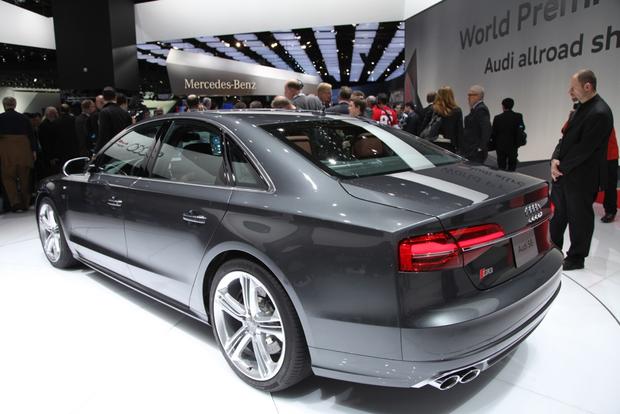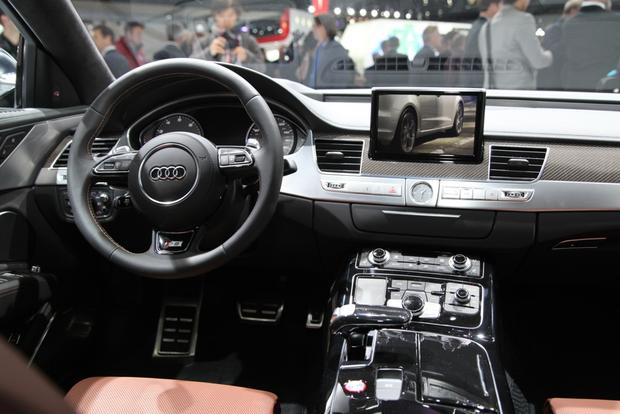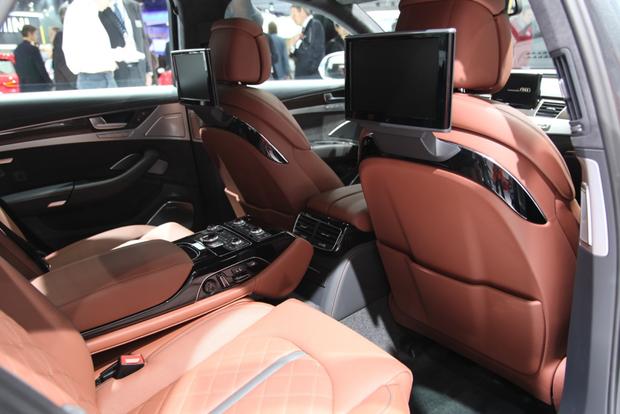 What Is It?
The 2015 Audi A8 luxury full-size sedan and its high-performance S8 sibling make their North American debut at the 2014 Detroit Auto Show so the world can check out the cars' mid-cycle revamps.
The front and rear have been tweaked to include new lighting. There are fresh designs of alloy wheels and five new paint finishes to ponder while trying out the massaging seats and remarking on how the extra sound insulation has made the cabin even more tranquil.
The latest harvest from Silicon Valley includes lane-keeping assist, collision avoidance, secondary collision assist, night-vision assist, head-up display and park assist, as well as Wi-Fi, Google Earth and voice-activated Google search.
The 4.0-liter turbocharged V8 in the 2015 Audi A8 range gets a hike in output from 420 to 435 horsepower, while the range-topping 6.3-liter W12 now comes with cylinder deactivation to save gas. The S8's 520 hp stays the same, but it now has a quad exhaust system with larger oval tailpipes.
How Much?
To be announced. For a ballpark, the 2014 model starts at $75,100.

When Can You Get It?
Summer 2014.

Add It to Your Shopping List Because...
The A8 rewrote the book on big luxury sedans by including a lot of aluminum in place of steel in its construction. This saves weight, which saves fuel. It's been the modernist's choice ever since, while traditionalists tend to plump for the Mercedes-Benz S-Class. A lot of its appeal is in the clean yet elegant design, as well as the obligatory stash of high-tech gadgetry.
Other Cars to Consider
2014 BMW 7 Series -- Lots of toys, yet somehow the 7 Series also has this ability to hustle around roads like a much smaller, sportier car.
2014 Hyundai Equus -- Revised for 2014, but still not offering all-wheel drive. Bags of space, though, and a ton of tech to fill it.
2014 Jaguar XJ -- Another large sedan that goes big with aluminum. Doesn't quite match up to rivals in the gadget stakes, but its cabin seems classy even in this company.
2014 Lexus LS -- Does exactly what it has to: glides, purrs, whirs and cossets.
2014 Mercedes-Benz S-Class -- Even when the previous generation was winding down, the S-Class was still selling better than the competition. This generation debuted last year and has some of the most remarkable automotive tech around.
Used Bentley Flying Spur -- When you're already this high up the automotive totem pole, there aren't that many cars above. A Flying Spur is one idea, though. It has the kind of power, presence and plushness guaranteed to appeal to a potential A8 buyer.
Used Maserati Quattroporte -- A higher-specced new A8 would encroach upon 2014 Quattroporte territory, but a used Maserati QP would naturally be less expensive and still have a Ferrari-engineered V8 nestling in that long and stylish engine bay.