RESEARCH SEMA AUTO SHOW BY YEAR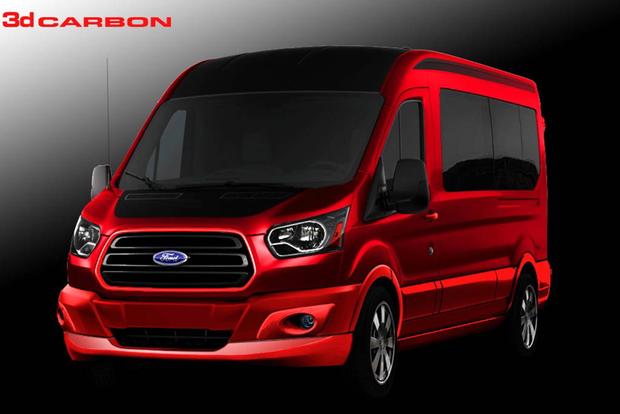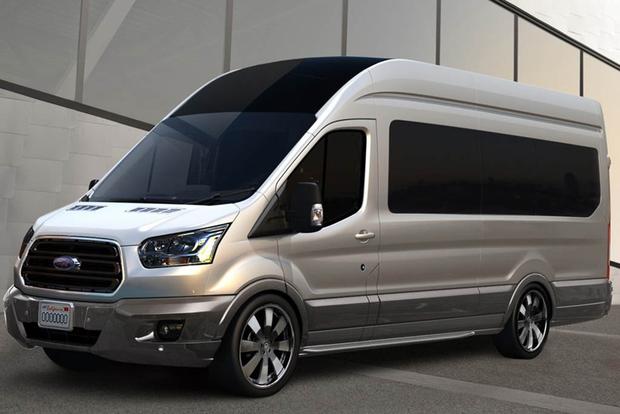 What Are They?
The 2015 Ford Transit full-size van is letting it all hang out at the 2014 SEMA Show. Ford has five highly modified Transit vans on display in Las Vegas this year, each designed to showcase different aspects of the new van's highly versatile character.
Vegas Off-Road Experience Transit
If you decide to try your hand at high-speed, Baja-style desert racing, you'll probably end up visiting the folks at Vegas Off-Road Experience (VORE). And once you're there, chances are good that you'll be ferried around the premises in one of these beefed-up Transits with off-road wheels and tires. Highlights include LED light bars, xenon headlights, extended fender flares, five flat-screen LED monitors and a video-gaming station -- you know, in case blasting through the desert in race-prepped Baja trucks isn't entertainment enough.
Designed Travel Transit
People tend to think of full-size vans as minibuses with lots of seats, but all that interior space can also be utilized for luxury. The Designed Travel Transit -- a joint project of Minnesota-based Waldoch and Southern California's 3dCarbon and Air Design -- features 6-passenger seating, including four rear captain's chairs with heating, cooling and massage functions, along with power headrests. There's also a rear seat with a fold-down sofa, a 50-inch HD television, LED interior lighting and a tablet control system. Think of it as a conversion van for the digital age.
Formula DRIFT Transit
Like the VORE Transit, the Formula DRIFT Transit will see real-world duty, in this case at sanctioned drifting events throughout 2015. Based on a medium-roof, short-wheelbase configuration but decked out with a performance suspension for demanding circumstances, this Transit is tasked with being a first responder to on-track accidents. Therefore, there's plenty of fire and safety equipment on board, including fire extinguishers and cleanup equipment. According to Formula DRIFT, there's even room for a Kawasaki Mule ATV support vehicle in the Transit's custom rear workspace, which also includes LED lighting and a Clarion entertainment system.
Business Class Transit
Created by Detroit Custom Coach of Oak Park, Michigan, the Business Class Transit is the full-size van reimagined as a limousine. VIP touches abound, with reclining heated/massaging seats for up to eight people, plus multiple cocktail stations. Other details include a power passenger entrance step, wood-grain flooring, a laptop docking station, color-changing LED lighting, an assortment of flat-screen televisions, integrated iPad controls and mobile Wi-Fi.
Galpin Auto Sports Transit Skyliner
Last but not least, the Galpin Auto Sports Transit Skyliner -- co-engineered by Ford and its flagship dealership, Galpin Ford of Van Nuys, California -- further explores the Transit's viability for the livery business. Features include "throne" seats controlled by smartphone or tablet, a 52-in retractable movie screen, a Focal Utopia 7.2 surround-sound audio system with custom-made speakers, satellite TV and an integrated bar.
Will They Ever Sell Them?
There's no limit to what the aftermarket can do with the completely reinvented 2015 Ford Transit. We expect production versions similar to these vans to be available from various providers during 2015, with many more custom treatments in the years to come.