RESEARCH NEW YORK AUTO SHOW BY YEAR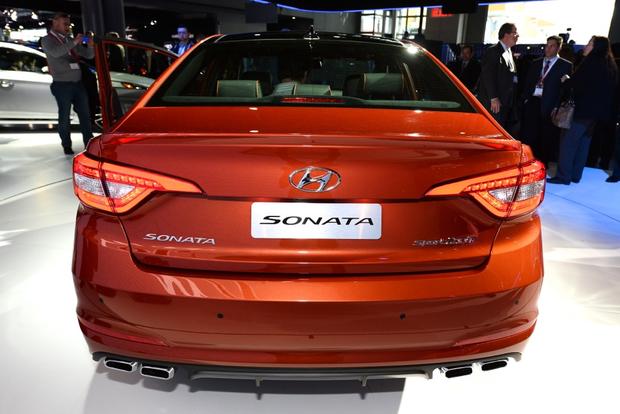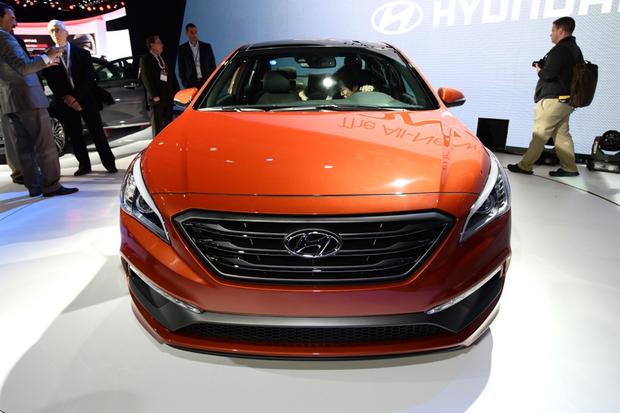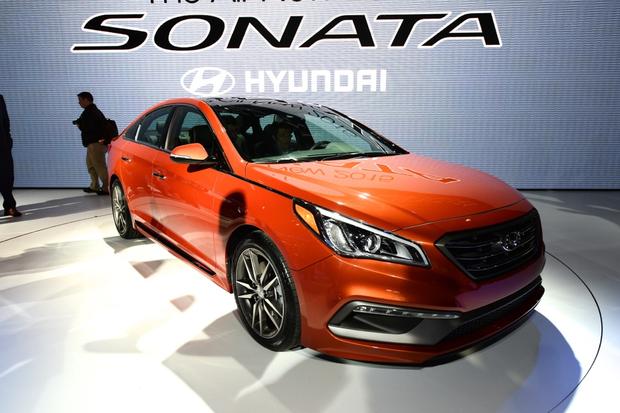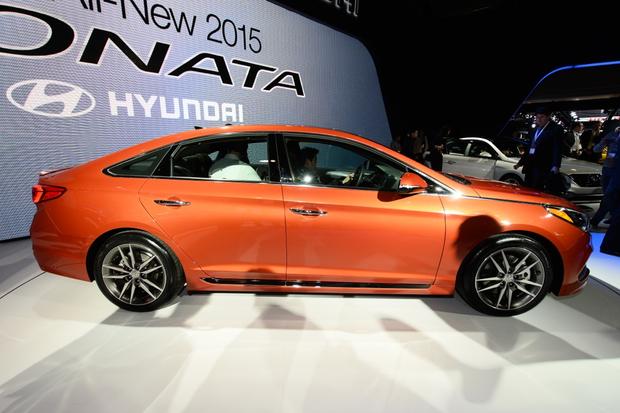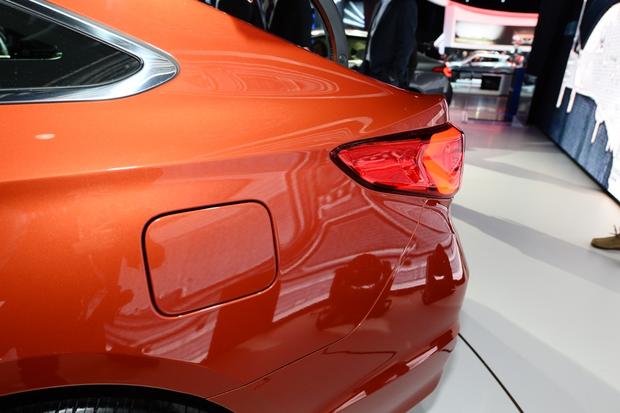 What Is It?
The 2015 Hyundai Sonata rolls into the 2014 New York Auto Show as the ambassador of this midsize sedan's seventh generation. In a segment awash with fantastic cars, the Sonata has gone from "quite OK but not a serious contender" in its fifth-generation model to "big player in the family-sedan game" by the time the sixth edition went on sale. The previous model really hammered Hyundai's stake into the ground, and the 2015 version likewise has all the right ingredients, as its looks, dynamics and equipment inventory edge ever closer to premium territory.
Hyundai calls its current design language "Fluidic Sculpture 2.0." The previous Sonata's styling was the result of Fluidic Sculpture's first wave, but similar to the 2015 Hyundai Genesis that debuted at this year's Detroit show, there's an element of trying to look a bit like Audi 1.0. That's not surprising, considering Hyundai Motor Group's design chief, Peter Schreyer, used to work for Audi.
Beneath the Sonata's skin is a more rigid body, while engineers have toiled away at reducing noise, vibration and harshness wherever possible. That includes the cabin, which has also been finessed for ergonomics. The Environmental Protection Agency classifies the 2015 Hyundai Sonata as a large car, thanks to its generous passenger and cargo accommodations.
How Much?
To be announced. As some kind of guide, the 2014 Hyundai Sonata starts at $21,450. It's a cutthroat, cut-price world out there, so the seventh-generation car probably won't veer too wildly from that price point.
Trim levels are also TBA, although we know there's an SE, Sport, Limited and Hybrid.
When Can You Get It?
Summer 2014
Add It to Your Shopping List Because...
As well as being a brand-new model, the 2015 Hyundai Sonata is about as state-of-the-art as a midsize sedan gets right now, with the kind of equipment seen in more expensive machines, such as an 8-inch color display screen, rear cross-traffic alerts, intelligent headlamps, blind spot, lane-change and lane-departure monitoring, forward-collision warning and high-end audio systems.
And don't forget Apple CarPlay, which integrates an iPhone 5 into the Sonata's infotainment system while offering eyes-free operation through voice commands.
If there's one weak aspect in past Hyundai cars, it's usually been the driving experience. The company, however, took this chassis to various challenging roads around the world in an effort to sharpen it up.
Other Cars to Consider
2014 Ford Fusion -- There are no duds in this crowd. It might even boil down to which dealer is closer. Or nicer.
2014 Honda Accord -- A best-seller and deservedly so.
2014 Kia Optima -- This current generation is demanding, and receiving, more respect from buyers and the industry.
2014 Mazda6 -- Redesigned for this year. Hits most of the right notes, although some might prefer a softer ride.
2014 Nissan Altima -- Doesn't stand out but doesn't lose out either.
2014 Toyota Camry -- Usually one of the top-selling vehicles in the United States. Comforting in its predictability.
Used Honda Accord -- Why not get a fully loaded version of a midsize king?
Used Audi A4 -- Conversely, if the upscale vibe is whetting the appetite, $25,000 could easily net a 2011 Premium Plus model.