RESEARCH NEW YORK AUTO SHOW BY YEAR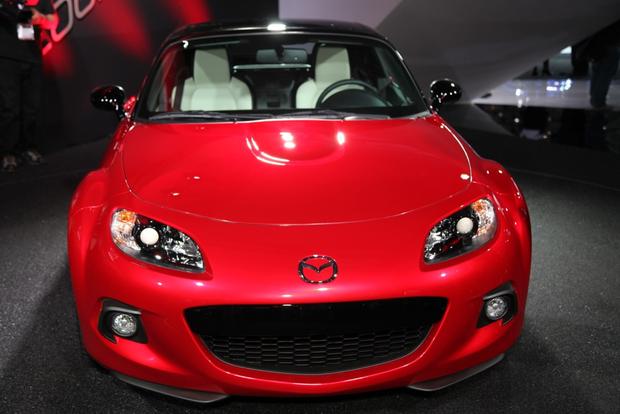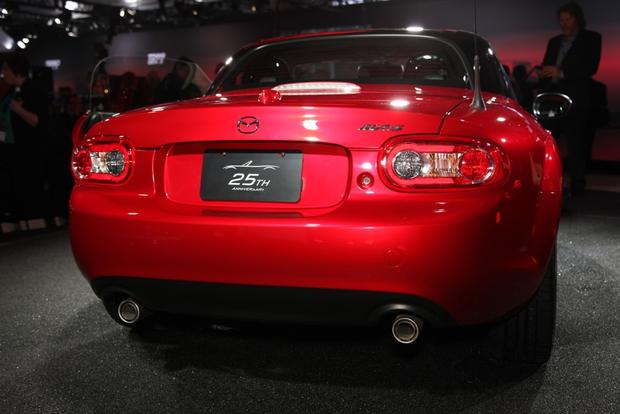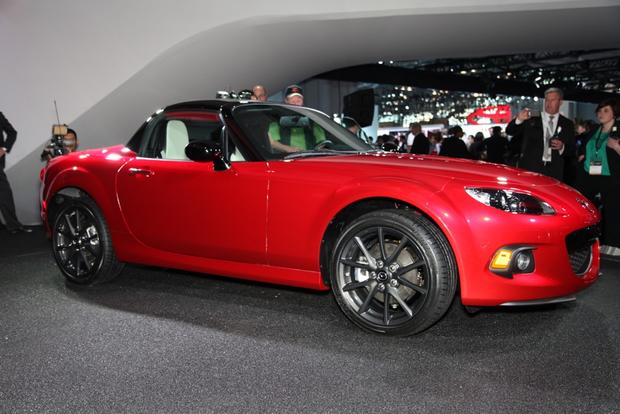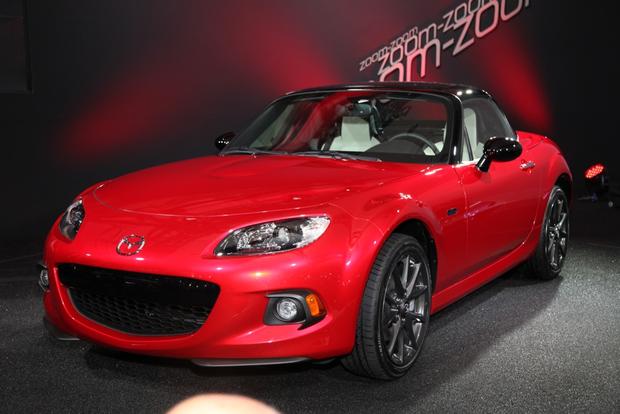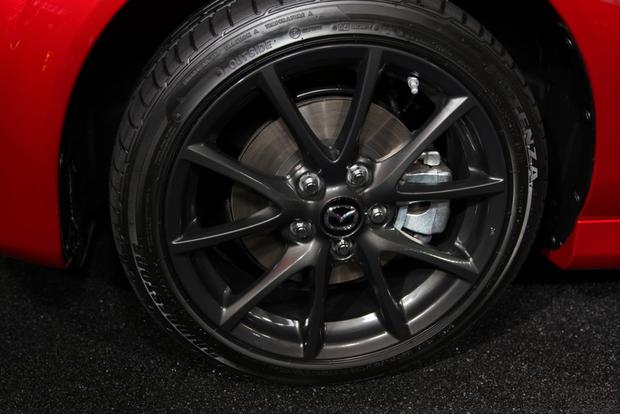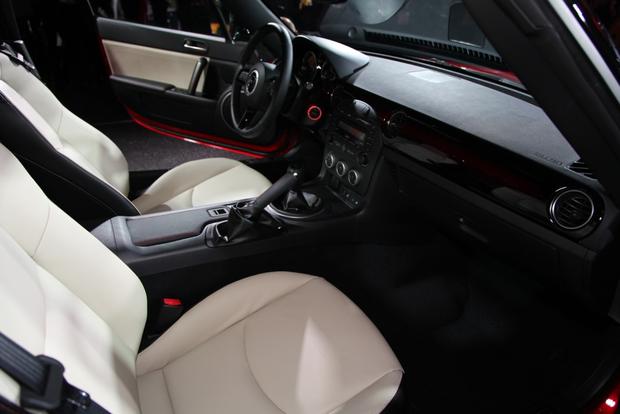 What Is It?
Miata fans will be pleased with the Mazda display at this year's New York Auto Show, as the brand's iconic sports car plays a central role. One important new debut is the 2015 Mazda MX-5 Miata 25th Anniversary Edition, which celebrates 25 years since the sports car's original debut. Mazda also showed off the chassis for its upcoming 2016 MX-5 Miata, which is expected to go on sale next year.
The 25th Anniversary MX-5 Miata is an especially appealing special edition, due to its upgrades over the standard model. There's a unique color -- Soul Red Metallic -- along with black accents throughout the exterior and black 17-inch alloy wheels. All 25th Anniversary models will also feature the MX-5 Miata's power retractable hardtop, finished in black.
Under the skin, the 25th Anniversary MX-5 Miata offers unique off-white leather upholstery, along with 25th Anniversary badging and hand stitching. Power will come from the same 2.0-liter 4-cylinder as the typical MX-5 Miata, though Mazda says sporty Bilstein shock absorbers will give the car a more performance-oriented ride. If all that sounds good to you, you'd better act fast: Mazda says it's only bringing 100 25th Anniversary models to the United States.
Beyond showing off the 25th Anniversary Edition, Mazda also revealed the chassis for the next-generation Miata, which is scheduled to go on sale next year as a 2016 model. While the brand has been light on details, we know that the new chassis will offer a weight savings over the current one, along with a lower center of gravity for improved handling.
How Much?
Pricing has not yet been announced for the 25th Anniversary Edition, though we expect the car's base price to likely come close to $30,000 with shipping.
When Can You Get It?
Spring 2014
Add It to Your Shopping List Because…
The Mazda MX-5 Miata is already among the most iconic cars on the market, and the limited-production 25th Anniversary model commemorates that status with unique trim and upgraded suspension. Sure, it'll be more expensive than the original Miata was, and it's a lot heavier. But the 2015 Mazda MX-5 Miata 25th Anniversary Edition still offers many of the features we've always loved about the Miata, from its 2-seat setup to a folding top that allows for many miles of enjoyable driving.
Other Cars to Consider
Scion FR-S -- It doesn't come with a convertible top, which eliminates it from contention for some buyers. But the Scion FR-S offers excellent driving dynamics, good looks and reasonable pricing that starts around $25,500 with shipping.
Nissan 370Z -- The V6-powered Nissan 370Z is a lot larger and more powerful than the MX-5, but the basics are there: two seats, rear-wheel drive and an available convertible top that offers enjoyable driving with the wind in your hair.
Subaru BRZ -- Mechanically similar to the FR-S, the BRZ also doesn't offer a convertible variant. But it boasts the FR-S' same excellent driving dynamics and reasonable pricing that make it a strong competitor to the MX-5.