RESEARCH PARIS AUTO SHOW BY YEAR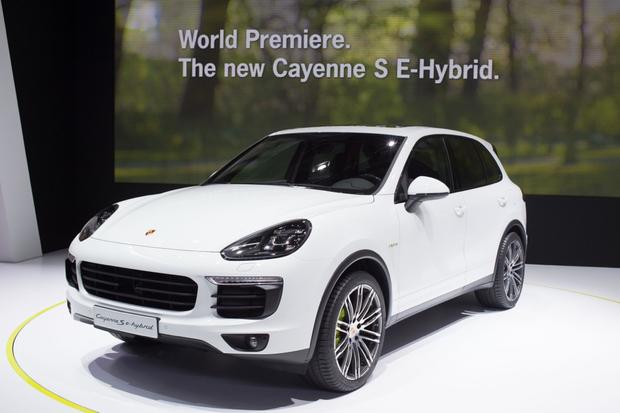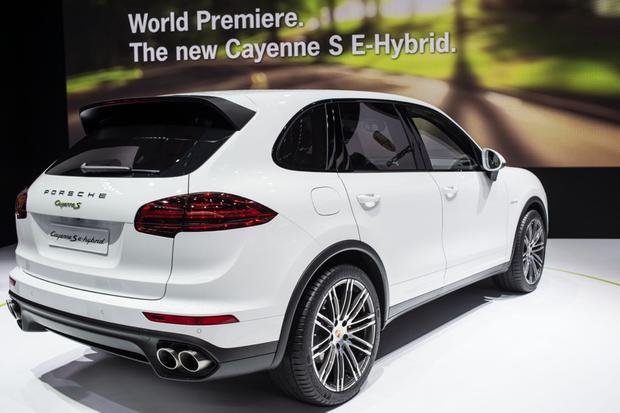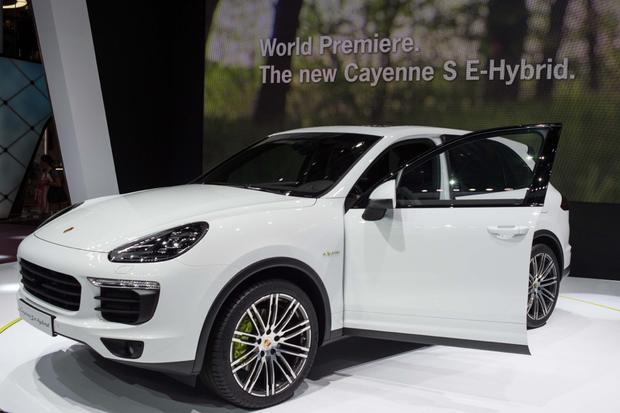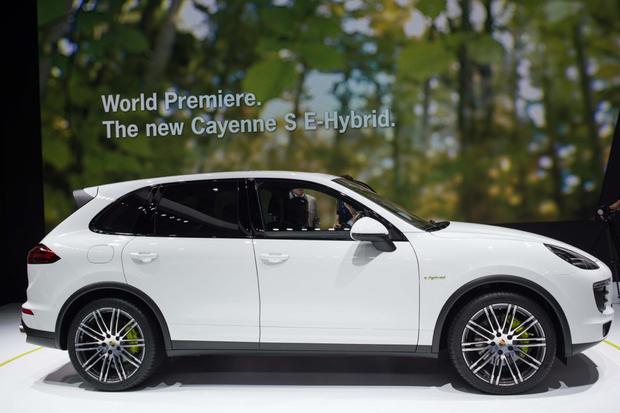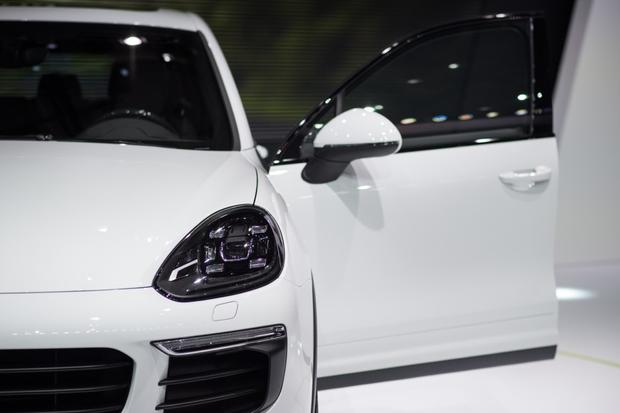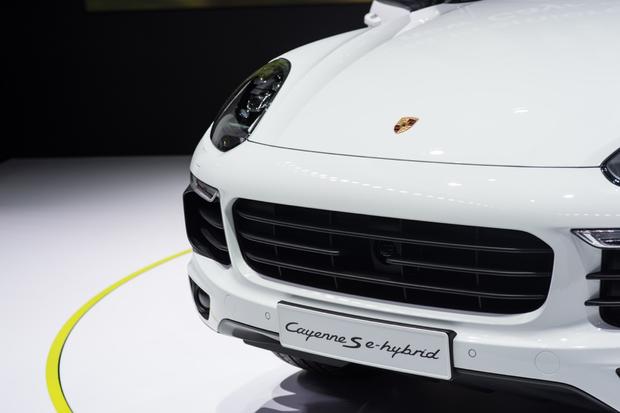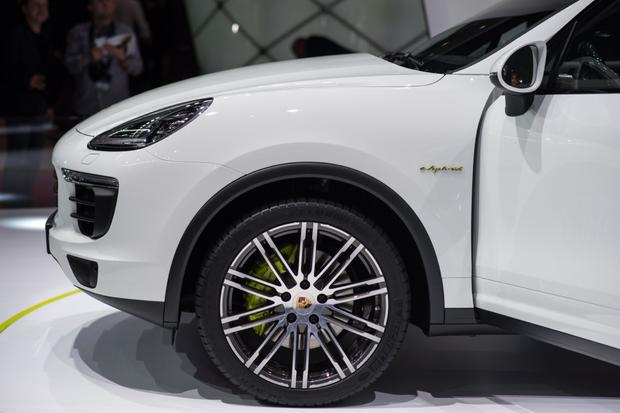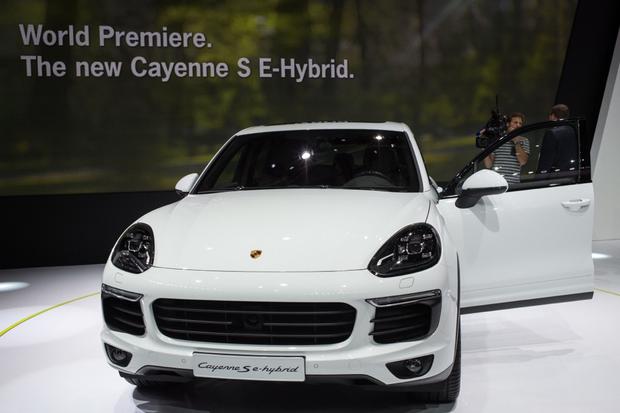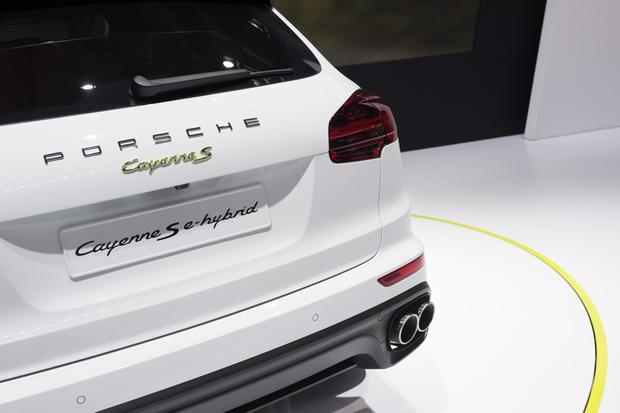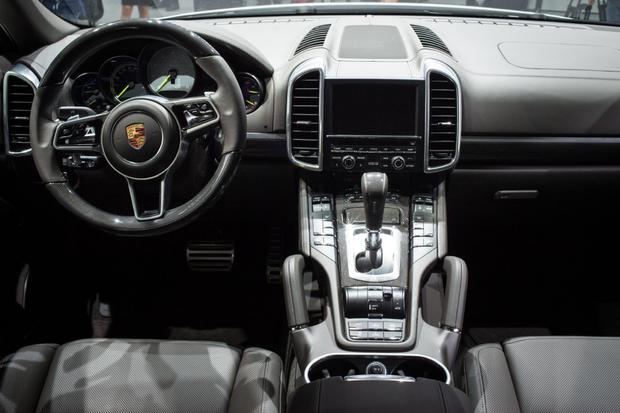 What Is It?
Major changes are coming to the Porsche Cayenne lineup this year. Most importantly, the 2015 Porsche Cayenne offers a slight facelift, and while styling revisions are mostly too small to notice, the SUV boasts one big update: Its base-level V6 powertrain, formerly the Cayenne's most popular model, is gone. Instead, the Cayenne lineup will start with a 240-horsepower diesel model and work its way through S and Turbo trims. Soon, there will also be an all-new Cayenne S E-Hybrid, which is making its debut in Paris.
The Cayenne S E-Hybrid adds another plug-in hybrid to Porsche's surprisingly electrified lineup, which also includes a plug-in Panamera and the brand's 918 Spyder supercar. On the outside, changes are small -- limited to a small E-Hybrid badge on both fenders and bright-green brake calipers. The same goes on the inside, where the Cayenne S E-Hybrid features an interior that's largely similar to that of refreshed 2015 stablemates.
Under the hood, however, the Cayenne S E-Hybrid differs significantly from the rest of the SUV's lineup. While it retains the 333-hp supercharged V6 from the Cayenne S, the E-Hybrid also adds a 95-hp electric motor, bringing combined peak power to more than 400 horses. That's the same engine in the hybrid-powered Panamera, and while Porsche hasn't announced charge times or range, we'd expect to plan for about 2 hours for a full recharge and a 15-mile range on electric power before the gasoline engine kicks in.
How Much?
The Cayenne S E-Hybrid starts around $77,300 with shipping. For other 2015 Cayenne models, prices range from $62,700 (for the Cayenne Diesel) to $114,600 (for the Cayenne Turbo).
When Can You Get It?
Late 2014
Add It to Your Shopping List Because...
The 2015 Porsche Cayenne offers a compelling take on the luxury SUV, touting excellent handling, a refined interior and a long list of high-end luxury features. We're especially impressed with the SUV's performance, even from the base-level diesel model, which can hit 60 miles per hour in around 7 seconds under full acceleration. As for the Cayenne S E-Hybrid, this one's for shoppers who want it all: a powerful, sporty Porsche, a roomy, comfortable SUV, and a fuel-efficient new vehicle.
Other Cars to Consider
BMW X5 -- When it comes to driving prowess, the X5 is Porsche's biggest rival. Newly redesigned last year, the X5 offers a wide variety of powertrains, including gas and diesel 6-cylinders and a muscular V8.
Lexus RX 450h -- If fuel efficiency is your focus, there aren't many choices in the luxury-SUV world. But the Lexus RX 450h offers an impressive 32 miles per gallon in the city for around $48,500 with shipping. Of course, it won't drive like a Porsche, and it doesn't boast the legendary Porsche brand name.
Range Rover Sport -- While it won't quite handle like a Porsche, the Range Rover Sport offers just about everything that the Cayenne does, not to mention legendary off-road capabilities and a third-row seat (which is still missing from the Cayenne).
Used Porsche Cayenne S Hybrid -- Although the 2015 Cayenne S E-Hybrid is the Cayenne's first plug-in hybrid variant, Porsche built a hybrid-powered Cayenne in years past, and it offers impressive acceleration, typical Porsche performance, and fuel economy of up to 20 mpg in the city and 24 mpg on the highway. Used models will also be a lot cheaper than the E-Hybrid's $77,300 base price.