RESEARCH LA AUTO SHOW BY YEAR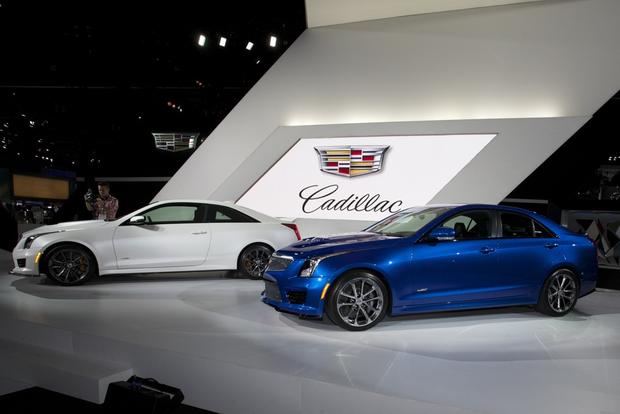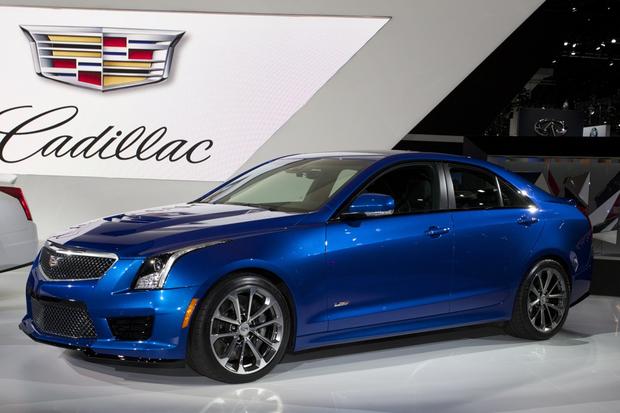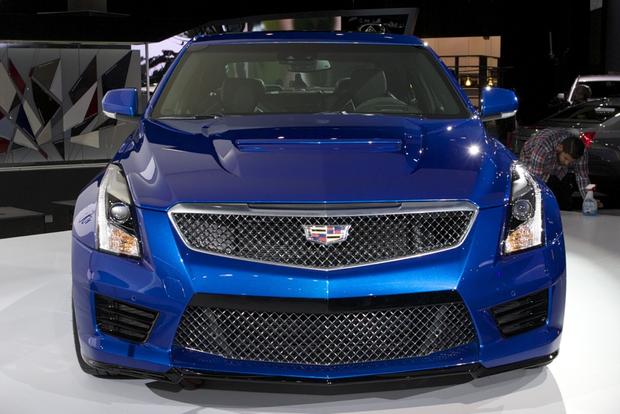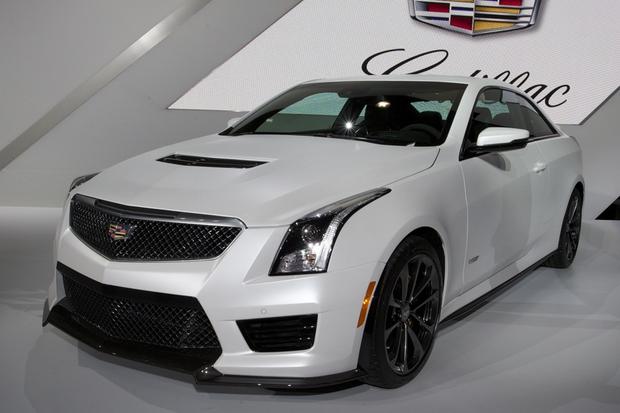 What Is It?
The 2016 Cadillac ATS-V is a high-performance version of Cadillac's entry-level ATS -- and the latest car to carry Cadillac's sporty V moniker, which debuted a decade ago on the exciting CTS-V sedan.
Offered as a coupe or a sedan, the all-new ATS-V will likely debut as a 2016 model. In addition to standard rear-wheel drive, the ATS-V boasts improved brakes, a 450-horsepower twin-turbocharged 3.6-liter V6, and available 6-speed manual or 8-speed automatic transmissions. The model's torque figure stands at an impressive 445 lb-ft., and top speed is said to be an exotic-car-like 185 miles per hour.
On the outside, changes to the ATS-V are exactly what you might expect if you're familiar with any of Cadillac's previous V cars. There's a bulky body kit, more aggressive front and rear bumpers, a quad exhaust system, larger wheels, and side skirts that give the car a lowered look. Inside, the cabin features leather and suede upholstery along with a series of sporty accents, such as colored seat inserts and contrast stitching.
How Much?
Prices haven't yet been announced, but we'd expect a hefty premium over the standard ATS's $34,000 base figure.
When Can You Get It?
Spring 2015
Add It to Your Shopping List Because...
If Cadillac's earlier V models are any indication, the new 2016 Cadillac ATS-V will offer an excellent driving experience with sports-car-like handling and acceleration. We're especially excited to try out an ATS with GM's impressive magnetic ride control suspension -- a feature that has delivered excellent handling and a smooth ride in the high-performance CTS-V. Although the Cadillac nameplate might not quite stand up to BMW or Mercedes in terms of cachet, we think the ATS-V has the potential to trump its rivals in terms of on-the-road performance.
Other Cars to Consider
BMW M3/M4 -- BMW's high-performance M3 (sedan) and M4 (coupe or convertible) are the Cadillac's closest competitors. The newly redesigned models boast bold styling, tremendous handling and a 425-hp 6-cylinder that helps the cars reach 60 mph in 4.4 seconds.
Mercedes-Benz C63 AMG -- The all-new C63 AMG isn't out yet, but we're expecting to see it around the same time the ATS-V reaches dealers. While there's no stick shift, the rear-drive C63 will offer 469 hp, and a high-performance S model touts up to 503 hp.
Used Cadillac CTS-V -- Although the ATS-V touts an impressive 450 hp, Cadillac's outgoing CTS-V boasts an amazing 556 hp -- good enough to compete with rivals like the BMW M5. New models are no longer available, but a used model might be worth a look.