RESEARCH NEW YORK AUTO SHOW BY YEAR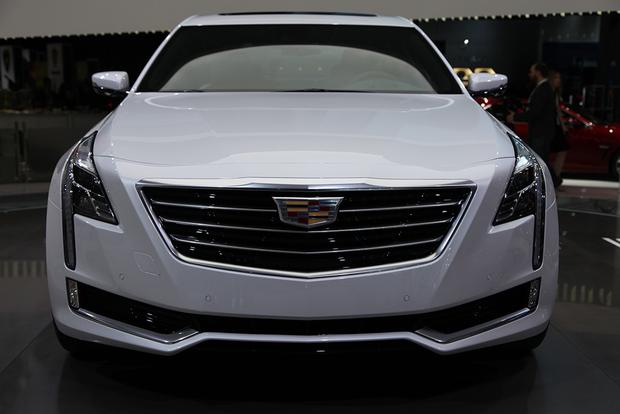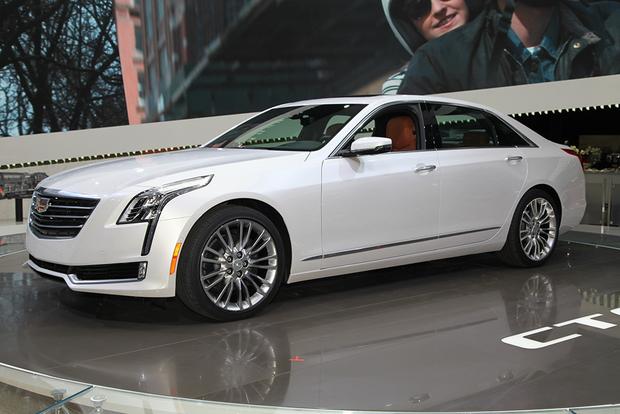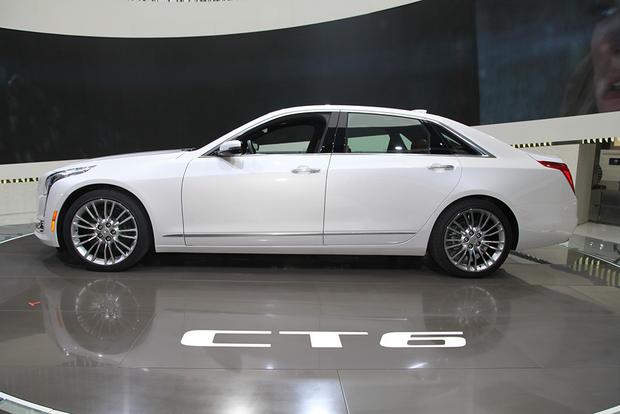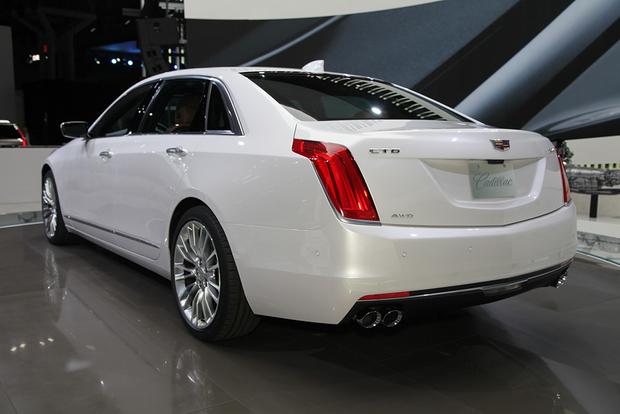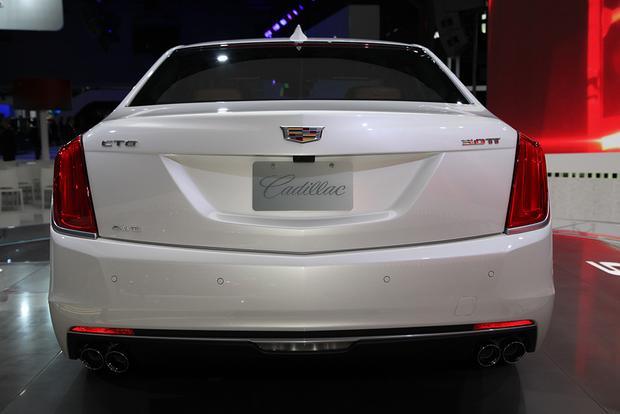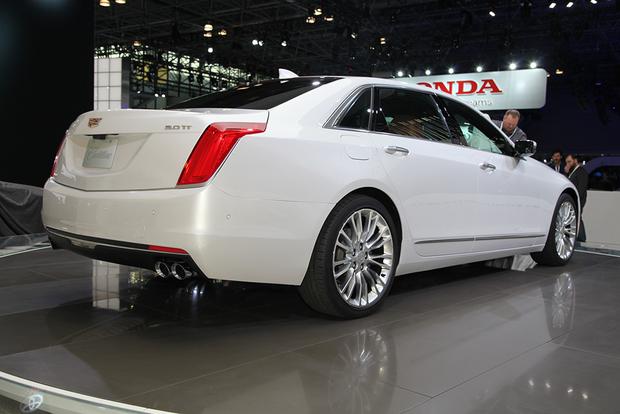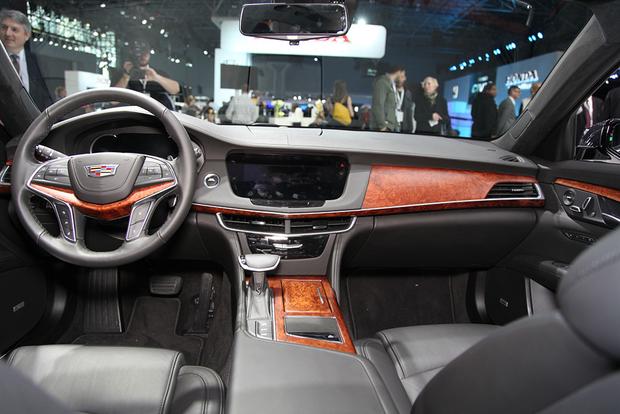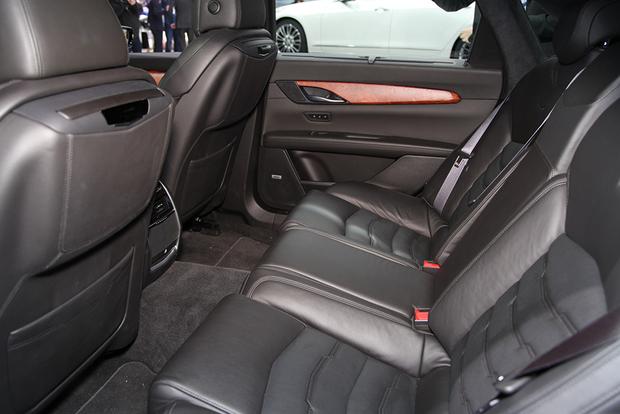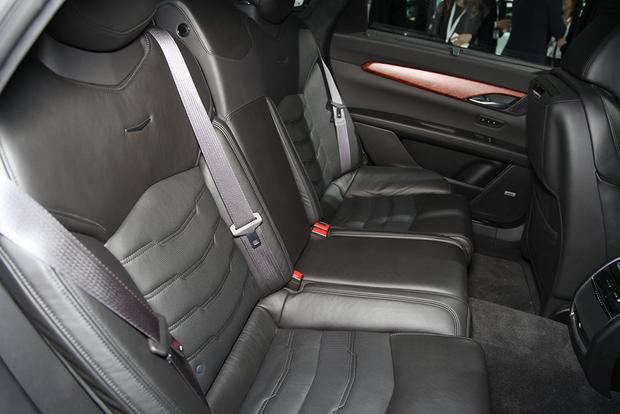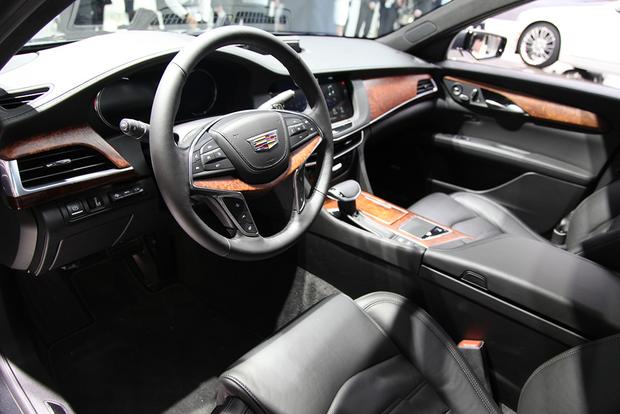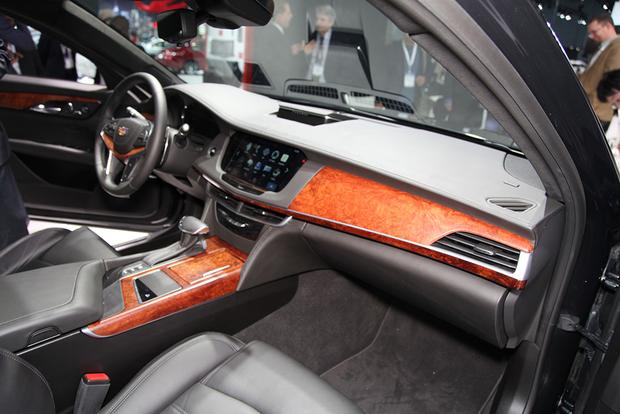 What Is It?
The 2016 Cadillac CT6 is an all-new flagship model for the brand, a full-size sedan larger than the current biggest Caddy, the XTS. Its wheelbase, at 122.4 inches, is nearly 11 inches longer than the XTS and has a grand 40.6 inches of rear-seat legroom.
But Cadillac is bragging mostly about the bones of the 2016 CT6: Thanks to a sophisticated multi-material structure that optimizes the strength-to-weight balance of just about every structural piece, the CT6's blended steel and aluminum architecture is claimed to be some 218 pounds lighter than an equivalently-sized version strictly in steel. Though similarly proportioned to full-size luxury cars from competitors, the CT6 is lighter than most midsize luxury cars.
The CT6 comes in rear-wheel drive when the engine is the base 265-horsepower (estimated) 2.0-liter turbocharged 4-cylinder, a powerplant option seemingly targeted more at China and numerous export markets in which the CT6 will be sold. A 3.6-liter V6 that generates and estimated 355 hp and a twin-turbocharged 3.0-liter V6 (estimated 400 hp) will transfer power to all four wheels through a standard all-wheel-drive system that only sends power to the front wheels when it's appropriate to the driving situation. Rear-wheel steering will also be available, which is a real engineering achievement when coupled with all-wheel drive.
Yes, the 2016 Cadillac CT6 of course promises a smorgasbord of advanced electronic features. Highlights include LED headlights, night vision, a first-ever camera-based rearview mirror that provides a vast and unobstructed wide-angle view of what's behind the car, a 360-degree surround-view recording capability, 4-zone climate control with two complete climate systems, a massive 10.2-in touchscreen electronics interface, an available 34-speaker Bose sound system and 4G LTE connectivity with integrated Wi-Fi hot spot functionality.
How Much?
Right now, pricing is anybody's guess, since the CT6 is a first-ever car for Cadillac. With that said, pricing might be somewhere in the ballpark of the roughly $75,000 entry point of a chief rival such as the BMW 7 Series. Given that Cadillac needs to establish its credibility in this class, though, we expect it will be priced aggressively in relation to the BMW, Mercedes-Benz and Lexus competition.
When Can You Get It?
According to Cadillac, production of the 2016 CT6 will begin late this year, so expect the brand's new luxury liner to arrive in dealer showrooms in early 2016.
Add It to Your Shopping List Because...
Cadillac is pulling out all the stops to compete on an equal footing with the world's best luxury brands. The new CT6, representing the top of the Cadillac range, is positively loaded with the best available engineering and technology. Better yet, with its class-leading low weight, sophisticated structure and drive technology, the CT6 holds the promise of immense driving-pleasure potential.
Other Cars to Consider
2015 BMW 7 Series -- Long considered the driver's car of the limousine-class luxury sedans, the 7 offers a wide range of engine choices and a long-wheelbase option. In any configuration, the 7 Series is supremely serious and solid.
2015 Lexus LS 460 -- The biggest Lexus sedan is a formidable luxury statement, particularly with refinement that's almost unparalleled for the price. There's even a stretched-length hybrid version, just for the sake of being unique.
2016 Mercedes-Benz S-Class -- Much like the BMW 7 Series, there are many flavors of the S-Class, a car many still consider to be the absolute benchmark for this rarefied segment (although Mercedes hasn't been without the occasional stumble in the S-Class' long history).
Used Bentley Mulsanne -- Really, if you can consider spending this kind of money for a car, just about anything in the pre-owned market, short of a Ferrari, could be an option, right?