RESEARCH LA AUTO SHOW BY YEAR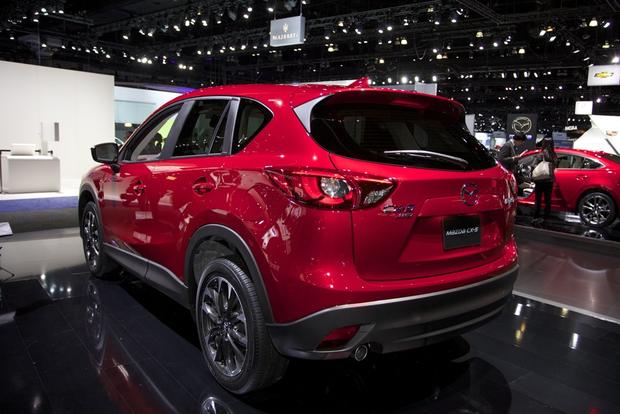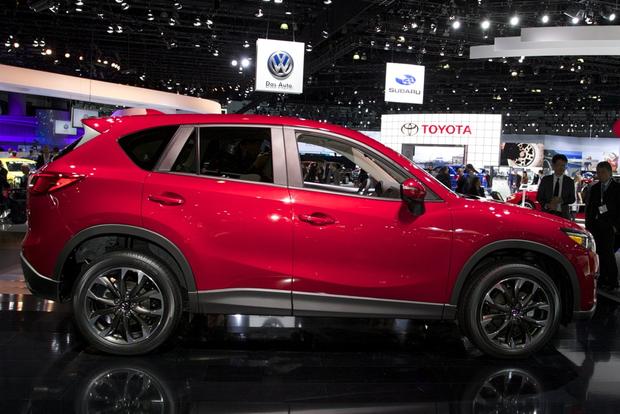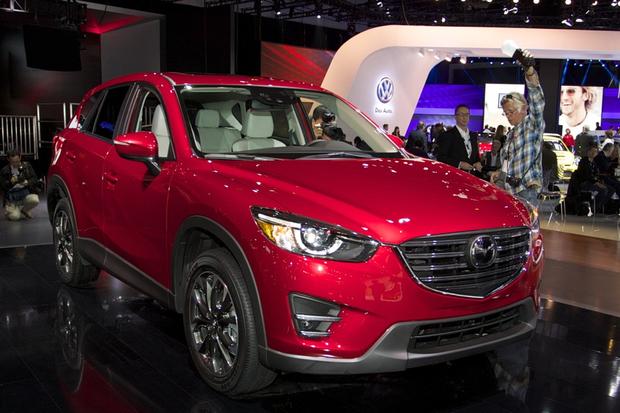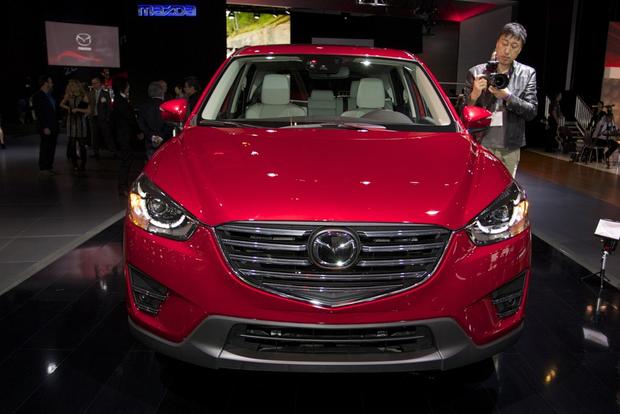 What Is It?
The 2016 Mazda CX-5 represents a mid-generation revamp for Mazda's highly respected compact crossover. The CX-5 has already earned plenty of accolades, as buyers like its well-thought-out interior and fun driving experience.
Now its styling has been tweaked and its cabin has received higher-quality materials. Sound insulation has also improved, along with fuel economy and ride comfort.
The revised CX-5 offers a new design of 19-inch alloy wheels, plus various driver aids like radar-based cruise control, rear cross-traffic alert, blind spot monitoring and Smart City Brake Support.
Engine choices remain a 2.0-liter 4-cylinder making 155 horsepower and 150 lb-ft of torque, or a 2.5-liter 4-cylinder developing 184 hp and 185 lb-ft. A 6-speed manual is the base transmission, but most people will opt for the 6-speed auto. Front-wheel drive is the default format, although all-wheel drive is available for both engines.
How Much?
No official pricing yet, but the current (2015) model starts at around $22,000. There's an ever-growing amount of competition in this segment, so don't expect that figure to go much higher.
When Can We Get It?
Early 2015
Add It to Your Shopping List Because...
The 2016 Mazda CX-5 should, like its earlier version, continue to impress the public and the industry alike. It's a great product with wide appeal.
Other Cars to Consider
2015 Ford Escape -- Though it is a good option, the Escape is not a class leader. The ride is possibly too firm for some and the interior has a few cheap touches.
2015 GMC Terrain -- The GMC Terrain is a more upscale spacious vehicle. However, the Terrain is not as good at handling, and the base engine is underpowered.
2015 Honda CR-V -- Also revamped recently, the CR-V is a best-seller by doing many things well, from practicality to safety.
2015 Hyundai Tucson -- Handles like a car, but has limited space.
2015 Kia Sportage -- Though the Sportage has snazzy looks and agreeable pricing, the seats and suspension become uncomfortable after a while. It is not as quiet or roomy inside, either.
2015 Subaru Forester -- The well-equipped Forester has a tough construction, though not as refined as the competition. The cabins can get noisy, and non-turbo versions feel slow.
2015 Toyota RAV4 -- Yet another refreshed model and the other big seller of this class. It might even have the edge on the Honda for ride quality.
Used Audi Q5 -- Why not go upmarket for similar money?
Used Jeep Grand Cherokee -- A good choice if you're looking for more space and all-weather reassurance.