RESEARCH NEW YORK AUTO SHOW BY YEAR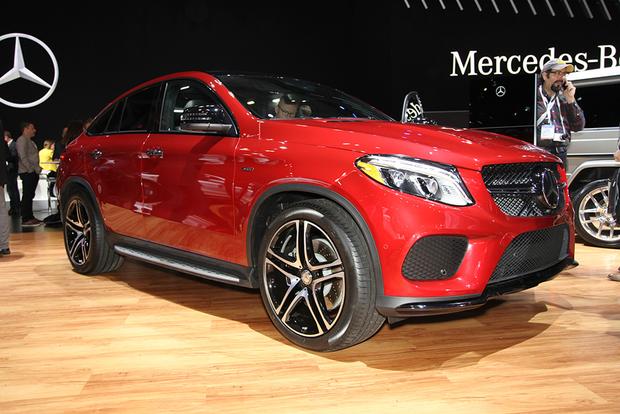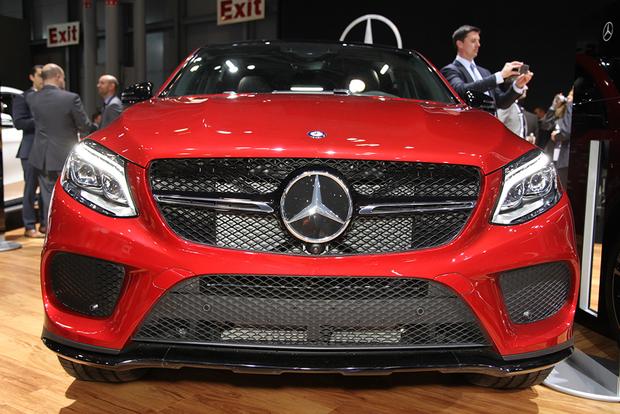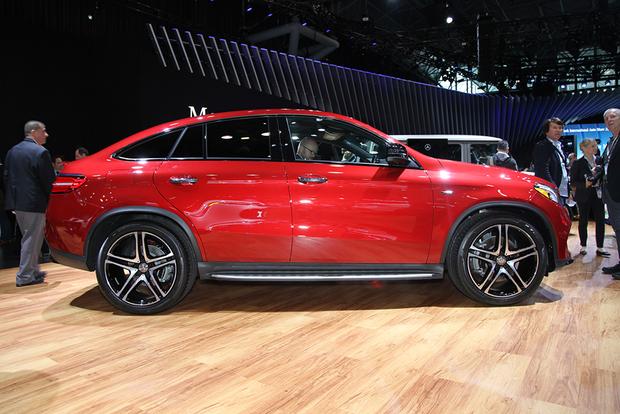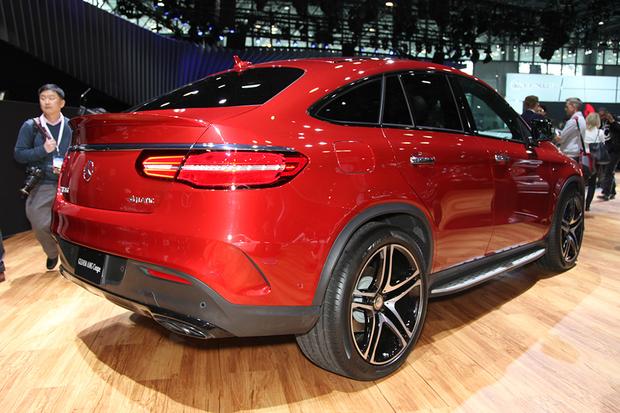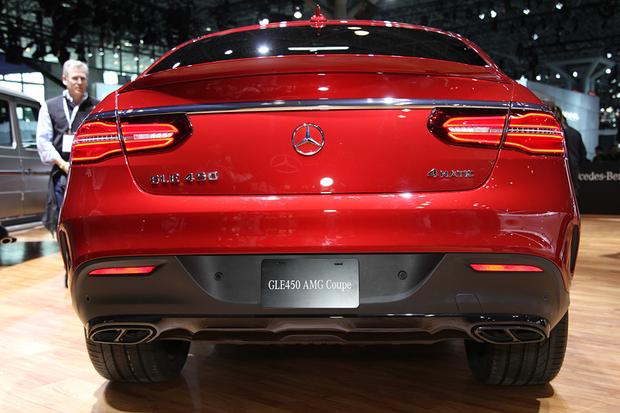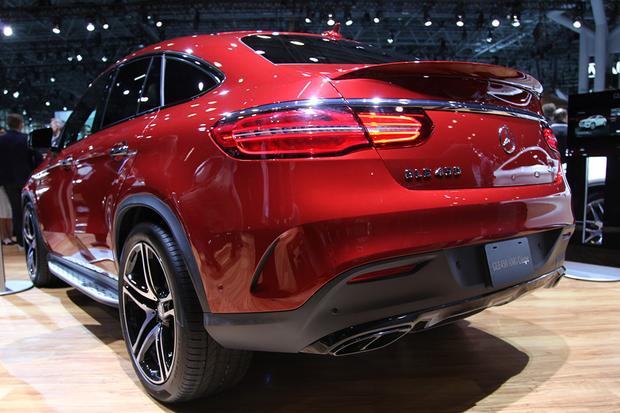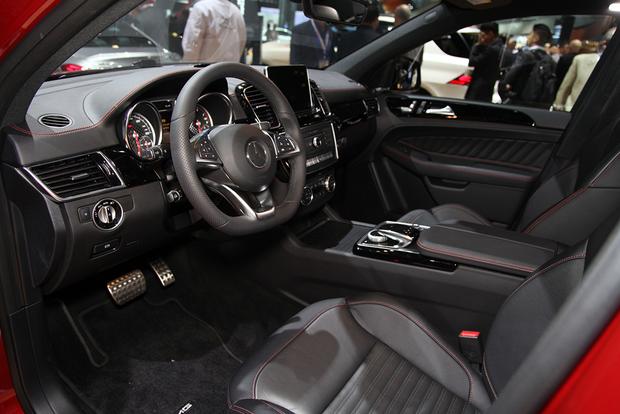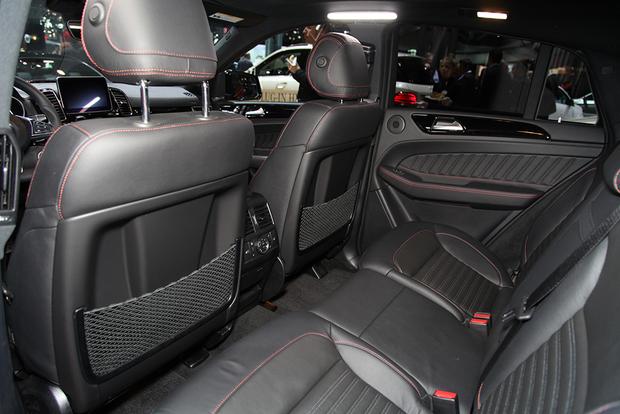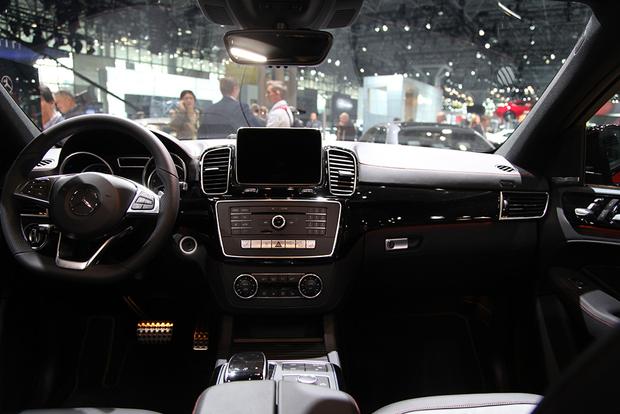 What Is It?
The 2016 Mercedes-Benz GLE-Class succeeds the M-Class premium midsize crossover SUV. From a nuts-and-bolts standpoint, it's a mid-generation refresh of the M-Class, but Mercedes-Benz has changed the name to follow the same formula as other crossovers in the company portfolio. They all have G and L in their names (from gelande, German for land), and the third letter denotes the basic platform. In this case, it's the E-Class.
To blur the picture a little more, there's the regular GLE and a GLE Coupe, which still has four doors but sports a more rakish roofline, in a similar fashion to the BMW X6. There was never an equivalent M-Class, so this provides a fresh choice for buyers.
Engine choices are a 3.5-liter V6 (with 302 horsepower and 273 lb-ft of torque) in the GLE 350, or a 3.0-liter twin-turbo V6 (329 hp/354 lb-ft) in the GLE400 4MATIC. Note that all-wheel drive is standard in 4MATIC models. The GLE 350 comes initially as a rear-drive model, but it offers 4MATIC as an option. What used to be the ML250 BlueTEC diesel is now the GLE 300d 4MATIC, retaining a 2.0-liter, 4-cylinder turbocharged unit that provides 201 hp and 369 lb-ft.
A new addition to the lineup is a plug-in hybrid: the GLE 550e 4MATIC. This uses the same engine as the GLE 400, but it also employs an electric motor to bring maximum torque up to a V8-like 479 lb-ft while allowing an electric-only range of 18.6 miles. For those who prefer to burn more gas, there's the high-performance 2016 Mercedes-Benz AMG GLE63 4MATIC, whose twin-turbo, 5.5-liter V8 develops 550 hp and 516 lb-ft, or 577 hp/561 lb-ft in S form. Fuel consumption is about the same, and the S is 0.1 of a second faster from standstill to 60 miles per hour.
All versions have a 7-speed automatic transmission, and all have driving modes that take terrain, performance and comfort requirements into account. As a wrinkle in the lineup, the 2016 Mercedes-Benz GLE 450 AMG 4Matic Coupe takes that turbocharged V6 and pushes 362 hp and 384 lb-ft of torque through a 9-speed automatic transmission.
Naturally, the car's looks have been revised, but they still remain firmly within the corporate stable. There's a comprehensive array of up-to-the-minute safety tech features to make sure those looks, and the occupants within, are kept as undamaged as possible.
How Much?
Nothing official has been announced for pricing yet. The current 2015 M-Class starts at $49,225 (including $925 destination charge), but additional standard equipment such as Crosswind Assist and Collision Prevention Assist could make that price rise to some degree. So you might not want to go too crazy with pricey options.
When Can You Get It?
August 2015.
Add It to Your Shopping List Because...
The 2016 Mercedes-Benz GLE-Class follows the popular M-Class, a mainstay of the premium crossover domain. This mid-cycle revamp keeps the vehicle current and competitive.
Other Cars to Consider
2015 BMW X5/X6 -- Here's another regular/coupe-style choice. Both vehicles are surprisingly adept at delivering driving fun, though the X5 is the more practical of the pair.
2016 Land Rover Range Rover Sport -- Updated as opposed to refreshed for the 2016 model year, the Range Rover Sport's features include an automatic height function for easy entry and exit, a gesture-operated power tailgate and a diesel option.
2016 Lexus RX -- Well built, well equipped, quiet, comfortable and maybe as popular as chocolate. A new generation debuts at this same New York show.
2016 Porsche Cayenne -- Another driver's choice, but certainly not short on luxury. The Cayenne received a major refresh last year.
Used Land Rover Range Rover -- If a luxurious SUV is the main reason for buying, consider the godfather of them all. It's supremely comfortable, commanding and capable on the road and off it.
Used Mercedes-Benz GL-Class -- If you prefer a spacious SUV, the GL can seat seven in comfort while still tackling tough terrain and/or severe weather.