RESEARCH NEW YORK AUTO SHOW BY YEAR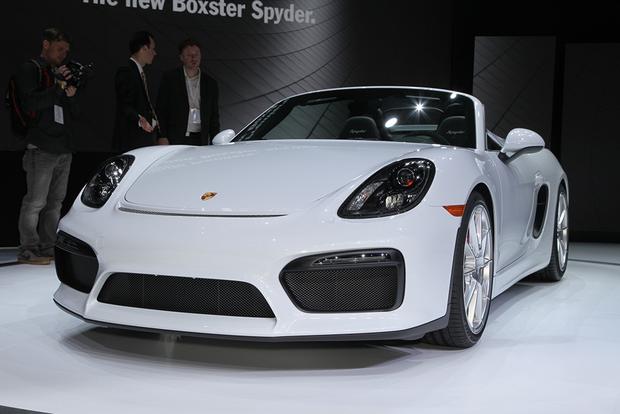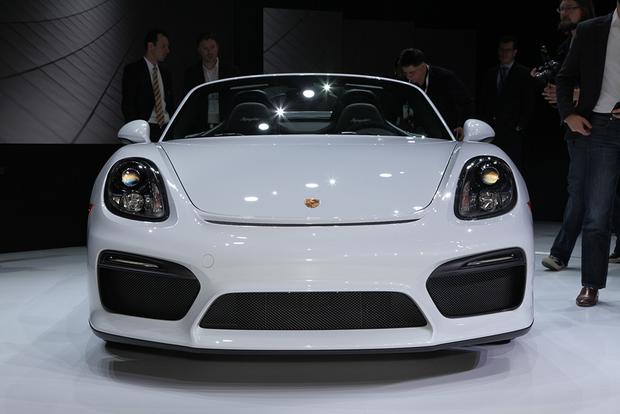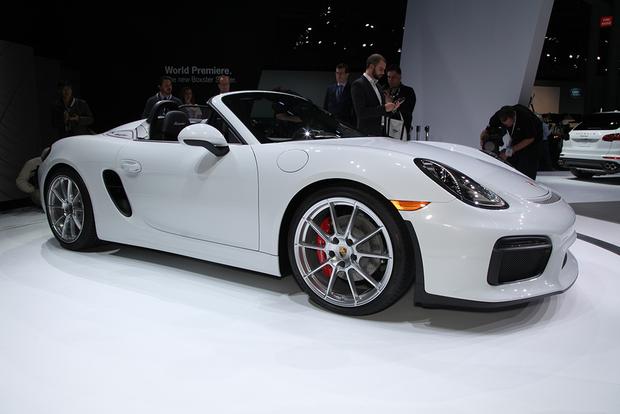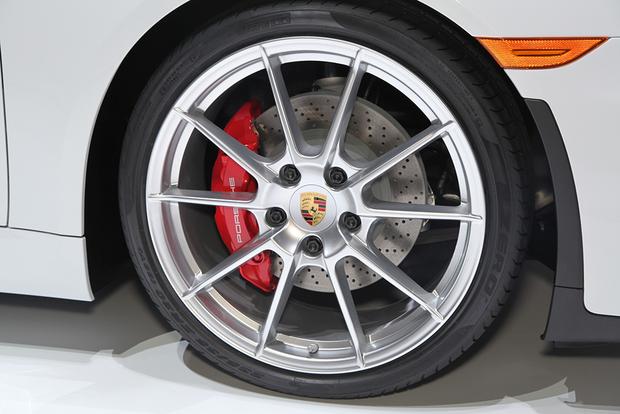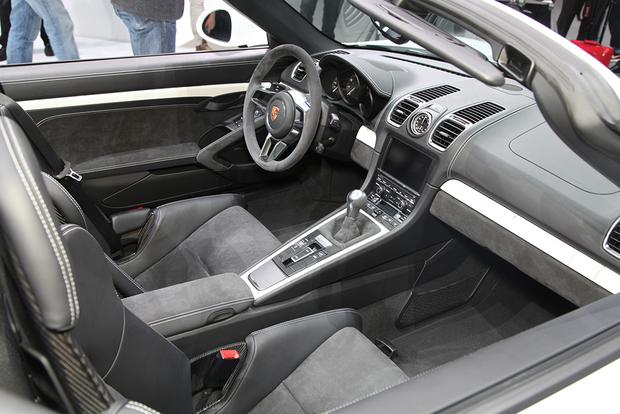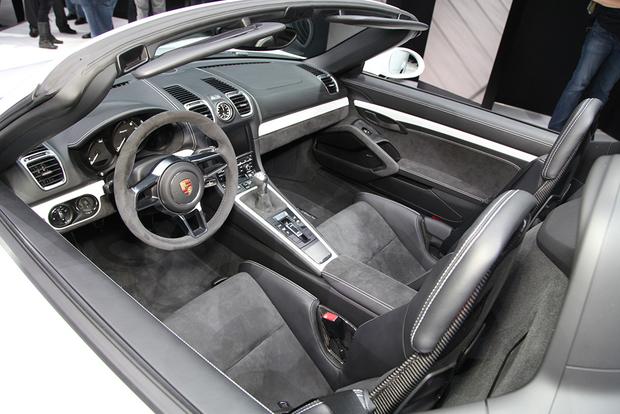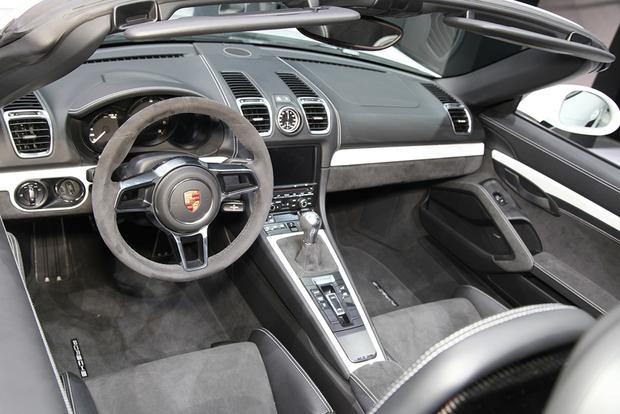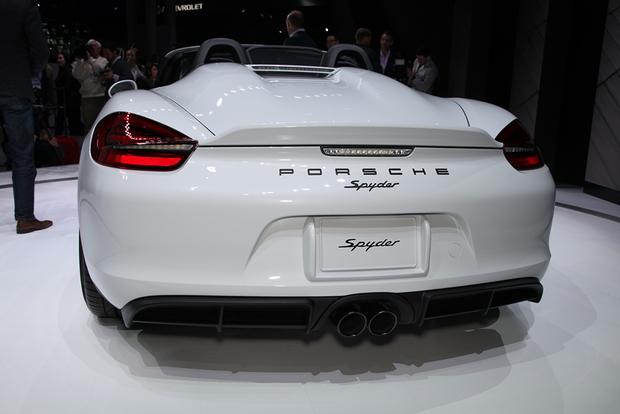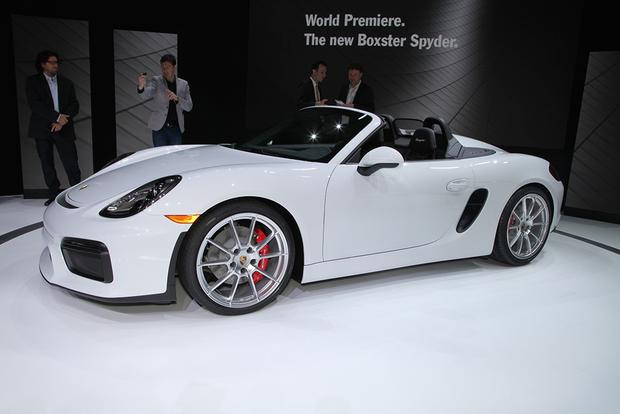 What Is It?
The 2016 Porsche Boxster Spyder is a two-seat roadster that brings some extra performance -- and impressive styling -- to the already thrilling Boxster lineup. Like the previous-generation Boxster Spyder, the new model offers a little more power, a few more performance-oriented features, and a unique style that helps distinguish it from standard Boxster models.
On the outside, the Boxster Spyder is immediately distinguishable thanks to its "twin hump" rear lid, which gives the car an exotic look that's shared with Porsche's 918 Spyder and Carrera GT supercars. The twin humps conceal a new cloth top that's manually operated, rather than powered, in an effort to save weight.
Speaking of weight savings, Porsche says the new Boxster Spyder is the "lightest Boxster in the range" -- though the automaker didn't announce exactly how many pounds it trims off the standard model. Surely dropping air conditioning and a stereo will help, though, as those items are optional. Not optional is an automatic transmission, as the Boxster Spyder will only be available with a 6-speed manual.
Other changes to the Boxster Spyder over the standard model include a 20-millimeter ride height drop, along with an impressive 375 horsepower -- 60 more than a typical Boxster S. The result, Porsche says, is 0-to-60 in just 4.3 seconds on the way to a top speed of 180-mph top speed.
How Much?
The Boxster Spyder starts around $83,000 with shipping.
When Can You Get It?
Orders start now; first deliveries in October 2015
Add It To Your Shopping List Because...
If you're the kind of person who gets excited about sports cars, you probably don't need us to tell you why you should add the 2016 Porsche Boxster Spyder to your shopping list. But we'll take a shot anyway: this is the ultimate in high-performance Boxster models thanks to added power, lowered curb weight, and exciting styling -- not to mention a dropped right height that should improve cornering. And while we hesitate to say it's better than a 911, we must concede that the Boxster's mid-engine design is more natural for high-performance driving.
Other Cars to Consider
Alfa Romeo 4C -- Right now, the tiny Alfa 4C is only offered as a coupe -- but there's a roadster version on the way. If you like small cars with amazing road manners, you'll have to consider this, too.
Porsche Cayman -- Interestingly, the Boxster's biggest competitor is likely its closed-rood sibling, the Cayman, which recently came out with its own high-performance mode: the sporty Cayman GT4.
Used Jaguar F-Type -- The F-Type is also offered as a roadster, and also features gorgeous styling. But unlike the Boxster, it touts an available V8 -- and up to 550 horsepower. The result is that prices are high -- so you may have to consider a used model if you want big power.
Used Porsche 911 -- It's hard to argue with the "flagship" Porsche, which has been the subject of automotive fantasies for nearly 50 years. Prices are steep, though, so you may want to consider a used or certified pre-owned model.