RESEARCH DETROIT AUTO SHOW BY YEAR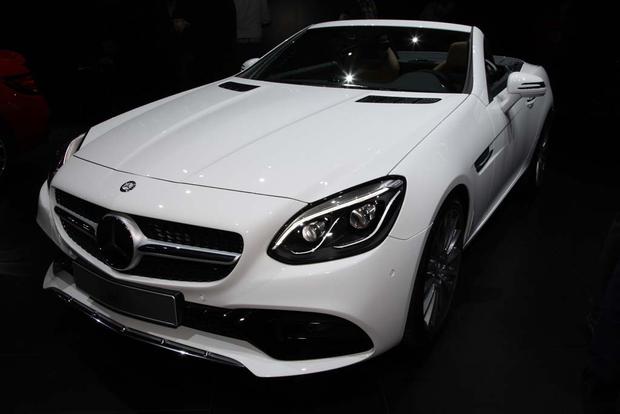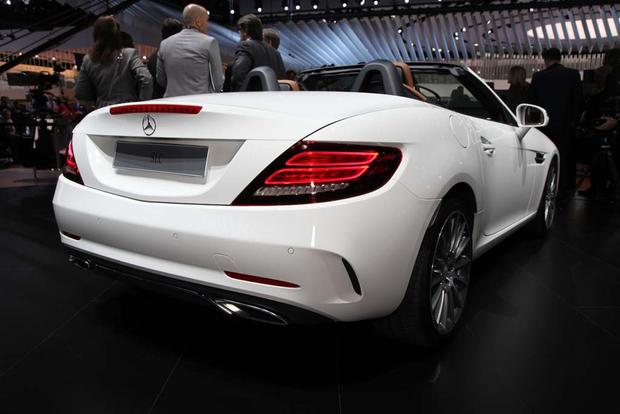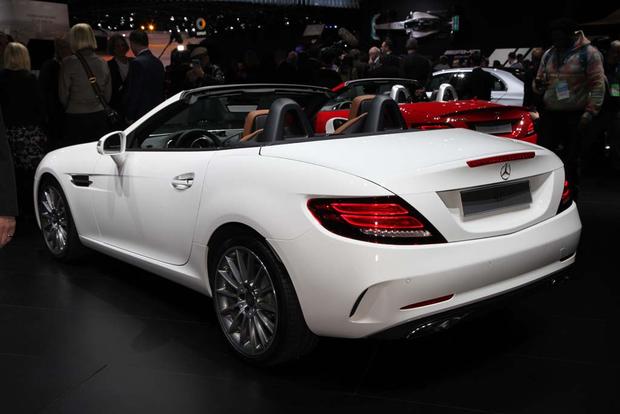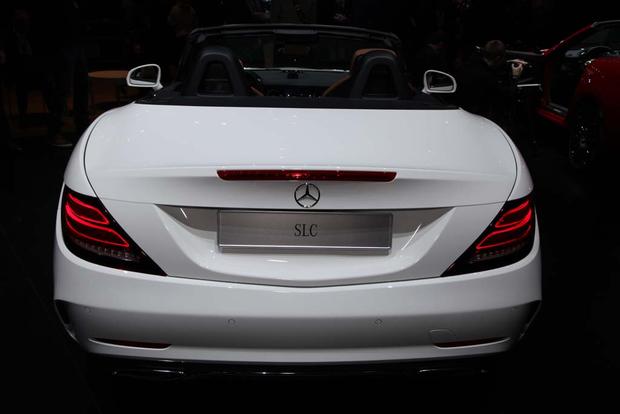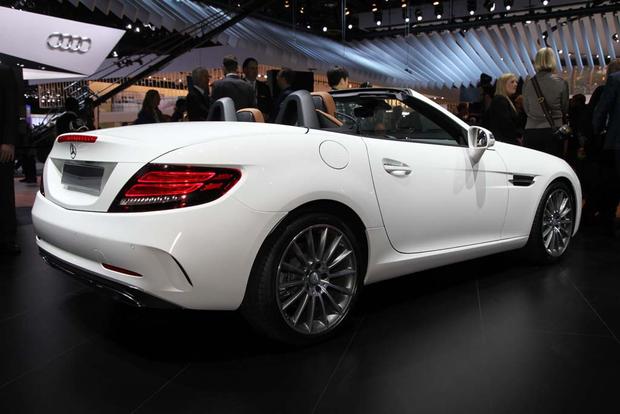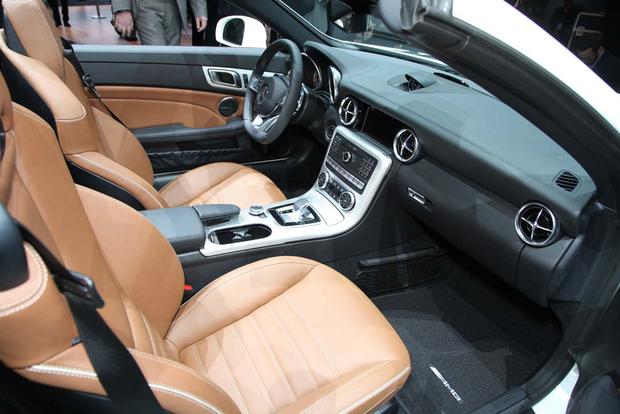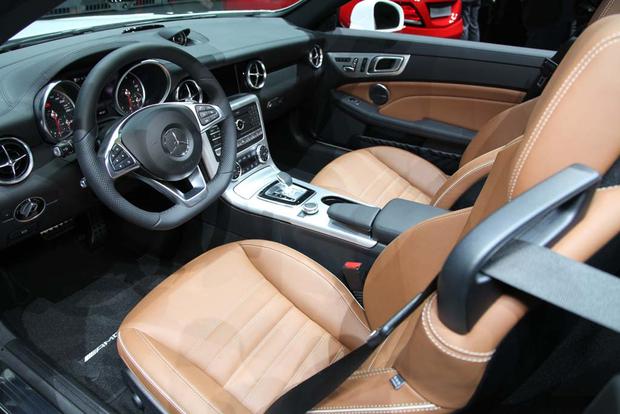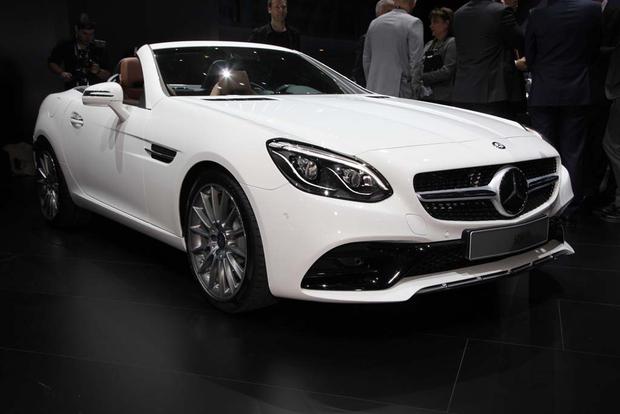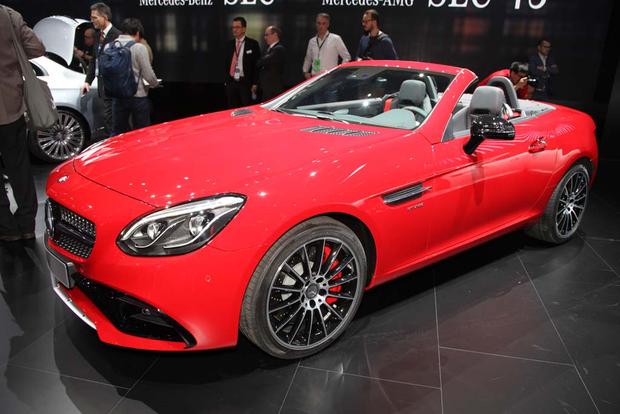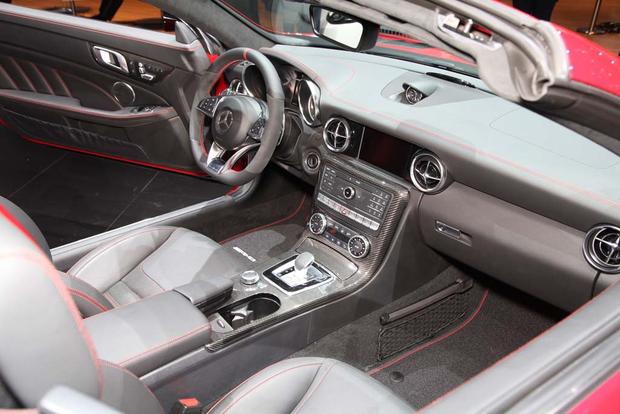 What Is It?
The 2017 Mercedes-Benz SLC-Class follows on from the SLK, the compact roadster with the power-folding hardtop. The company is going through a phase of changing names.
This isn't an all-new generation, however, but only an extensive reworking. There are two versions. The SLC300 comes with what is now a major engine for Mercedes-Benz: the turbocharged 2.0-liter 4-cylinder, developing 241 horsepower and 273 lb-ft of torque. In a car this compact, that kind of output should be quite fun. Mercedes-Benz quotes a standstill-to-60 mile-per-hour time of 5.7 seconds.
If, however, someone wanted more, they could go for the 2017 Mercedes AMG SLC43 and relish the 362 hp and 384 lb-ft from a twin-turbo 3.0-liter V6 -- and they would only take 4.6 seconds to sprint to 60 mph. Both engines are connected to a 9-speed automatic transmission, and both cars have selectable driving modes as standard, providing the ability to adjust the throttle, gearshift, suspension and steering-response settings.
The redesigned exterior pays homage to the larger SL, while the cabin has been updated with a new instrument cluster and steering wheel, a 7-inch infotainment screen (the previous one measured 5.8 inches diagonally) and aluminum accents.
The roof can be operated at speeds of up to 25 mph, and there's the option of a glass panel with Magic Sky Control, which can go from transparent to opaque with the touch of a button. Because they're from Mercedes-Benz, the SLC300 and SLC43 will also offer various driver-assistance and active safety features.
How Much?
To be announced (the current 2016 SLK starts at $47,925).
When Can You Get It?
Spring 2016
Add It to Your Shopping List Because...
The 2017 Mercedes-Benz SLC-Class is really unrivaled. Only the BMW Z4 comes close, and that hasn't been refreshed in quite some time.
Other Cars to Consider
2016 Audi TT -- Generation No. 3 of the TT kicks in for the 2016 model year, packing a lot of tech into its compact dimensions and coming as a coupe or a roadster.
2016 BMW Z4 -- Yes, this is still in production, and it's the only other premium compact roadster with a retractable hardtop.
2016 Jaguar F-TYPE Convertible -- It's more expensive than the SLC, but offers a great chassis blended with luxury and style.
2016 Porsche Boxster -- The Boxster isn't quite as luxurious as the SLC, but it's one heck of a driver's car.
Used Mercedes-Benz SL-Class -- The SL-Class is the grown-up version of the SLC/SLK, and it also happens to be an iconic car.