RESEARCH LA AUTO SHOW BY YEAR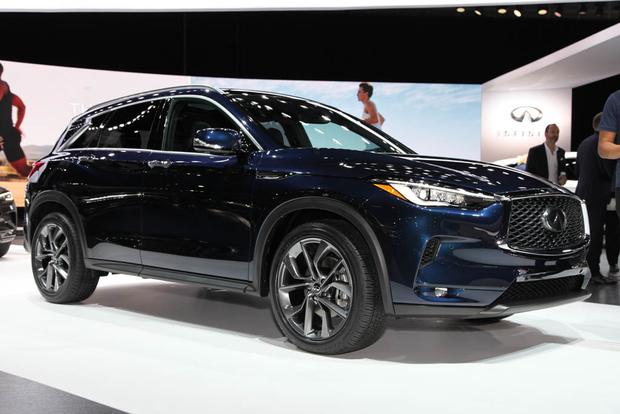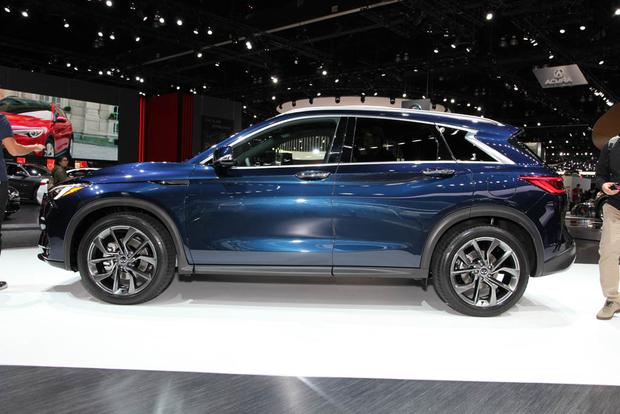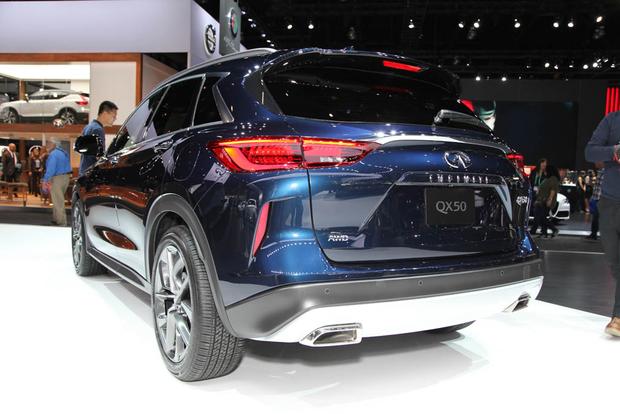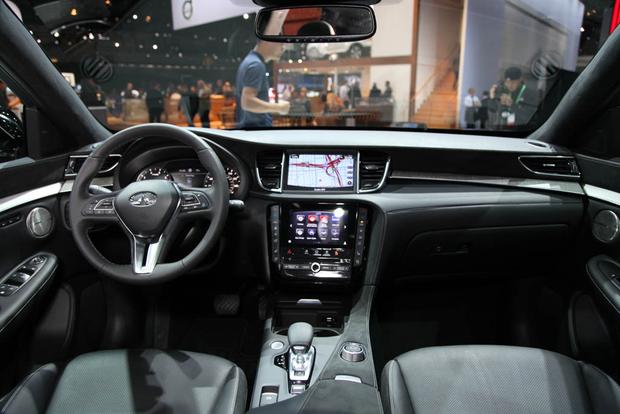 What Is It?
The 2019 Infiniti QX50 debuts in fully redesigned form at the Los Angeles Auto Show. It's the first time this model has been completely redesigned since it debuted 10 years ago -- for the 2008 model year -- as the Infiniti EX35, though of course it's been tweaked a little over the years.
But the latest update is far more than a tweak. The QX50 is all-new, and it offers some radical changes compared to the outgoing model. The biggest is related to the engine and the drivetrain: The QX50 is no longer rear-wheel-drive (it's now front-wheel-drive, with all-wheel drive remaining an option), and it no longer uses a V6. Instead, it offers a new 2.0-liter turbocharged 4-cylinder with 268 horsepower and 280 lb-ft of torque; the new engine uses a trick new technology that allows it to vary the stroke of the pistons, allowing for better gas mileage (Infiniti says up to 27 miles per gallon in combined city and highway driving) and improved torque (Infiniti says zero to 60 comes in as little as 6.2 seconds).
Beyond the powertrain, the QX50's biggest change is undoubtedly its exterior styling; it's a bit surprising to see a new model finally wearing the QX50 badge, but the latest version is surprisingly handsome and striking for a small SUV, boasting much of Infiniti's current design language. Cargo volume is improved to 37 cu ft. with the seats up, or 60 cu ft. with them down, while passenger room also undoubtedly grows a bit. The only transmission will be a continuously-variable automatic (CVT), while tech features include Infiniti's ProPilot Assist system, which is getting closer to autonomous technology -- but certainly not quite there yet.
How Much?
Infiniti hasn't yet announced pricing, but we wouldn't expect a big jump over the current MSRP, which starts around $35,500.
When Can You Get It?
Spring 2018
Add It to Your Shopping List Because…
The latest Infiniti QX50 is finally updated with totally new styling, new features, a new powertrain and more interior room. The power plant is promising, as it seemingly offers V6 acceleration with better-than-4-cylinder fuel economy, and we're excited to sample all the tech features. Plus, Infiniti models notoriously offer good value compared to European rivals.
Other Cars to Consider
Acura RDX -- The Acura RDX uses a standard V6, but most shoppers will likely prefer the QX50's handsome new styling over the Acura's aging design.
BMW X3 -- The newly redesigned BMW X3 offers modern technology and an excellent driving experience, but its starting price of around $41,000 undoubtedly makes it more expensive than the entry-level Infiniti.
Lexus RX -- The QX50 likely slots between Lexus's popular NX and RX crossovers. The Infiniti's styling is a bit more mainstream than that of ultra-modern Lexus models, but Infiniti doesn't have the brand cachet (or the reputation for reliability) that Lexus does.
Used Infiniti QX60 -- The larger Infiniti QX60 offers more interior room, though its styling is a bit blander. If you like the QX50 (or if you're an Infiniti loyalist) and you simply need more interior space, consider a QX60 -- potentially with Infiniti's excellent certified pre-owned warranty to save a little money.