RESEARCH GENEVA AUTO SHOW BY YEAR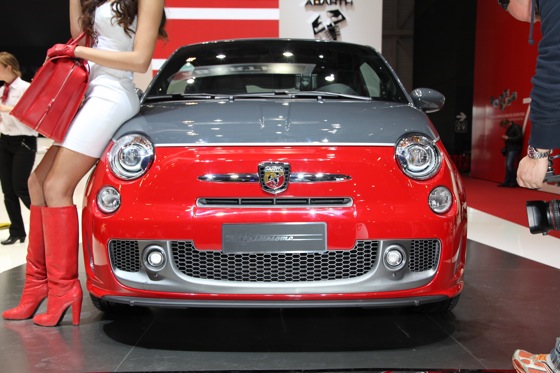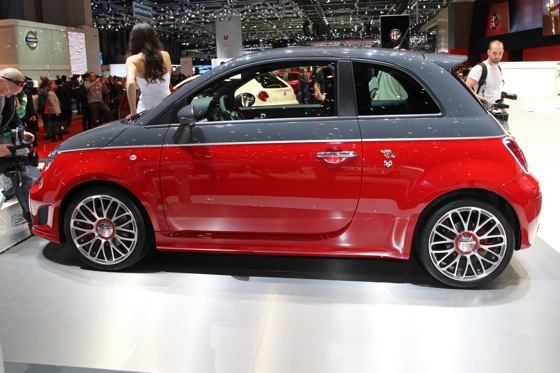 Abarth 695 Assetto Corse will compete in a one-make race series
Two 595 models are concept cars that could see production
One emphasizes luxury, while the other is aimed at driving purists


FIAT's high-performance Abarth brand revealed three sporty new versions of the tiny FIAT 500 at this year's Geneva Auto Show. While one model is built for track use in Abarth's single-make race series, the brand's other two variants are concept cars that could soon make their way into FIAT showrooms.
Enthusiasts will be most excited by the Abarth 695 Assetto Corse, which the high-performance brand describes as a "super sports car designed for racing on the track." Featuring a large rear wing, lightweight wheels with racing tires, a roll cage and a stripped interior, the 695 Assetto Corse will compete in a single-make Abarth "cup" series that races throughout Europe. According to Abarth, the race-ready model offers a whopping 205 horsepower thanks to a turbocharged version of the standard FIAT 500's 1.4-liter four-cylinder powerplant.
But while the Abarth 695 Assetto Corse is certainly exciting, the brand's new 595 concept models are considerably more relevant for most car shoppers since they could eventually be produced and offered for sale through FIAT dealerships. According to Abarth, the two different versions of the 595 shown in Geneva represent two unique audiences: "Turismo" for buyers looking for individuality and comfort, and "Competizione" for enthusiasts and driving purists.
Under the hood, both versions of the Abarth 595 are powered by the same 1.4-liter turbocharged four-cylinder powerplant that propels the race-ready 695 Assetto Corse. But while the high-strung motor is slightly de-tuned for the 595 models, its 160 horsepower still manages to propel the hatchbacks to 60 miles per hour in just 7.4 seconds on the way to a top speed in excess of 130 miles per hour.
Although the Abarth 595 Competizione and Turismo share an engine, the concept models differ in several key areas. While Turismo models feature an upscale interior complete with elegant red leather upholstery, a leather dash, aluminum pedals and an automatic transmission, the manual-only 595 Competizione offers Alcantara surfaces and metal-look finishes which evoke past race cars. The Competizione also includes enhances brakes and a more muscular exterior design, while the 595 Turismo instead focuses on elegance and subtlety with a restrained two-tone paint finish.
Abarth hasn't yet announced whether we can expect the 595 Competizione and Turismo to grace US showrooms - or if they will make production at all. But we think the sporty new models might be just what FIAT needs to help convince American automotive enthusiasts that the 500 could be a serious contender in the competitive hot hatch segment.
What it means to you: If enough enthusiasts clamor for Abarth's impressive 595 models, FIAT could eventually bring them stateside.