RESEARCH GENEVA AUTO SHOW BY YEAR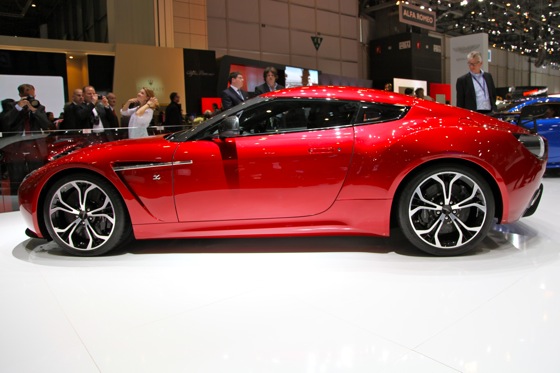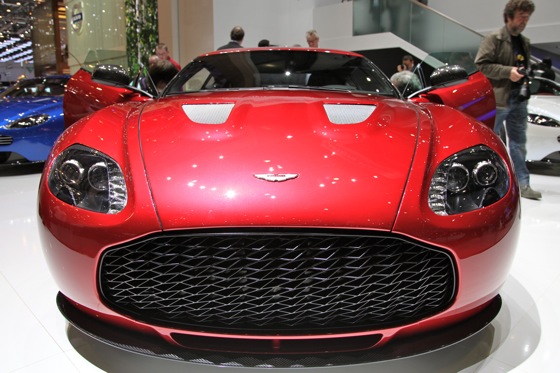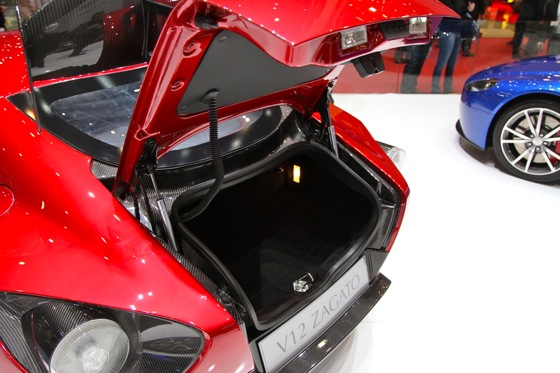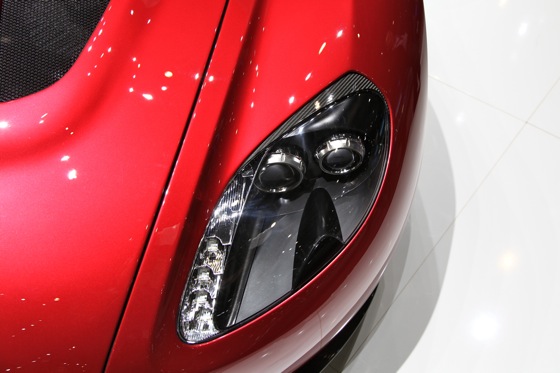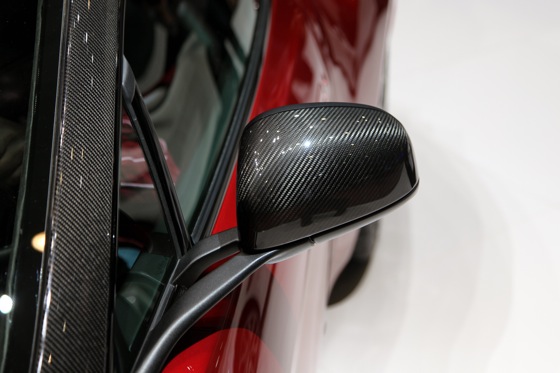 The top model in the Vantage range
Limited production - just 150 units to be hand-built
Designed by Zagato, with the Milan firm's signature style


At the Geneva Auto Show, Aston Martin unveiled a list of updates to the V8 Vantage, the company's small sports coupe and roadster. But the real star of the British luxury automaker's display has a V12 under the hood and a body from one of the world's great design houses. The V12 Zagato is Aston Martin's new flagship in the Vantage lineup, a special edition of which the company will build just 150 examples.
Although it shares a few details with other models in Aston's lineup, the look of the V12 Zagato is unique, with muscular flared fenders, a vented hood and a racy roofline. To save weight, the hood, roof and doors are aluminum while the rest of the body is largely carbon fiber. Zagatos will be painted one of four exclusive colors - Scintilla Silver, Alloro Green, Alba Blue or Diavolo Red - but the front splitter, a-pillars, side mirrors, rear wing and diffuser all remain unpainted to reveal a carbon fiber weave.
A few signature Zagato design elements on the V12 include its "double-bubble" roof and flush door handles. Further, the bespoke composite grille includes a "Z" pattern, mirroring the Zagato insignia.
Nods to Zagato continue inside, with "Z" embroidery on the head restraints and a contrasting hand-stitched zigzag quilting pattern on the seat inserts, headliner and door panels. Materials are ultra-premium and include specially prepared Seven Bridge of Weir hides. Satin finish carbon fiber accents the interior, including the dash, center stack and door sills, which include inlaid metal "V12 Zagato" lettering.
The Zagato's 6-liter V12 produces 510 horsepower, transmitted through a six-speed manual gearbox. Like the rest of the Zagato, the motor is hand-built at a time when even Ferrari is using robots. That Italian exotic sports car company previewed the release of their latest sports car with video of the F12 moving down a high-tech robotic assembly line.
A tribute to the first Aston-Zagato effort, the DB4GT Zagato, the new V12 is a throwback to more traditional craftsmanship. It takes 100 man-hours just to paint the new Aston, part of a 2000-man-hour hands-on process. Its painstaking construction explains Aston Martin's limited run and the V12 Zagato's half-million-dollar price tag.
What it means to you: Aston Martin may find customers for its new V12 Zagato only among discerning collectors and enthusiasts, but anyone can appreciate its beauty, sophistication and detailed craftsmanship.