RESEARCH DETROIT AUTO SHOW BY YEAR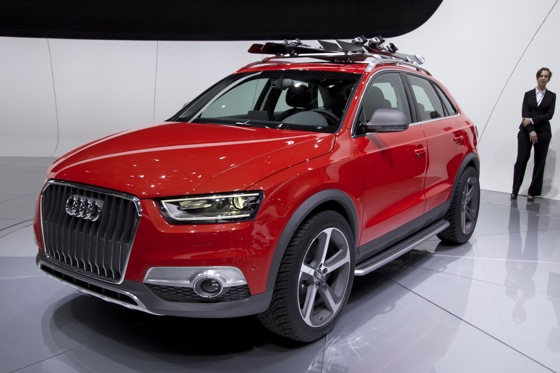 Audi shows off the Q3 Vail-themed vehicle at this year's Detroit Auto Show
With a 314-horsepower inline five-cylinder engine, the Q3 Vail is a heavy-hitting compact CUV
Q3 Vail marks Audi's plan to introduce the Q3 in the US market


The Audi Q3 Vail represents a potential variation on the European CUV now slated for an upcoming US release. Painted in a specially formulated golden pearlescent "Energy Red," the themed vehicle has been designed for young winter sports fans who love skiing and snowboarding. Beyond the standard body, Audi has flared the wheel arches and added sleek running boards, which incorporate nicely into the wide range of accessories.
Packing a 2.5-liter inline five-cylinder turbocharged engine producing 314 horsepower under the hood, the Q3 Vail can reach 62 mph from a dead stop in 5.5 seconds. The power of the turbocharged five-cylinder German powerhouse is transferred to the Quattro permanent all-wheel drive system via a seven-speed S-tronic transmission.
In a show of a truly Germanic attention to interior detail, Audi has woven strips of leather a few tenths of a millimeter thick in with the cloth fabric seats making it both distinctive and durable. The S-tronic gear lever features a high-gloss black ring and an aluminum badge with a milled "Q3 Vail" signature.
What it means to you: Audi's Q3 US introduction plan adds yet another well-crafted compact CUV to the market.