RESEARCH GENEVA AUTO SHOW BY YEAR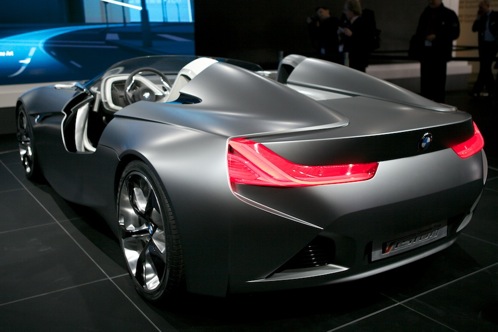 March 7, 2011
Here's some interesting trivia: BMW claims to have introduced the first ultrasound-based park distance control in 1991, the first iPod integration in 2004 and the first on-board web access in 2008.
Contrary to popular opinion, the company doesn't just make cars that are fun to drive. Its latest concept, unveiled at the 2011 Geneva auto show, is the Vision ConnectedDrive (no space between those two words; car firms like to mess with syntax, too). It's a two-seater convertible with doors that sink into the body rather than open.
But really, it's a huge smart phone with wheels and an engine.
According to BMW, this "Vision ConnectedDrive study demonstrates current and future methods of mobile networking." BMW has made other concepts with the word "Vision" in their names and it already has a many-bells-and-whistles infotainment system called ConnectedDrive. But we're all going to have to keep up as technology runs forward at its own rapid pace.
This concept car is a way of doing so. BMW says it has "put a face to ConnectedDrive... to build a bridge from today to tomorrow." And it claims to have incorporated 50 innovations to aid the connections between car, driver, passengers and the surrounding environment.
One area is in enhanced convenience. The car becomes a personal assistant, synchronizing with a (real) smart phone's diary, finding a number or an address, then entering navigation details – using real-time traffic updates and even working out the best place to park – if necessary. The crucial thing is to provide tailor-made information for each user.
There is also an infotainment function just for the passenger that BMW calls the Emotional Browser. The company describes a scenario where one might pass a museum, find out what is being exhibited and buy a ticket, all without leaving the car.
The safety side can also benefit. A night vision function using the car's head-up display can help avoid accidents after dark. And BMW is looking at improving communication between cars to make driving even safer.
During the Geneva show intro, BMW said ConnectedDrive "offers network opportunities we may not be able to even imagine at the moment." That's the exciting thing about technology, it always offers up some surprises.
COLIN RYAN has driven hundreds of cars thousands of miles while writing for BBC Top Gear magazine, Popular Mechanics, the Los Angeles Times, European Car, Import Tuner and many other publications, websites, TV shows, etc.