RESEARCH LA AUTO SHOW BY YEAR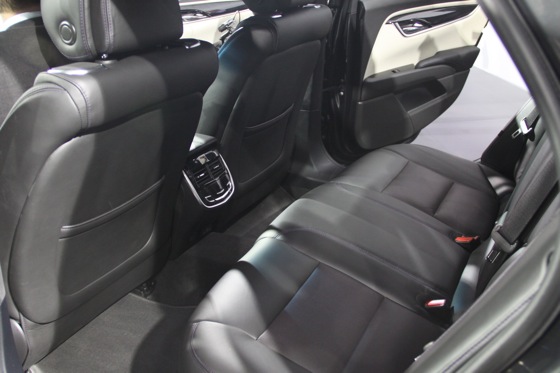 An old tech industry adage says that the pioneers get the arrows in their backs. So found an overly ambitious Ford Motor Co. when it introduced its MyFordTouch touch screen interface for most ancillary controls such as climate control, entertainment, phone and navigation.
Those arrows have included a devastating J.D. Power quality score, loss of recommendation for otherwise good vehicles by Consumer Reports, abundant negative press and grouchy customers.
General Motors is coming to market later with a new system that will debut on the 2013 Cadillac XTS sedan that it calls the Cadillac User Experience, or CUE. CUE performs many of the same functions as MyFordTouch, but GM chose to use an Apple iPad-style capacitive touch screen, rather than the less-capable resistive touch screen favored by Ford. That choice permits Apple-style multitouch gestures, such as swiping, dragging and flicking through screens and menus in a fashion smart phone users will immediately embrace.
It also features a proximity sensor that detects when someone reaches toward the screen. This lets CUE keep most of its buttons invisible most of the time, revealing them only when someone reaches for the display and presenting a cleaner, simpler appearance the rest of the time.
Going beyond the Apple model, CUE also provides haptic feedback through its touch screen. That means that when pressing a virtual on-screen button, the driver feels a click from the screen confirming that the choice has been registered. This helps return some of the no-look control capability lost when real buttons and knobs are replaced by virtual representations of them on a video screen, which is helpful when piloting a 300-horsepower luxury sedan through an ever more crowded commute.
This haptic feedback also conveys tactile confirmation of scrolling though options, as the choices seemingly bump past under the fingertip, and it indicates the end of the road at the bottom of a list with a harsh double-bump informing the driver that the scrolling list just bounced off the bottom.
Also helping keep drivers eyes on the road and hands on the wheel, CUE features a new voice command system that, unlike Ford's Sync, employs natural language recognition. That means drivers can phrase requests in different ways when asking for directions or changing the cabin temperature, rather than adhering to a rigid hierarchical menu structure.
"With older systems, if I don't say those allowable words, the system doesn't respond," explained Jeff Massimilla, CUE program manager. Such capability takes a lot of processing power, and CUE packs as much power under the hood as a Corvette ZR1.
But instead of supercharged horsepower, the CUE system boasts three-core processing power - your iPad 2 has a two-core processor - and the voice recognition software automatically takes over two of the cores when a voice command is issued. This means for example, that it is possible to just say, "Give me directions to 1600 Pennsylvania Ave., Washington, D.C.," in one shot, without having to lurch through multiple levels of specific commands, menus, or give parts of the address one at a time to be directed to the White House.
Unlike Apple's Siri, CUE's intelligence is entirely on-board, rather than in a cloud of remote servers, so it lacks the ability to give smart aleck directions to Carnegie Hall, which everyone knows can be reached only through "practice, practice, practice."
See more LA Auto Show news.