RESEARCH LA AUTO SHOW BY YEAR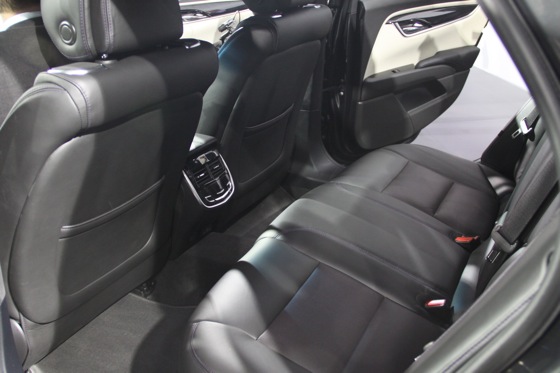 General Motors proudly points to Cadillac's history of invention, but innovations such as interchangeable parts and the electric starter are looking pretty dusty a century later. And was adding tailfins to make cars look like warbirds during the cold war era really an innovation?
So at the rollout of the XTS prestige sedan, Cadillac executives again uttered the hoary slogan, "Standard of the World." The company hasn't done much lately to justify that slogan, so with the XTS they have piled on the technology.
Trouble is, a Hyundai family sedan can be outfitted with newfangled gizmos, like the ability to locate the nearest gas station, which doesn't leave Cadillac a lot of room to maneuver on this topic. So it is apropos that the company should debut a widget to aid the XTS driver in jockeying in tight quarters.
Called the "Virtual Bumper," the Cadillac system uses bumper-mounted radar to not only measure the distance to other vehicles when squeezing into a space, but to even apply the brakes to prevent contact with those vehicles automatically.
Of course, anyone who has ever parked in an urban environment knows that a typical lawyer-approved, computer-operated margin of error will not always do the trick when wedging a car into the only available space. Chief engineer Sheri Hickok understands this and sympathizes, which is why she dialed down that margin to the smallest practical.
After being annoyed by a conservative setting that wouldn't let the XTS prototype near other cars, she turned the sensitivity down to the minimum. "But the minimum gap would just let you scrape the other car," she recalled. So the production cars will hit showrooms with the sensitivity set to the minimum, plus a 30 percent safety margin.
And speaking of safety, the system is also meant to spot things like posts or tricycles that can lurk just out of view, stopping the car before it can hit those things. "It can see where you can't," Hickok said.
The same system also has a "Collision Mitigation" capability. If the radar detects an imminent collision on the highway, it applies the brakes at up to 1 g of deceleration to reduce the force of impact. When the computer sees that a crash is coming, it will tap the brakes to alert the driver, with the aim of motivating them to action. But if the XTS continues racing unabated toward a slower-moving or stationary object ahead, the system will apply the full braking force to minimize the impact.
See more LA Auto Show news.