Auto Show
Chevrolet Colorado Z71 Trail Boss 3.0 Concept: SEMA Show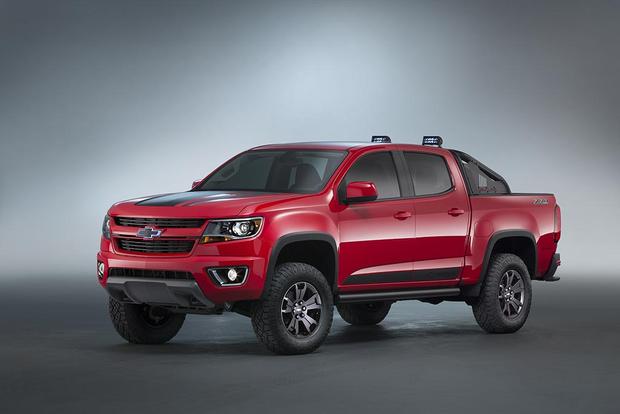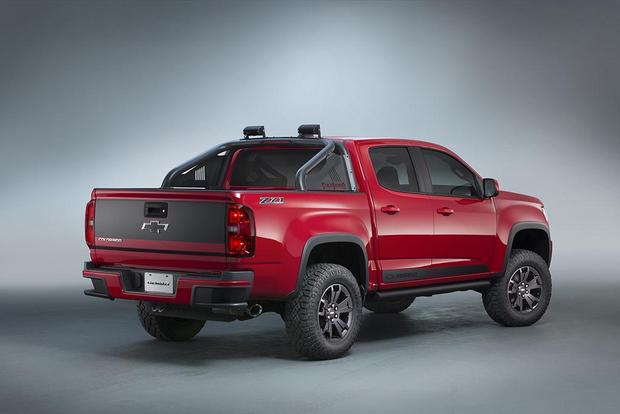 What Is It?
The Chevrolet Colorado Z71 Trail Boss 3.0 Concept is an off-roader concept version of the recently released Chevrolet Colorado midsize pickup. Featuring a crew-cab body style and a bright red paint finish, the Colorado Z71 Trail Boss 3.0 offers some major modifications beyond a standard Colorado -- some of which are available from the Chevrolet parts catalog, and some of which are custom additions.
The most obvious revision to the latest Trail Boss Concept over a standard Colorado is its all-terrain tires, which make the truck look like it's ready to tackle some serious off-road trails. But it doesn't stop there: The Colorado Trail Boss also boasts a bed-mounted sport bar with LED lighting, an automatic locking rear differential, tow hooks, 17-inch black-painted aluminum wheels and rear steps for easy bed access.
Although Chevrolet calls this version of the Trail Boss a concept vehicle, there's already a Colorado Trail Boss in production. Recently released along with the more pavement-oriented Colorado Midnight Edition, the production-ready Trail Boss boasts most, though not all, of the concept car's off-roader accessories.
Will They Ever Sell It?
We think so. Given the fact that Chevrolet already offers a Trail Boss version of the Colorado -- and the huge success of the off-road-oriented Ford F-150 Raptor -- we think there's a good chance this one could see production.
Why It's Important
When Chevrolet revived the Colorado midsize pickup for the 2015 model year, enthusiasts and truck lovers alike hoped the brand would make pickups exactly like this. In other words, they wanted not just regular midsize trucks, but various special editions designed to appeal to pickup enthusiasts and truck shoppers drivers who love the idea of an exciting midsize pickup.
Even if Chevrolet doesn't put this very Colorado Trail Boss Concept into production, the automaker is appeasing all the truck shoppers who love the idea of a go-anywhere pickup that doesn't have full-size truck girth.