RESEARCH SEMA AUTO SHOW BY YEAR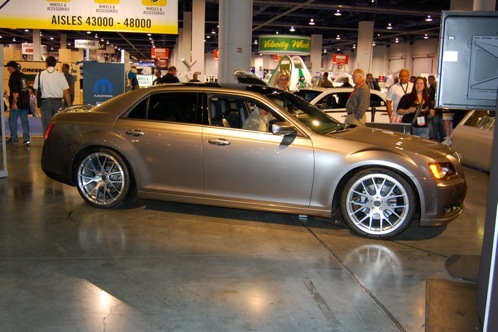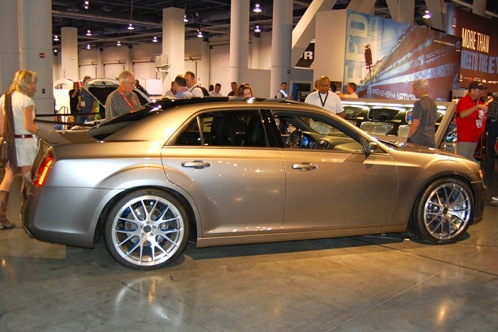 Being a car enthusiast entails a lot of things. At home, it usually means a lot of branded signs and posters, and a strong will to never leave the garage. In public, it typically involves many weekends spent hanging out with lots of likeminded folks, discussing your car of choice, and occasionally arguing about why your choice is better than others.
Chrysler is keen to the latter of those scenarios when it comes to 300 fans. Every year, they hold a gathering in Southern California called the "Spring Festival" where owners from all over gather and discuss all things 300. So for SEMA this year, Chrysler has created a version of its popular new 300, named SF6, in order to honor the sixth year of the event.
On the exterior, it's hard to miss the 22-inch Savini Mono Di Forza SM3 wheels, which is a huge testament to the 300 and the size of the wheels it can swallow up, especially considering that the wheels are also 10.5" wide. Aiding in keeping the cornering in check is a set of custom Mopar-and-KW coilovers. To slow the car to a good cornering speed is a set of SRT8 brakes, right off the part shelf.
Under the hood saw mild tinkering, with a Mopar cold-air intake, Mopar headers, and a Mopar/Corsa exhaust system ensuring gases are flowing freely through the combustion process. The paintwork likewise didn't get a massive overhaul, with Tungsten Metallic paint offset by piano black accents. The piano black theme is carried to the interior as well, with all the hard surfaces finished in the shade. Katzkin massaged any soft surface, with black and blue being the hues of choice.
Finally, Kicker, who stuffed two ten-inch subs in the trunk, is responsible for the audio. Handling the rest of the sound waves is two two-way speakers in the back, midbass speakers in each front door, and two more two-way speakers embedded in the dash.
Probably the most impressive part is that most of this, including the Kicker system, can be ordered through Mopar, feasibly allowing you to make your very own SF6.
See more coverage of the 2011 SEMA Auto Show.
ROSS DARBYcomes from a family that has been present in the automotive industry for generations, sowing the car enthusiast seed at a young age. When he's not tracking the industry, Ross likes to run, eat buffalo wings, play soccer and partake in the finest of brown spirits.