RESEARCH DETROIT AUTO SHOW BY YEAR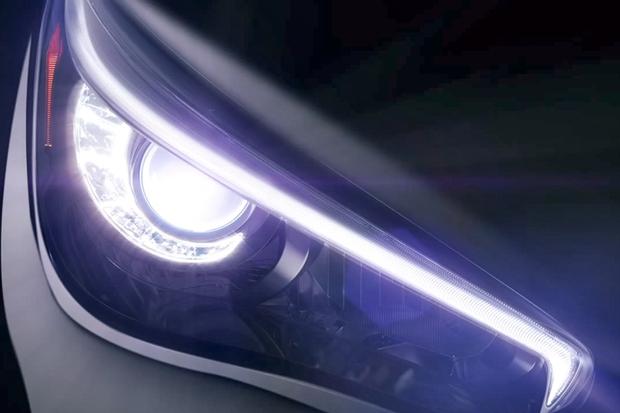 A new video from Infiniti teasingly reveals the brand's upcoming Q50 sedan. Set to replace the G37, the new Infiniti Q50 will be unveiled later this month at the Detroit Auto Show. While the video only shows the Q50's headlight, it gives a glimpse into the sedan's bold styling.
In the 30-second clip, entitled "Catch a Glimpse," an LED light strip is shown above the sedan's headlight. A second LED strip, which forms a half circle around the headlight, is also shown. In the video, each light brightens in sequence. Afterward, an engine is revved and text appears announcing the Q50's debut in Detroit.
While the video doesn't show much of the Q50, the headlight reminds us of the brand's LE Concept sedan. That model made its debut earlier this year at the New York Auto Show as a fully electric concept car based on the Nissan LEAF. We certainly don't expect the Q50 to offer an electric drivetrain, but we do think the sedan may sport some of the flowing lines seen on the LE Concept.
Based on the video, it's also likely the Q50 will inherit the sporty character of its G37 predecessor. The video focuses on the sedan's narrow, pointed headlights and the revving engine, which are likely designed to entice buyers looking for a high-performance car. That means the Q50 will likely pick up right where the G37 leaves off, fighting the Audi A4, BMW 3 Series and Lexus IS.
In addition to updated styling, the Q50 is the first Infiniti to use the brand's new naming scheme. The new strategy sees Infiniti dropping old names like EX, M, and G in favor of the letter Q for all of its cars and QX for SUVs. A number indicating each vehicle's relative size will follow the letters. That means the G37 will become the Q50 for sedan models and Q60 for 2-door variants, while the M will be renamed Q80. The compact EX37 crossover will soon be renamed the QX50, while the JX35, FX37 and QX56 will become the QX60, QX70 and QX80, respectively.
We'll have more details on the new Q50 when it breaks cover later this month at the Detroit Auto Show.
What it means to you: We're expecting the Infiniti Q50 to replace the G37 with style -- and substance -- later this month in Detroit.