RESEARCH SEMA AUTO SHOW BY YEAR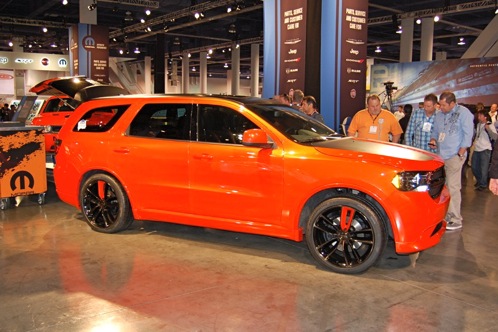 Walking the floors of the SEMA show and looking over parts lists can be overwhelming. Most tuners and manufacturers try to fill their interiors, trunks, and engine bays with as much stuff as possible, trying to go bigger and better than the next guy. But Dodge has done away with all that with its Durango Tow Hook, and reminded us just how much changing the paint color, a nice set of wheels, and a well-appointed interior can change the overall feel of a car.
The easiest thing to spot on the Tow Hook is the paint color. Inspired by muscle cars, that bright orange paintwork took four coats to look just right. Dodge has paired that with a satin black accent color on the roof and hood, as well as blacked out headlights, providing just enough contrast. Massive 22-inch-by- 9.5-inch forged Superalloy wheels sit under wheel arches lowered 25 mm also feature the bright orange color and add some visual interest to the profile of the car.
Of course the orange color is found on the interior, too, found as contrasting stitching on the Katzkin suede-covered seats. The center armrest and door cards feature the striking hue as well, offset by brushed metal trim, and piano white introduces a third color to the palette.
While the parts list certainly isn't the longest in Vegas, the car's look is completely overhauled by these minor changes, and definitely catches the eye of anyone walking by. Take a closer look in our show coverage galleries.
See more coverage of the 2011 SEMA Auto Show.
ROSS DARBYcomes from a family that has been present in the automotive industry for generations, sowing the car enthusiast seed at a young age. When he's not tracking the industry, Ross likes to run, eat buffalo wings, play soccer and partake in the finest of brown spirits.