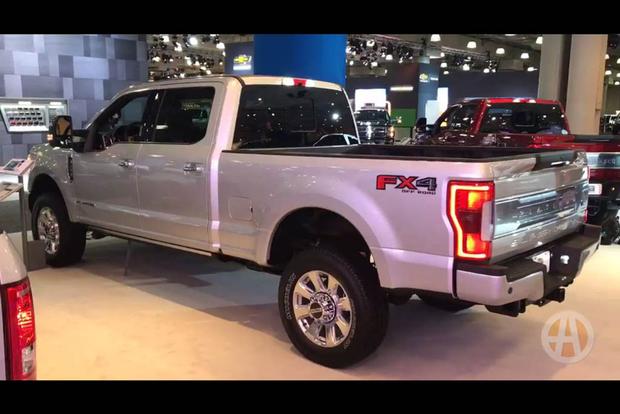 We're at the 2017 New York Auto Show today, and this is what an $80,000 pickup truck looks like.
It's the new Ford F-350 Super Duty Platinum, which means it's a heavy-duty work truck with tons of equipment. So much equipment that it costs just shy of EIGHTY thousand dollars. So what does it have? Power running boards that retract when you open the door. Leather seats, heated seats, cooled seats, a panoramic sunroof, adaptive cruise control and lane-keeping alert -- in a super-duty pickup! But that's not why I think truck is noteworthy. It's impressive because it's just so big. These headlights are the height of my forearm. So are the taillights. This mirror is the size of a laptop. And this truck -- the Crew Cab version -- is 266 inches long, which is NINE AND A HALF FEET longer than a MINI Cooper.
Hilariously, the Ford F-350 Super Duty Platinum has front tow hooks, as if anything could tow it. But of course it can tow: It uses a 6.7-liter turbo diesel V8 with 925 lb-ft of torque. 925! It could pull a house! Alternatively, look how much rear leg room it has. You could just live in it. Combine all that and yes, you have an $80,000 truck.