RESEARCH LA AUTO SHOW BY YEAR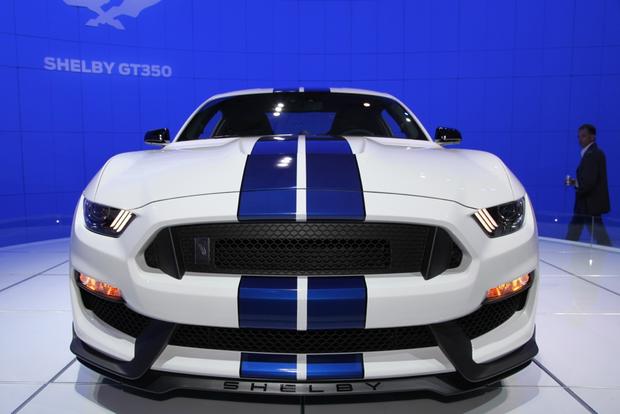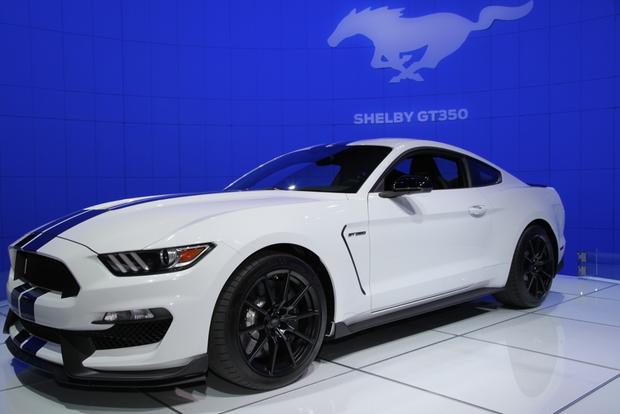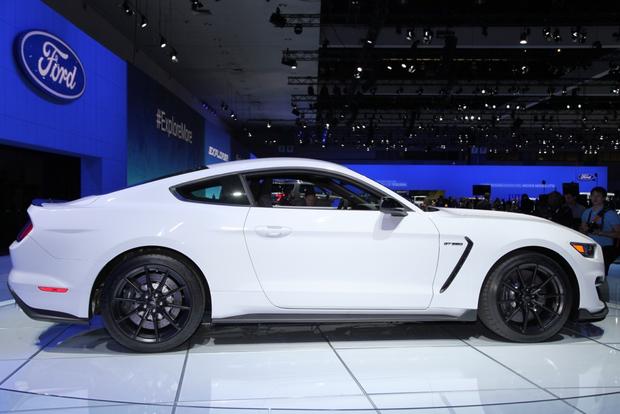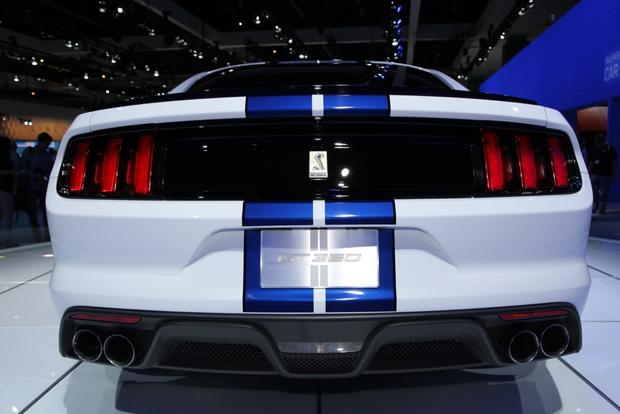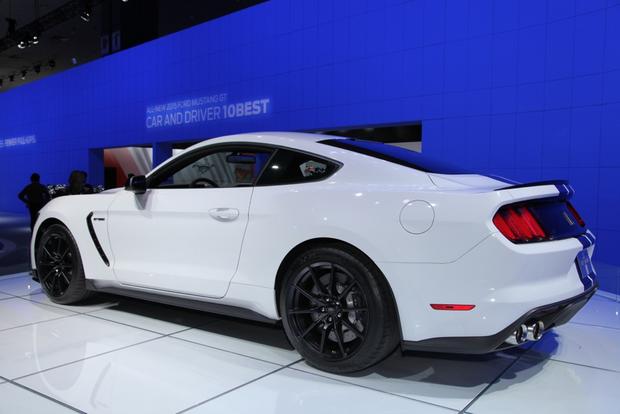 What Is It?
If you've been missing the dearly departed Mustang Boss 302, the 2016 Ford Shelby GT350 Mustang will lift your spirits. Here at the 2014 LA Auto Show, this performance car has a high-revving V8 engine and a mandatory 6-speed manual transmission. The Shelby GT350 is quite simply American muscle at its finest -- at least until the next-generation Camaro Z/28 rolls around.
The focal point of the Shelby GT350 is its 5.2-liter V8, and that's how it should be. The latest Mustang may be the most civilized by far, but it's still a car that's defined by what's under its hood. Adding 0.2 liters to the standard Mustang GT's V8, the GT350's new 5.2-liter mill features a flat-plane crankshaft, a feature typically found in Ferraris, not Fords. If you've ever wondered where Ferrari V8s get their distinctive wail at full throttle, look no further than the flat-plane crank, which is smaller and lighter than its more common "cross-plane" cousin, meaning that it can rev a lot higher. We looked at the 2016 GT350's tachometer, and it appears that the redline is pegged at 8,200 rpm. That's just 300 rpm shy of the 4.3-liter V8 in the mid-2000s Ferrari F430, and a full 1,200 rpm ahead of the current Camaro Z/28's V8.
Okay, so it revs through the roof, but what about the new V8's output? For now, Ford's only saying that it will make "more than 500 horsepower," which certainly beats the 444-hp rating of the Boss 302. That means that the 2016 GT350 is the most powerful naturally aspirated car that Ford has ever produced. Ford adds that the monster V8 will have "a torque peak above 400 lb-ft," again eclipsing the Boss (380 lb-ft).
But forget about other Mustangs for a moment, and consider a different high-revving V8 performance car: the 2008-'13 BMW M3. That M3 coupe weighed about the same as the current Mustang V8 (figure 3,700-3,800 pounds), yet its 4.0-liter V8 could only manage 414 hp and 295 lb-ft. Oh, and the redline was 8,400 rpm -- just 200 rpm clear of the GT350. Overall, the 2016 Ford Shelby GT350 Mustang has one heck of a motor.
So what else do you get for the extra coin? Let's start with the standard magnetic-ride damping system, a familiar feature on various GM models (not to mention Ferraris) that makes its Ford debut in the 2016 Shelby GT350. Ford's version recalibrates the shocks every 10 milliseconds based on measured driving conditions for optimal damping characteristics. It also teams up with the 19-inch performance tires, a standard limited-slip rear differential and a sport-tuned suspension (including a wider front track, a lower ride height, and stiffer springs and bushings) to provide superior cornering control. The Shelby also offers massive performance brakes and five selectable driving modes that determine steering effort, throttle response, exhaust prominence and stability-control parameters.
In terms of exterior style, there's a new aluminum hood that's lower and sleeker than the stock piece, and the front and rear fascias have been given the expected aero treatments for a more streamlined look. Blistered front fenders draw attention to the wide front track, while the unique grille with individual openings facilitates air flow to the hard-charging 8,200-rpm V8.
Inside, the GT350 boasts exclusive Recaro sport seats, a flat-bottom steering wheel, upgraded gauges and reduced chrome trim and other brightwork for a more focused driving experience. The optional Tech Pack adds leather upholstery, a Shaker audio system, the MyFord Touch infotainment system and dual-zone automatic climate control.
How Much?
TBA
When Can You Get It?
By the end of 2015
Add It to Your Shopping List Because...
You can't resist the GT350's mix of American muscle and European-style engineering and refinement. Is there a better performance car for the money?
Other Cars to Consider
Chevrolet Corvette -- The GT350's pricing will likely stray close to Corvette territory, and that's a tough call. We'd love to do a comparison test at Chevy and Ford's earliest convenience.
Dodge Challenger R/T Scat Pack -- The portly Challenger can't keep up with the Shelby on a track or winding road, but its 485-hp 6.4-liter HEMI V8 sounds amazing, and this car is a bargain at around $40,000.
Porsche Cayman -- If dizzying speed isn't a requirement, check out the Cayman, which starts in GT350 territory and offers exquisitely balanced handling.
Used Ford Mustang Boss 302 -- Some muscle-car fans prefer the previous 'Stang for its solid rear axle and no-nonsense character. If you're among them, you might be able to score a sweet deal on a used Boss 302.