RESEARCH SEMA AUTO SHOW BY YEAR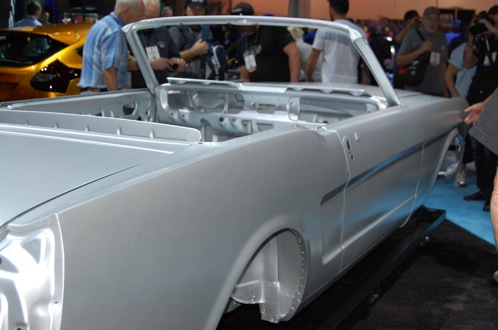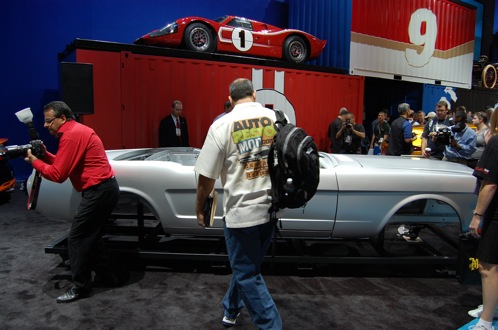 Although Ford's bare steel 1965 Mustang body shell is creating quite a stir at this year's SEMA show in Las Vegas, it's not the only Mustang making a noteworthy appearance at the show. That's because the automaker is showing four different modified versions of its 2012 Mustang, each created in collaboration with a different aftermarket tuner.
First up is the Ford Mustang by Forgiato Wheels, which is finished in matte silver courtesy of paint supplier PPG. While this Mustang's featured attraction is its gorgeous three-piece wheels - measuring 21 inches in the front and 22 in the rear - the coupe also includes a TS Designs wide body kit, a 3dCarbon lower body kit and - for added performance - a bolt-on Vortech supercharger.
California-based tuner Creations n' Chrome also modified a 2012 Mustang for SEMA. Likely the most noticeable of the group, the Mustang is finished in Spectra Chrome Boy Racer Red and features a carbon fiber hood, roof and trunk courtesy of Autosport Dynamics. Other modifications include a chrome roll cage, 18-inch forged wheels and a Vortech supercharger, along with a race-inspired custom interior.
Tuning firm MRT Performance also joined in, choosing a distinctive orange finish for its 2012 Mustang coupe. Officially dubbed the TKO Mustang, MRT Performance's upgrade list includes a ProCharger supercharger, a custom half-back exhaust system, and H&R coilover suspension. Rounding out the list of modification is a pair of Sparco sport seats, which hug drivers during tight cornering.
Last up among Mustangs is tuner H&R Springs, whose light blue Mustang was designed specifically for high-performance driving. Aftermarket parts include a Flowmaster stainless steel exhaust, an Edelbrock E-force supercharger, Pirelli P Zero tires and a series of suspension modifications designed to improve cornering. Outside, the H&R Springs Mustang noticeably features Street Scene Equipment body kit, which fits nicely with the coupe's lightweight wheels.
Of course, Ford brought more than just Mustangs to the SEMA show, displaying modified versions of its small Focus and Fiesta models as well as its F-series pickup and Explorer SUV. But for performance-minded car enthusiasts, the tuned Mustangs are sure to draw the most attention.
See more coverage of the 2011 SEMA Auto Show.
| | |
| --- | --- |
| | JEFFREY ARCHER is fortunate to have turned a passion for cars into a career. His wide-ranging automotive experience includes work for automakers and dealers in addition to covering the news. When not writing, he spends his time searching for unique cars on AutoTrader.com. |