RESEARCH SEMA AUTO SHOW BY YEAR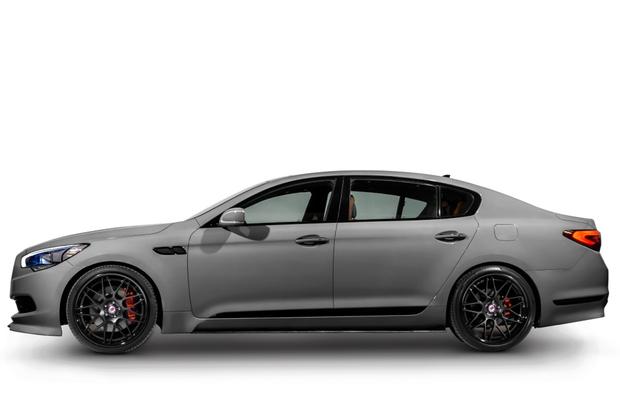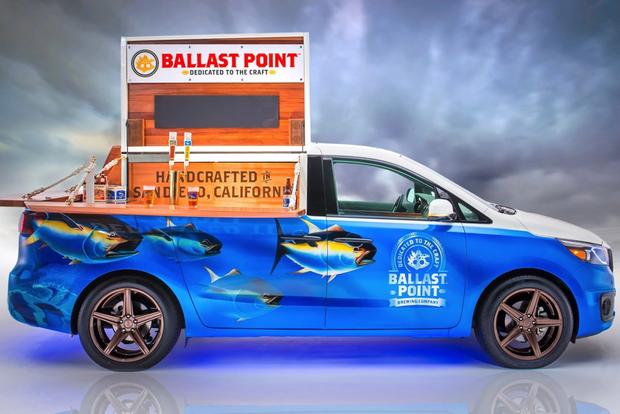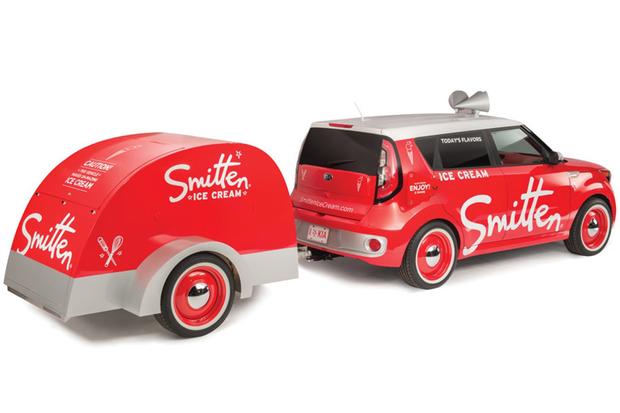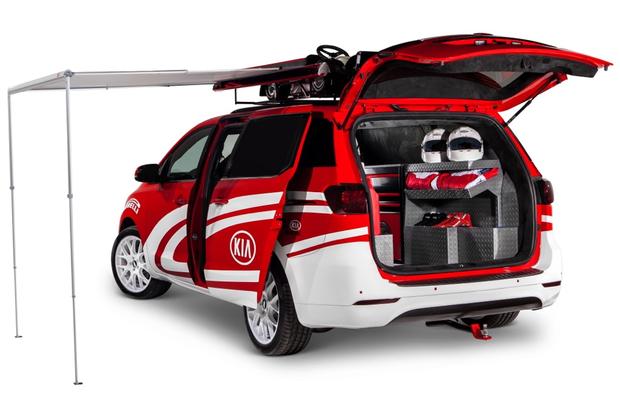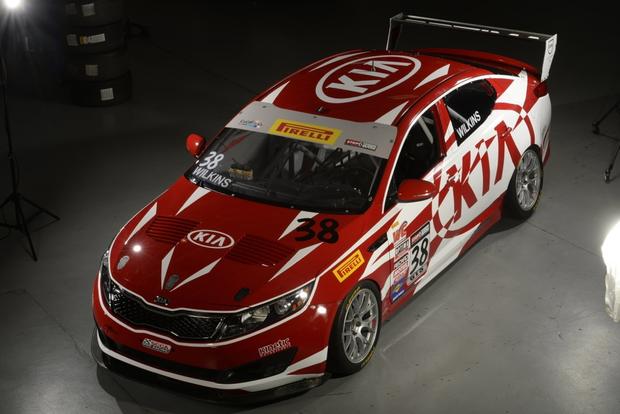 What Are They?
Have you ever wondered what would happen if the Kia K900 V8 was upgraded to a slammed suspension, twin turbos and a bunch of other modifications? Neither had we, but the High-Performance K900 concept was a real eye-catcher at the 2014 SEMA Show. Kia brought four other tricked-out vehicles, too, with various mods that are, in some cases, even more extreme. If you secretly desire to serve ice cream out of your Soul EV or craft beer out of your Sedona, for example, someone at Kia is definitely on the same page.
High-Performance K900
Racing teams often drive to the track in high-performance luxury models from sponsoring automakers, but the softly sprung K900 luxury sedan doesn't offer a sporting variant. That's the problem that the High-Performance K900 is designed to solve. It's not just a design exercise; Kia Racing has enjoyed a lot of success over the past few years, and its drivers could certainly use a kitted-out Kia K900 for track-day transportation. From the looks of the High-Performance K900, their next ride to the track could be an exceptionally entertaining one.
The High-Performance K900 boasts a bespoke body kit with carbon-fiber accents, black chrome trim, 21-inch gloss-black HRE wheels, a lowered Eibach suspension, Ksport 8-piston brake calipers and 15-in cross-drilled rotors. As noted, under the hood, the V8 is treated to a twin-turbo upgrade courtesy of Garrett GT2871R turbochargers, though you actually won't find them under the hood at all. Instead, they're tucked back by the rear differential to avoid engine-bay modifications, and you can see them through a viewing port in the trunk.
Inside, the High-Performance K900 is outfitted with extended tan leather trim and 11-in seatback monitors, among other additions. Perhaps, most importantly, there are custom compartments in the trunk that house driving suits and helmets, along with a ProDryer to dry the sweat after a hard day of work.
Other SEMA Specialties
The rest of Kia's SEMA lineup starts with the Ballast Point Sedona, which is basically a rolling beer dispenser. Think of it as an ice cream truck for adults. The BP Sedona's hand-formed mahogany shell has a clamshell-style flip-top roof that exposes a miniature keg room, with integrated speakers in the roof for party purposes. One of the sliding doors below is welded shut for structural integrity, but the other is fully functional, providing access to a transformed interior with two Micro Matic beer taps and a jockey box that provides 120 feet of copper beer-cooling coils. Its working capacity is four half-barrel kegs.
Kia notes that the BP Sedona is not street-legal, but it's drivable, thanks in part to a modified suspension with airbags that compensate for the extra weight. Look for it toward the end of 2015 at its new home -- Ballast Point's main tap room in San Diego.
The company's remaining SEMA trio consists of the Smitten Ice Cream Soul EV (with an integrated liquid-nitrogen ice cream machine and an aluminum teardrop trailer), which will serve as a display vehicle for the San Francisco-based Smitten Ice Cream, the Ultimate Karting Sedona (with a roof-mounted kart rack, a folding awning, a kart trailer and interior storage for spare tires, reserve fuel and Sparco karting gear), and the Pirelli World Challenge GTS Optima (a real race car that won the 2014 Pirelli World Challenge GTS Class Championship, employing the same 2.0-liter turbocharged 4-cylinder engine as the stock Optima SX and SXL trim levels, albeit with 368 horsepower and a sequential racing transmission).
Will They Ever Sell Them?
There are four whimsical concepts and a race car here, so you're unlikely to find any of them at a Kia dealership any time soon. Kudos to the Korean manufacturer for taking the SEMA spirit to heart. The SEMA Show is all about experimentation and entertainment, and Kia takes this year's unofficial prize for having more fun than any other exhibitor.