RESEARCH GENEVA AUTO SHOW BY YEAR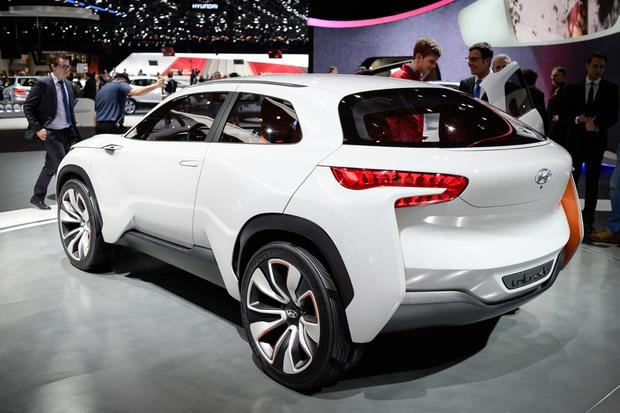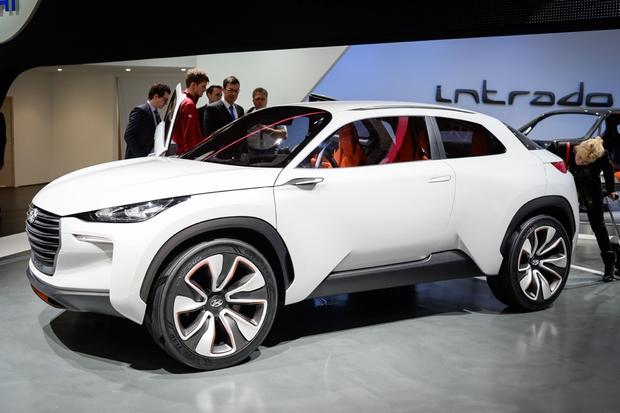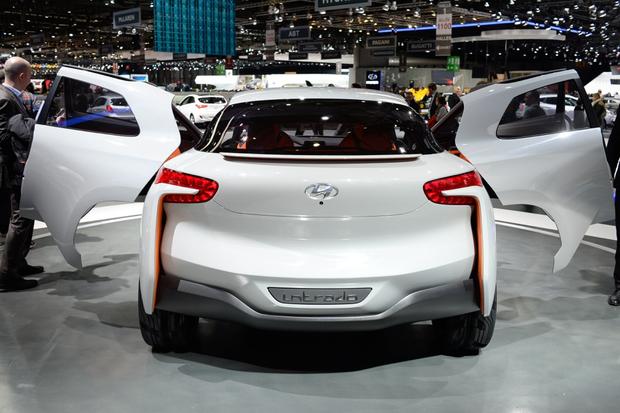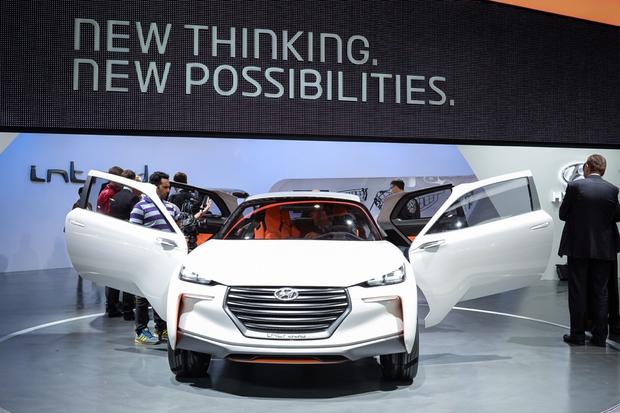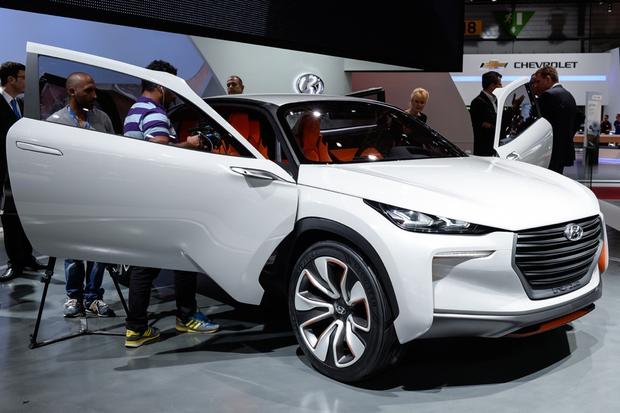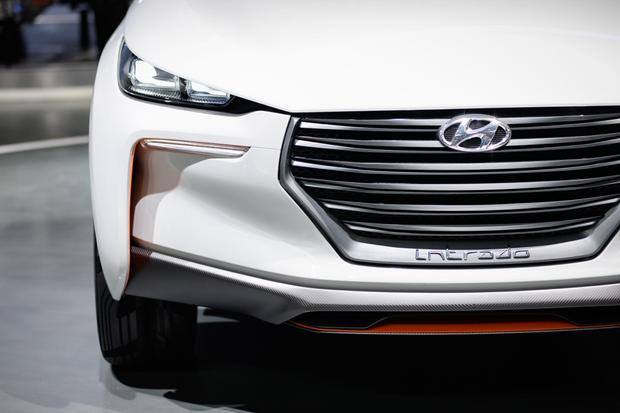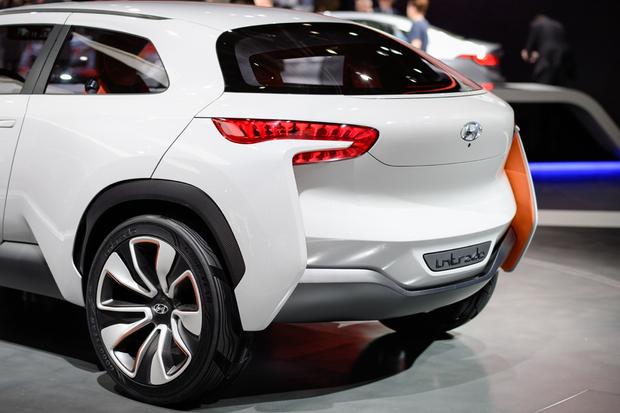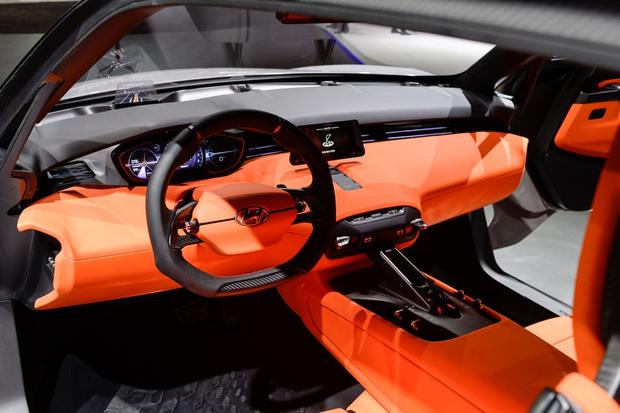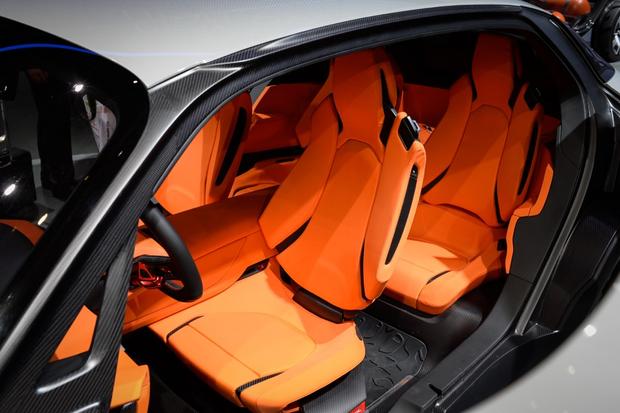 What Is It?
The Hyundai Intrado Concept is quite possibly the future of motoring. Imagine a world where cities can no longer afford to keep their roads in good order. An SUV with all-wheel drive and good ground clearance would be a necessity. But in this world, energy costs are high and the burning of fossil fuel has compromised the environment. A vehicle that uses hydrogen for an electricity-producing fuel cell and emits only water could be the solution.

That world sounds like right here and now, doesn't it? Making its global debut at Geneva, the Intrado Concept takes the conventional notion of an SUV -- heavy, thirsty, inefficient -- and makes it light, economical and aerodynamic.
Instead of a steel frame, the Intrado uses carbon fiber reinforced plastic (CFRP), which is strong but extremely light. This entails new manufacturing and joining techniques. Such a rigid "skeleton" means that body panels could be made from almost any material. In this case, they're steel, forged in the company's own facility.
Fuel cell technology is still in its early days. But the 2015 Hyundai Tuscon Fuel Cell compact crossover is available in some areas on a lease deal, so the setup is effectively being beta-tested as we speak.
It works like this: Hydrogen (which needs to be bought from a filling station and dispensed via a pump) passes through cells that contain proton exchange membranes. This causes a chemical reaction, resulting in an electrical charge. This electricity is stored in a lithium-ion battery and used to power an electric motor, which then drives the vehicle's wheels. And all the tailpipe kicks out is water.
The Intrado's exterior is said to be inspired by aircraft. At the front, ducts direct airflow to the wheel housings, keeping the brakes cool. The tail is shaped to reduce air pressure.
On the low-mounted dashboard are some essential switches and dials; otherwise, the interior is decidedly minimalist. This fresh way of making a vehicle allows Hyundai to optimize ergonomics and shape the cabin more around the driver and passengers, as well as locating the drivetrain and battery to ensure the best balance and dynamics.
Will They Ever Sell It?
Hyundai says the Intrado "hints at the approach to a compact crossover." The level of tooling up required to make a vehicle like this would be radical. But if Hyundai had other cars using the same kind of construction, then we might see something like this concept. Probably not with the bright orange upholstery, though.
Why It's Important
The Hyundai Intrado Concept is revolutionary. If it really is feasible to make vehicles using carbon fiber in this way, from both technological and cost-effectiveness standpoints, then it won't just be Hyundai doing it. Every other carmaker will follow suit.
On a more real-world note, this is Hyundai's first concept created under the leadership of design boss Peter Schreyer, who used to work for Audi (playing a major part in the creation of the original TT) and then moved to Kia. He has received an honorary doctorate from London's Royal College of Art, only the third automotive designer to have done so. Now he oversees the whole Hyundai/Kia styling operation. So expect more stunning looking cars from these marques.