RESEARCH NEW YORK AUTO SHOW BY YEAR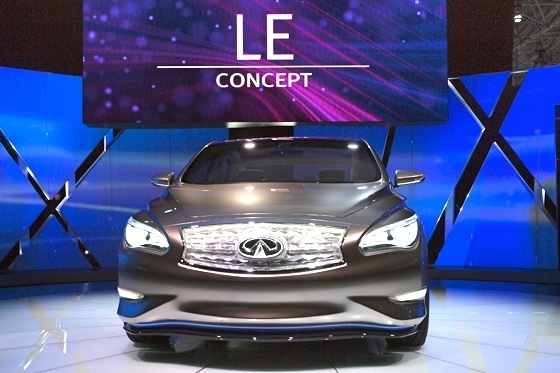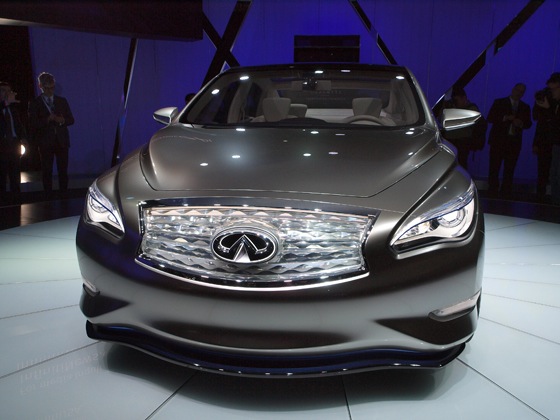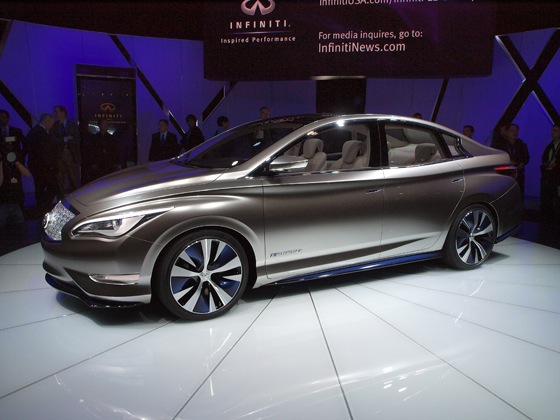 Infiniti LE luxury electric concept vehicle previews 2014 production vehicle
Sexy, stamped aluminum body panels
World's first manufacturer-installed wireless charging system


With plug-in cars such as the Tesla Model S and Fisker Karma finally starting to reach consumers, it's clear the era of sexy efficiency is upon us. And while having cool green cars to aspire to will help change the image of "green" as boring and ugly, having those cars come from struggling and relatively unheard of start-up companies means that many consumers still view them as being on the fringe.
But after the reveal of the Infiniti LE Concept at the 2012 New York Auto Show, that view should be turned on its head. According to Infiniti, the LE previews a vehicle that is about 85-90 percent of what a production luxury electric car will look like when Infiniti launches it in 2014 as a 2015 model, and it is one sexy looking car.
Certainly the Fiskers and Teslas of the car world are also sexy luxury plug-ins, but neither of those companies has the backing of a major car maker with more than 9 million global vehicle sales each year. That volume is what Infiniti executives point to when comparing their strategy to others. "We're not talking about selling 1,000 electric cars a year," said Nissan's CEO Carlos Ghosn in an exclusive round table with AutoTrader.com "We're saying we aim to sell hundreds of thousands of them, and we view the Infiniti LE Concept as a natural extension of that goal."
The company says that with 24 kilowatt-hours of batteries on board, the LE should be able to drive 100 miles on a full charge. And while that is similar to the Leaf, upon which the LE is based, that is where the similarities, both internally and externally, stop. The Infiniti LE features lightweight and highly sculptured aluminum body panels that Nissan had to develop a new manufacturing process for in order to create the sharp creases that run along the length of the vehicle. While individual preferences certainly vary, it is almost unarguable that the LE concept is a much better looking vehicle than the Leaf.
With a 100 kilowatt electric motor rated at 134 horsepower and a whopping 240 lb-ft of torque, Infiniti promises the LE will deliver on the brand's "inspired performance" moniker. Beyond performance, the LE will feature the world's first manufacturer-installed wireless charging system that uses an auto park feature to make sure the car is lined up properly with a charging pad that sits on the garage floor beneath the car. This non-contact, automatic charging system will ensure that you never forget to plug it in.
The car will also feature a 24-hour personal concierge connection as well as a dual display entertainment and navigation system powered by an Intel Atom processor for blazing fast response and capabilities.
While some may wonder how a luxury electric car fits into the car world, Infiniti is confident it will help them grow their market share. By an overwhelming majority, Nissan Leaf buyers opted to load their cars up with every option possible, and many of them already fit the buying demographic of the Infiniti brand: well-educated, high income, family-oriented and worldly. In fact, Infiniti's marketing research indicates that many of those initial Leaf buyers would have bought a more luxurious electric car if one were available.
It should come as no surprise, then, that Infiniti pushed hard within the global Renault-Nissan Alliance to be the second launch brand for an electric car in North America. This is especially valuable for a brand that wants to capture a new audience of people who may never have thought about an Infiniti before. With the Nissan Leaf as an example, more than 90 percent of all the customers who buy Nissan Leafs would have never considered buying a Nissan beforehand. This truly amazing conquest rate is something Infiniti expects to carry over to the Infiniti LE once it reaches production in 2014, providing the company with a large, untapped market to grow the brand.
What it means to you: Sustainable luxury is an exploding market, and Infiniti is looking to be the first major automaker to create solutions for this crowd. The Infiniti LE concept is about 85-90% of what the production Infiniti EV will look like when it hits the market in 2014.